Manchester solicitors are ambassadors for women's sports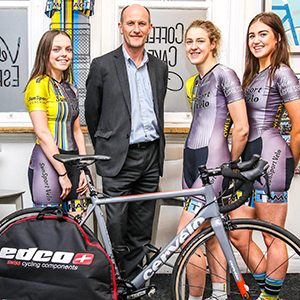 A Manchester law firm is leading the way in promoting women's sport across South Manchester. Slater Heelis has partnered with the SunSport Velo women's cycle team in Altrincham to support the development of young female cycling talent. The team gives promising female riders of varying experience and background top-quality training and participation in elite racing.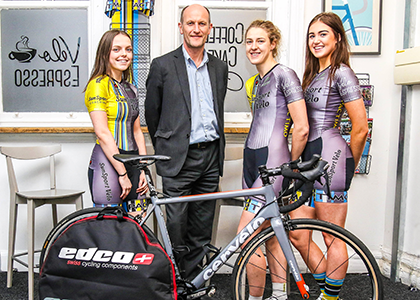 The firm has also recently agreed sponsorship deals with Timperley FC and Lymm Oughtrington Park Cricket Club (Lymm OPCC), recognising a commitment by both clubs to actively promote women's sport.
Timperley FC was recently awarded Charter Standard Club of the Year by Cheshire County FA, as well as being recognised as the North West Regional Club of the year. Over 40 girls and ladies participate in football with the club, from age five through to adult.
Lymm OPCC has a long history of encouraging women's participation in cricket. Women play active roles in all levels of the club, from female board members to over 20 female players and a successful senior ladies team.
Chris Bishop, managing partner at Slater Heelis, said:
"We were impressed by all the organisation's commitment to raising the profile of women's sport in the region, as well as engaging with local families and children looking to enter the sport.
"Many of our own people and clients are keen sportspeople so partnering with organisations that share our ethos of teamwork, collaboration and greater participation was a logical step."
Richard Hughes, head coach for the women and girls section at Lymm OPCC, and head of training at Slater Heelis, said:
"Lymm OPCC is committed to providing a range of cricketing opportunities for women and girls to both enthuse and inspire all ages and abilities to participate in this fantastic sport. Whether it's playing for fun and learning new skills or participating in league cricket we have introduced new players to the game of cricket during the summer.
"When the club was looking for partners for the next 12 months, Slater Heelis seemed a perfect fit as they share the same commitment to advancing opportunities for women in sport across the region."
Chris added:
"Social responsibility is important to us and as we've grown we've worked hard to retain our strong links with local organisations in Sale, as well as forging new relationships with organisations across the city centre and South Manchester."
Slater Heelis supports a number of organisations and charities including SunSport Velo women's cycling team in Altrincham, Lymm Oughtrington Park Cricket Club, Timperley FC, Friends of Rosie, Helping Uganda Schools and also Quarantine Arts Company based in the Northern Quarter. The firm has offices in Manchester City Centre, Sale and Timperley.
Sportsister
The Women's Sports Magazine
Select a sport
Find out how to get started, training plans and expert advice.