British Cycling Women's strategy – 4 year update
British Cycling has influenced 723,000 women, who weren't cycling previously, to get on a bike since 2013, the sports governing body announced today – four years after announcing an ambitious target to get one million more women cycling by 2020.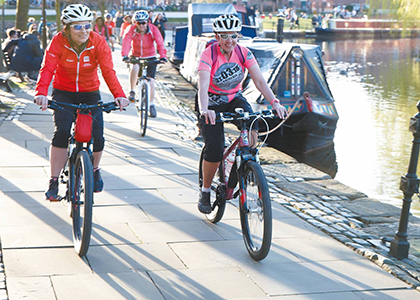 Launching a four-year progress update on its #WeRide women's strategy, British Cycling has revealed the extensive changes that it has put in place across all levels to begin to counteract the legacy of a 50-year gender gap.
Key achievements include:
723,000 more women influenced to cycle since 2013
72% increase in female race licence holders since 2013
Over 150,000 female attendances at HSBC UK Breeze bike rides, British Cycling's female only rides programme
Almost 500 clubs across the country now offer women-only sessions
70% increase in the number of trained female coaches
British Cycling's female membership has doubled since 2013
British women have won over 20 elite world titles since 2013
British women won ten Olympic and Paralympic cycling titles at Rio 2016
Three women now sit on British Cycling's Board of Directors
Commenting on the progress, British Cycling's CEO, Julie Harrington, said: "When British Cycling launched its women's strategy in 2013, people told us we were being too ambitious with our target to get one million more women on bikes.
"This itself was proof of the entrenched view of cycling as a sport for men. Four years on, I am pleased to say that the sport is in a different place. Our perseverance across all areas – from encouraging clubs to offer women-only sessions to training 70% more female coaches – is paying off.
"Of course this does not mean we can afford to be complacent. The biggest challenge we now have – and I think cycling is not alone in this – is persuading women to keep riding. Retention is a major factor and we need to better understand just why women drop off.
"This isn't something we can tackle alone – we'll need the support of sports bodies, cycling and transport organisations, national and local government, and the media. But we are determined to crack it.
Read the full article here
Sportsister
The Women's Sports Magazine
Save
Select a sport
Find out how to get started, training plans and expert advice.