This weeks top news stories – July 10
Catch-up on the top news this week, including the much under-reported historic win by Annie Last at the Mountain Bike Cross Country World Cup.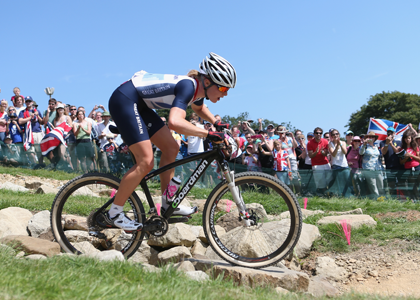 Cricket: England beat Australia by three runs in Women's Cricket World Cup
In the match earmarked as the one the competition needed, England triumphed over Australia by three runs to go top of the group stages with two games to play, and in nail-biting fashion. The Guardian, click for full story

Cycling: Annie Last first to make British mountain bike history in Switzerland
London 2012 mountain bike rider Annie Last has made history by becoming the first British rider in 20 years to win a UCI Mountain Bike Cross-Country World Cup. The 26-year-old, who finished eighth at London 2012, raced to victory in Lenzerheide, Switzerland to emulate the achievement of Caroline Alexander, who won in St Wendel, Germany, in 1997. Team GB, click to read the full story
Athletics: Laura Muir misses out in effort to better Zola Budd's one-mile national
Laura Muir experienced a rare hiccup in her quest to sweep up every British middle-distance record as she was unexpectedly outsprinted at the death in London when targeting a morale-boosting victory ahead of next month's World Championships. The Telegraph, click for full story
Tennis: Johanna Konta preserves fiery focus and dares to dream as Caroline Garcia awaits
The British No1 has sailed into Wimbledon's last 16 with three displays of steely purpose and goes into the tournament's final week aiming to make history. The Guardian, click for full story

Rowing: Silver medal for the lightweight women's quadruple scull at Rowing World Cup
A fine performance from Ellie Piggott, Gemma Hall, Maddie Arlett and Robyn Hart-Winks saw them cross the finish line in 6:29.54 to finish second behind Australia (6:26.32) and they easily left the third-placed Japanese foursome in their wake on the second day of competition in Switzerland. Team GB, click for full story
Sportsister
The Women's Sports Magazine
Save
Select a sport
Find out how to get started, training plans and expert advice.