Tried and tested: Hoka Hupana running shoes
It's fair to say that the Hoka One One brand divides opionions. Launched in 2010 at the height of the barefoot running movement, Hoka One One appeared to shun the minimal footwear trend with its heavily built-up sole and anything but simple styling. But the shoes spoke for themselves and garnered cult-like status, now they are a global brand.
Recognising that not everyone is a fan of their distinctive look, Hoka One One have launched some simpler styles that incorporate their popular technology in a much more pared back look. Sportsister tested the brands first knitted-upper shoe – the Hoka Hupana.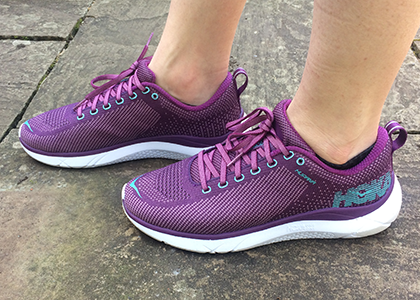 Named after the Maori word for "spring back," the Hupana claims to create a sensation of flying just above the ground due to it's unique responsive and lightweight midsole and outsole. Now, perhaps flying above the ground is a bit of an exageration…but it's fair to say these shoes are super comfy due to the squishy midsole and once you wear them it's going to be hard to go back to heavily structured and solid running shoes.
Running
The Hupana's are designed with all-day use in mind, but how do they perform for actual running? Well first it's worth pointing out that all Hoka One One shoes are created for a natural foot motion and minimum drop geometry, so if you're a fan of the minimal shoe then this could well work for you. I am, and find it hard to run in anything other than a really flexible shoe.
I have used them for several different types of runs, track sessions with my triathlon club, parkruns and also longer road runs. The road and track sessions were the most successful, less so, my local parkrun which is mostly offroad and therefore needs a bit more grip. But all-in-all I would describe these as a good general purpose running shoe.
Styling
For a brand that is known for its fairly flamboyant styling the Hupana is pretty restrained. The upper is a simple single colour knit which means the structure creates a two-tone effect and there are accents of turqoise for small details as well as the branding. This works for me and also answers the brief for an all-day, anytime shoe. If you want something even plainer, then the shoe is also available in black.
Pros:
Super comfy and perfect for all-day wear.
A great all-round running shoe.
Lovely squashy mid and out sole that makes running feel a bit like trampolining!
Cons:
The toe box is a little tight, I would prefer more wriggle room and height.
The sole only really works on road or track.
Simple and plain, but maybe just a bit too conservative.
More information: hokaoneone.eu
Danielle Sellwood, Sportsister
The Women's Sports Magazine
Save
Save
Select a sport
Find out how to get started, training plans and expert advice.