Sportsister Loves: Bern FL-1 Pave bike helmet
Bike helmets – they are a bit hit and miss on the style stakes, especially if you want something that works for a multitude of trips from commuting to touring to the occasional sportive. Bern helmets have long been the cool commuters friend, but now they've come up with something a little bit leaner, a little bit sportier but still with their signature styling – the FL-1 Pave. Keen cyclist Nicola, put it to the test.
According to the Bern website, this helmet has been inspired by the original leather Tour de France helmets. On the technical front,  the FL-1 Pave offers plenty of ventilation, is ultra-light weight and features technical cutting-edge details such as a Boa 360 degree retention system and optional MIPS protection (Multi-Directional Impact Protection System – designed to protect against rotational violence to the brain caused by rotational impacts).
Nicola's view
"I am really starting to love this helmet, it's definitely a grower! Not all my friends are convinced by the look, but I love the fact it is a bit different. Importantly, it's really comfy and light and fits really well on my head – that might sound obvious, but not all helmets do!
From a style point of view, I like that it doesn't have a peak, it gives me the option to wear a cap underneath if I want, but essentially it gives me a great field of vision, which is a great safety aspect. Definitely a big 5/5 from me!"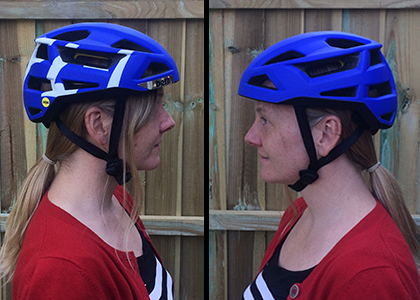 If blue is not your thing, then don't walk away just yet – the helmet also comes in a lovely dark grey or white option. Oh, and one last thing…the blue has a really soft matt finish, which we love too!
Factfile:
Colours: Blue, white, grey
Cost: Varies – £80-£110
More info: www.bernunlimited.com
Nicola Waterworth, Sportsister
The Women's Sports Magazine
About Sportsister loves blog
Here at Sportsister we get inundated with news of new products every day so in this blog we will bring you some of our favourites. It's our guide to what's new…..what's good…..what works…..what's worth spending your money on…..what's fun….what's hot….what's special….Enjoy!

TO READ THIS BLOG IN FULL CLICK HERE
Select a sport
Find out how to get started, training plans and expert advice.