Win: Tickets to Be:FIT London with Bare Biology
We're delighted to offer two Sportsister readers the chance to win a pair of tickets to Be:FIT London, courtesy of Bare Biology. The lucky winners can visit Bare Biology at stand B118 to receive a month's supply of Omega 3 products and meet celebrity trainer, Christina Howells**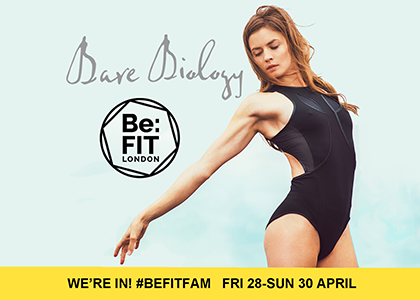 Be:FIT London: 28-30 April
Be:Fit London is the only event of its kind in Europe, dedicated to offering women the tools to be fit and healthy without relying on quick fixes or crash diets. It's high energy and inspiring, with free workshops, exercise classes, expert advice and a carefully selected range of health, fitness and nutrition brands.
Bare Biology
Founded by Melanie Lawson, Bare Biology offers a range of Omega 3 supplements for the whole family; with guaranteed purity, great taste and certified low oxidation levels. The products have the highest concentration of EPA & DHA (the key Omega 3 fatty acids) and are in the natural triglyceride form for optimum absorbency. Bare Biology is the only UK brand awarded a 5-star rating by IFOS (International Fish Oil Standards) for purity, freshness and strength. Their products are completely free from heavy metals and other environmental contaminants.
Omega 3 for fitness
Whether you run, cycle, are addicted to HIIT or simply love a good work-out, Omega 3 will support your fitness efforts. Research has consistently shown that it helps recovery and fat burn, reduces muscle soreness and slows muscle loss. It's also brilliant for your hair, eyes and complexion – so many benefits from a single product!
Christina Howells, founder of 'That Girl', will be joining Bare Biology on their stand at Be:FIT and offering fitness advice. Personal Trainer to the stars, Christina highly recommends taking Omega 3.
For more information on what Bare Biology is up to at Be:Fit, follow on social media or sign up for our newsletter. Visit www.barebiology.com
Competition ends: Friday 21st April
*Terms and conditions apply
**Depending on times and which day they come
***Competition is not transferable
Select a sport
Find out how to get started, training plans and expert advice.