Travel: Soulfood London Yoga & Photography retreats
Soulfood London has released it's 2017 dates for their two European retreats this summer set in two stunning locations: Capo Vaticano, Italy (May 11-18) and Zakynthos, Greece (September 25 – October 2).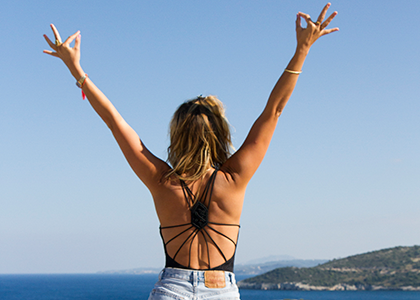 Guests will be treated to morning & evening yoga classes with Sweaty Betty ambassador Charlie Morgan and afternoon photography tutorials with Chloe Crewe-Read.
Beginners are very welcome and all classes are optional, but guests will find it hard to resist Charlie's enjoyable and down-to-earth yoga classes and Chloe's enthusiastic photography excursions.
Brief overview of the week:
– Morning and evening yoga
– Daily photography tutorial
– Breakfast and lunch or dinner daily
– Organic, locally sourced food
– Single / Double Apartment
– Airport Transfer
​Prices are £825 double occupancy / £1150 single occupancy
Watch the 2016 Soulfood London retreat in Zakynthos here
For information www.soulfoodlondon.com
Sportsister
The Women's Sports Magazine
About Sportsister loves blog
Here at Sportsister we get inundated with news of new products every day so in this blog we will bring you some of our favourites. It's our guide to what's new…..what's good…..what works…..what's worth spending your money on…..what's fun….what's hot….what's special….Enjoy!

TO READ THIS BLOG IN FULL CLICK HERE
Select a sport
Find out how to get started, training plans and expert advice.