#RoadToRio – Meet Paralympian Julie Rogers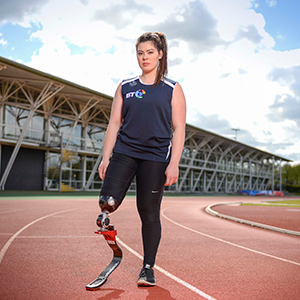 At just 13 years old Julie Rogers was one of the youngest competitors at the London 2012 Paralympics when she participated in the seated volleyball. Now four years on she has turned her attention to sprinting and will compete for Paralympics GB in the T42 100m. Julie spoke to Sportsister as the team made their final preparations for Rio.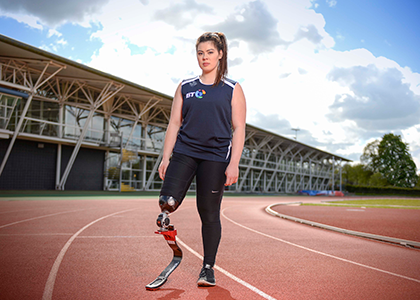 Training hard
"We're all training really hard, this is such a great opportunity to showcase our sport and we want to do well. That said there are all sorts of people coming out of the woodwork and looking strong – everyone wants to do well."
Just one chance
"I only have one race – the 100m, so there's just one chance to show what I can do so it's really important not to get overwhelmed by the occasion. Jonnie Peacock has been helping me out, helping to get my head in the right place as my mentor, he's a great point of contact – he's teaching me to relax and how to get the best out of myself."
Inspired by the Olympics?
"I've only watched a bit of the Olympics because I am training hard and also trying not to get distracted, but from what I've seen the vibe is great and the venues are looking good."
Down to me
"In London I was part of the sitting volleyball team, but this time round I am competing in the athletics. That said I am part of the GB team, and that has a very supportive atmosphere. But it's very different because the performance is just down to me and it's not going to be easy, we are all chasing Martina Caironi from Italy, she holds the world record of 14.61 (set In Doha 2015)."
One to watch
" My top tip of who to watch in Rio is 16 year old Maria Lyle, she's going in the T35 100 and 200. She's a great talent –  at her first appearance in the British vest, she won double gold at the IPC Athletics European Championships at the age of 14."
Watch Julie on Sept 17  from 10am (2pm UK time)
Danielle Sellwood, Sportsister
The Women's Sports Magazine
Julie Rogers is a BT Ambassador. BT is a long-time supporter of disability sport in the U.K and the Founding Partner to the British Paralympic Association.
If you want to support Britain's Paralympians on their journey to Rio, you can donate to the British Paralympic Association's #Supercharge ParalympicsGB campaign to generate support and raise funds for Britain's Paralympics team. mydonatetelethonsappeals.bt.com/donate/supercharge2016
Save
Save
Save
Save
Select a sport
Find out how to get started, training plans and expert advice.