Sisters in the Saddle blog: Velovixen blog – Body of Evidence
Lara Dunn talks body image and weight. Despite being the heaviest she's ever been, she's happier and more confident with her body than when she was 16!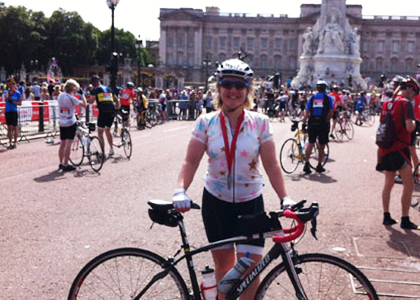 I'm 44 and the heaviest I've ever been. I prefer to judge any weight gain or loss on the fit of my clothes and how I feel to what the scales say, but the incontrovertible truth has been spelled out for me in digital numbers I can't ignore. My BMI isn't what you'd call great, nor is it disastrous, and I'm not on medically dangerous ground.
But I am, in cycling terms at least, in the upper echelons of clothing sizes.
Weirdly, though, and for probably the first time in my life, I'm actually mostly OK with all that. I've reached an accommodation with my body, appreciating it more for what it can achieve rather than dwelling solely on how it looks.
I try (and mostly succeed) to eat healthily, I exercise regularly and I'm rarely ill. Although I still have a skirt (kept out of morbid fascination) that I wore when I was 16 with a 24 inch waist, which now seems more likely to fit over one thigh than my middle, I'm happier and more confident with my body than I ever was then.
I know that a lot of how I feel about my body is inextricably linked to how active I am and how much time I'm spending on my bike and at the gym. I swim as well, but oddly it seems to be cycling and weight training that have the greatest effect on how positively I see myself and how good I feel.
I can put on my size large cycling kit one day and it "looks" tight and uncomfortable (as far as my perception is concerned) and yet on another day, when I've been riding more frequently it will feel and "look" fine, despite the fact that the scales say nothing has changed. I also find I actually fixate on the mirror less when I'm riding more often too, becoming more centred inside and part of my body rather than feeling at odds with it.
I believe achievements have helped me along the way too. Whether your goal is to cycle twenty miles or a hundred, managing to complete that can really improve how you feel about the fleshy shell in which your soul resides. I've proved often enough to myself exactly how capable that shell is, that I now have genuine confidence in what I can physically achieve. Yes, I get nervous about big challenges, but I know that if I put the effort in, I'll be OK.
That can change how you view your body irrevocably.
As do injuries, illness and motherhood. I'm not a mother myself, but I know that it can really alter a woman's relationship with her body. I also know enough mothers who have battled that by getting back on the bike as quickly as they feel able, successfully restoring a little of that confidence in their physical ability beyond childbirth.
For me personally, a tipping point was almost exactly ten years ago. Out of the blue I started to get severe chronic lower back pain, developing swiftly into weakness and numbness in my right leg. Eventually I couldn't stand for longer than five minutes at a time without worrying I would fall over. I went from being someone who could run and cycle an eight hour adventure race to not being able to walk more than fifty metres.
A 10 hour surgical procedure involving a hammer and some titanium bolts (disappointingly I don't set off airport security systems) decompressed my spinal nerves and stabilised everything. I recovered fairly quickly, but I felt like a new person, betrayed by the body I'd always taken for granted.
Since then, I've made sure that in addition to looking after that still occasionally grumbly back, I make the most of being strong and fit and enjoy every physical activity I can. It really doesn't matter that I'm a bit overweight, ponderously slow and that lycra probably isn't the most flattering look for me. What matters is that I CAN do these things again.
I'm celebrating the ten year anniversary of getting my back back by entering RideLondon. I've ridden the 100 mile event twice before, but not in 2015. Life got in the way again last year in the form of bereavements and a broken ankle. So, I'm starting at a lower level of fitness, a higher level of fatness (sorry, couldn't resist) but I'm confident nonetheless.
I know what me and my body can do when we work together. Every time I ride my bike I remember how lucky I was ten years ago that everything went as it should, so I'm raising money for spinal charities as a thank you, and for those who may not have had such a positive outcome.
If you'd like to help both Spinal Research and Aspire charities, please click here.
Read more blogs like this at Velovixen.com
Sportsister
The Women's Sports Magazine
Save
Save
About Sisters in the saddle blog
Cycling, riding, peddling, fixed or free. What's new, what's old, what works, what doesn't, what we're loving, events, competitions, adventures. In a nutshell this space is about two wheels and what you can do with them.

TO READ THIS BLOG IN FULL CLICK HERE
Select a sport
Find out how to get started, training plans and expert advice.