#CyclingWeek: Selle Royal launches innovative new removable saddle – TA+TOO
TA+TOO is an innovative saddle with a removable top to prevent theft or damage from the elements. This highly creative design has a simple attachment system, which enables the saddle to be removed with ease.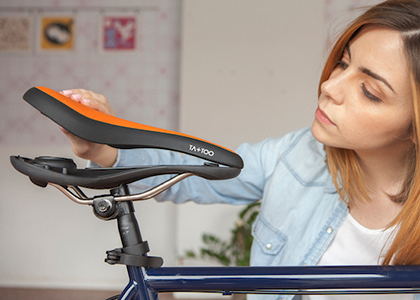 TA+TOO takes comfort seriously too and features 3D skingel – able to absorb shocks 40% better than other padding materials and designed with a smooth shape which is ideal for urban riding.
The saddle comes in a choice of color options as well as a series of unique TA+TOO designs that are being created by a special collaborations with illustrators throughout the year. These saddles will include styles based around the themes of Travel, Wilderness, Love and Landscapes. More information will be released on these designs as they become available.
Find out more here: www.selleroyal.com
Danielle Sellwood, Sportsister
The Women's Sports Magazine
About Sisters in the saddle blog
Cycling, riding, peddling, fixed or free. What's new, what's old, what works, what doesn't, what we're loving, events, competitions, adventures. In a nutshell this space is about two wheels and what you can do with them.

TO READ THIS BLOG IN FULL CLICK HERE
Select a sport
Find out how to get started, training plans and expert advice.