Tried and tested: 2XU compression tights
Two times you. Imagine that, imagine you at double your best performance. This is 2XU's mission. The brand launched in Australia in 2005 and have rapidly become the official compression partner to some of the world's best organisations including the Australian Paralympic Committee, United States Ski and Snowboard Association and the Australian Institute of Sport to name a few.
It has become normal to wear compression clothes at sporting events and the type of compression garment you decide to wear has become an indicator as to how seriously you take your sport. Here at Sportsister, we tested a range of 2XU's compression tights to find out whether compression wear is really worth all the fuss…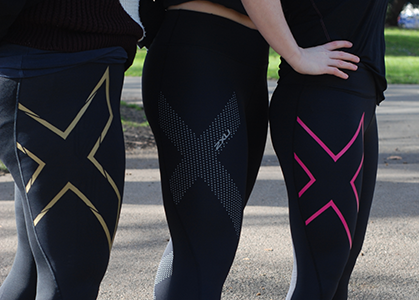 What are the benefits of compression tights?
Graduated compression increases blood circulation for improved recovery and reduced muscle stiffness post-exercise, which means you can say goodbye to delayed onset muscle soreness (DOMS)!
Increased blood circulation ensures faster recovery – making for better performances day after day and because of this you will have a greater power output and reduced long-term overuse injuries.
When you look at all of the benefits of wearing compression tights, you can't help but wonder what we've been doing all these years without them!
Sacha (above) tested the Mid-rise compression tights
"These tights fit exceptionally well thanks to the powerful invista lycra, plus the big waistband makes for a streamlined fit and ensures that they feel flattering too!
The PWX FLEX fabric delivers optimum power and flexibility and you can certainly feel them protecting the abductor, glute, quad, hamstring and calf muscles. I have been wearing them during and after long training sessions to help with recovery and to prevent DOMS."
Stephanie (below right) tested the Mid-rise compression tights – reflective
"I found these to be soft to the skin and really comfortable. The supportive fit ensured that my legs felt noticeably less sore after running plus the reflective crosses ensure that you're lit up when training at night. Win, win!"
Katie (above left) tested Elite MCS [Muscle Containment Stamping] Compression tights 
"MSC is a revolutionary fabric support system which traces key muscles, tendons and fascia groups to focus greater compression on those areas to prevent damage. Like the other tights, these ones were a great fit and I particularly liked that you can see and feel the mapping of the muscles. The gold design is eye catching and looks as slick as it feels!"
Overall, 2XU compression tights have an impressive list of features and benefits. We reckon that anything that can multiply human performance is something worth having!
Go to the 2XU website for more details: www.2xu.com/uk
Sacha Shipway, Sportsister
The Women's Sports Magazine
About Sportsister loves blog
Here at Sportsister we get inundated with news of new products every day so in this blog we will bring you some of our favourites. It's our guide to what's new…..what's good…..what works…..what's worth spending your money on…..what's fun….what's hot….what's special….Enjoy!

TO READ THIS BLOG IN FULL CLICK HERE
Select a sport
Find out how to get started, training plans and expert advice.