Eating Disorders Week: An athletes story – part 1
Hi, I am a sportswoman writing about my ongoing battle with eating disorders and I hope I can raise awareness and also offer support and a friendly helping hand for those on a similar journey. This first blog post explains where it all started.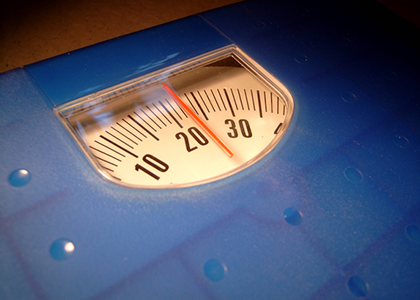 I am a runner, that's who I am and what I have been defined as.
From the age of eight years old I have been the runner. Growing up I was always on the go with some form of high level sport, but my one true love has always been running. My Dad was already a keen runner and I can't remember not being around it…. there's even a picture of me first stepping onto an athletics track at 18months old… from that moment on there was no stopping me!
Recognising my passion and a degree of talent, I tagged along with my Dad to the local athletics club as soon after my eighth birthday (the lowest age limit) as possible and from there I was hooked.
By the age of twelve I was training four times a week as well as swimming five times a week and playing county netball and hockey. By the age of 16 I had been ranked number one in the UK, been south of England champion and represented England, which remains one of my greatest and proudest achievements. With so much potential, the future seemed bright and right from the age of eight I had my sights set on competing on the global stage.
But lurking in the background was my most prominent personality trait… a dedication and stubborn determination to achieve and to push myself to be the best. Unfortunately my stubbornness and approach to my training led to the start of several injuries; robbing me of the ability to do what I loved most. This resulted in hours spent aquajogging, cycling and working out in the gym – I was still pushing hard and it was here that I began to focus on what I was eating.
By the age of 17, I was definitely aware that I was no longer normal with food, becoming more and more isolated at social occasions, unable to eat out, fixated in routine and safe foods and terrified of fat in my foods.
It was at this point, finding food difficult and struggling with on-off injuries that I left for University. Things did not improve, I was still struggling with my food issues and with the pressure of an increase in the standard of athlete around me, including several Olympians and national rivals, I found myself getting injured more frequently.
It was in 2012 that I suffered a devastating blow- which now, in hindsight, I can see was probably the trigger for my rapid decline.
I suffered a double stress fracture in my pelvis which went undiagnosed for months on end. Once finally detected and diagnosed and under the care of one of the country's best sports doctors I was told that there was a possibility that I may never run again.
Again my stubborness and determination and fight came out. Determined that I would not be beaten and that I would run again I pushed even harder in my cross training. Increasing the time spent in the gym and pool, pushing harder, longer and more. Yet nothing was ever good enough. I was soon spending four hours a day in the gym and pool at the detriment of my university work. At the same time I got more restricted with food and foods I was previously eating became fear foods and banned.
I lost a dramatic amount of weight and mentally suffered too. I split up with my boyfriend as the result of the changes in me. I was miserable. I isolated myself even more, but still I couldn't see my life slipping away. Even with the threat of being sectioned by my consultant and doctors I could not stop. My weekly weigh-ins became a goal to lose more weight and I had a feeling of winning when I saw my weight continuing to decrease.
In the following months I was deemed unfit to be at university and having lost friends, my running and my boyfriend I was at an all time low with the serious threat that if  I lost anymore weight then I would be sectioned. I was forced to move home and try to recover.
Eighteen months on that is where I am now…. although I have started on the long road of recovery ( a word I hate) I still have a long way to go. I will explain more through my posts on the true impacts of this illness. But for now that's me. My next post, tomorrow is my letter to anorexia (click here to read post two).
Sportsister
The Women's Sports Magazine
Privacy note: Our writers identity has been kept private, if you wish to offer help, advice or simply thank her for her bravery and honestly, please email danielle@sportsister.com and your messages will be passed on.
Select a sport
Find out how to get started, training plans and expert advice.