Travel: Where Angels Dare
Lara Dunn tests the resort of Engelberg in Switzerland and despite being pushed out of her comfort zone, finds that it offers a wide range of activities for all abilities.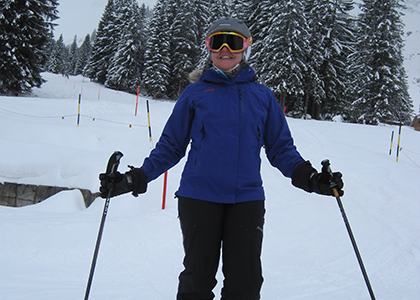 I'm at the top of a sun drenched piste watching paragliders taking off below me to start their slow descent over the roofs of the picturesque monastic town of Engelberg in Switzerland. Pretty soon I'm chasing them down, following glorious undulating runs all the way down towards the beginner's area below. The Brunni side markets itself as the sunny side of Engelberg, and it's the most suitable for beginners and families as well as offering truly beautiful views.
But it's the other, somewhat steeper side of Engelberg for which the town is probably best known. Although the Titlis side does still have plenty for the less experienced skier too, this is also the domain of those seeking something more dramatic and challenging. With marked runs sitting mainly in the realms of red and black, with a few blues, it's no accident that Engelberg is a destination favoured by the more adventurous skier and boarder. There's a wealth of off-piste and backcountry too, with mountain guides aplenty on hand to take the intrepid to their limits and beyond.
Skiing down to the Trübsee area, I was frankly relieved to have descended with minimal damage to my pride and the brass band playing above the lift station was a welcome sight. Being a fervent believer in the serene quality of the colour blue, the steep terrain of Engelberg has been a challenge for me, but in a good way and it's certainly pushed me to leave my comfort zone a little. That said, I was glad that for the next hour or so I'd be setting skis aside in favour of some motorised craziness at the snowXpark and a bit of chilling out at the igloo village.
Engelberg's snowXpark is an unusual response to ever more demanding winter visitors wanting newer and shinier attractions. Here, it's possible to enjoy some of the speed and excitement of driving your own snowmobile, without the pollution or danger of traditional snow scooters. These skidoos are electric and are safe enough that even 12 year olds can drive them. I have to say, it's one of the most fun things I've ever done at a ski resort! Tearing round a track at full tilt, overtaking others in your group is brilliant fun.
Close to the snowXpark is the igloo village, complete with ice sculptures and a handy ice bar selling glühwein, all backed by a general ambient aroma of fondues past. It's possible to stay overnight in the igloos, giving a chance to enjoy the peace and tranquillity of the mountains, accompanied by a fondue dinner and the option of a snowshoe tour.
Adventurous female skiiers and boarders in particular will love Engelberg. For starters there's the town's now well-established Ladies Week in mid-January, where women staying in hotel accommodation for longer than four nights (booked exclusively via the Engelberg Turismus website) receive a free lift pass for each day they are in town as well as other offers for beauty treatments, drinks and club VIP treatment. In addition to this, the hardcore image of the resort tends to mean that the balance of male vs female visitors is very male biased, a perfect situation for any single ladies out there!
Enjoying the craic in the Swedish home-from-home of the Engelberg Ski Lodge later on, I'm looking out at the town's impressive ski jump, the annual venue of Switzerland's only world cup ski jumping event. For such a small, deceptively sleepy-feeling town, Engelberg certainly punches well above its weight on adventure, that's for sure.
Summer
In addition to being a superb winter destination, Engelberg is also an idyllic place to visit in the summer too. Signposted walking trails abound, unrecognisable from the ski slopes occupying the area in winter and opening up a paradise of lakes, mountains and happily grazing cows.
Cyclists can either hire a bike or bring their own for superb mountain biking, while descending the mountains on trotti bikes and Devil bikes manages to turn riding a kid's scooter into a thoroughly grown-up thrill experience! There's even a via ferrata for those with more vertical tendencies.
Further Information
Engelberg is just an easy couple of hours from Zurich airport either by road or by train. Good flight deals are available from a variety of airlines including Swiss.
Lara Dunn for Sportsister
The Women's Sports Magazine
Select a sport
Find out how to get started, training plans and expert advice.