Meet inspirational dual-international Marnie Wills
Finding a dual international athlete is rare,  however, Marnie Wills is just that – she plays Indoor Netball (Nets) and Touch Rugby for England. And if you thought this was a plateful, Marnie is also a PE teacher and founder of two sports companies: Sporty Minis and SportsFitLondon. Read on to find out what propels this dual athlete.
Marnie's background
Marnie, born in Australia, puts superwoman to shame and begs the question of how one person can fit so much in when they have the same number of hours in a day as everyone else? Somehow, she does it, and does it exceptionally well. Her insatiable passion for sports and her desire to make others better is immediately discernible, making it no surprise that her biggest achievement to date is her inclusion in the England Women's Touch 2015 World Cup Squad six years in a row. Being selected for a squad once is a phenomenal feat, but to be selected to play at the highest-level year in, year out is staggering.
On top of this Marnie played in the Age-group World Championships with the England Indoor Nets team in 2015 and is an England Netball Umpire, Coach and Coaching Tutor and Assessor as well as an U18 England Touch Women's Coach.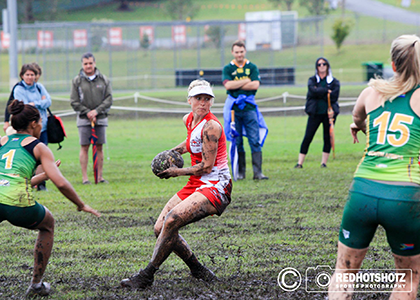 The vision
Marnie's passion for sports, education and fitness has driven her to create her own sports programmes. The first is a physical development programme for the early year's sector called Sporty Minis (www.sportyminis.com). Marnie believes that the earlier children are exposed to the fundamentals of movement, the more advanced their physical development will be laying the foundations for a lifelong commitment to physical activity.
The second of Marnie's innovative sports programmes is SportsFitLondon (www.sportsfitlondon.com), which brings sports-specific fitness training to amateur athletes either in a small group environment or on a one-to-one basis.
Why, you may ask? Marnie says: ' Because I was an amateur athlete and struggled to train for my sport. From my 15 years experience in teaching, coaching and being an athlete, I gained the knowledge to excel through functional fitness and sport-specific fitness training. Through my background and day job, I can bring this to others. Training specifically for a sport requires in-depth knowledge of the fundamental movement skills of that sport. If you complete a generic personal training session, you may not be building up the exact muscles that are most required in your chosen sport and you are therefore not optimising your training.'
In other words, Marnie helps people to train smart. You can try out these sessions and meet the woman herself with a Sportsfit post-Christmas programme at £75 for 5 weeks unlimited training which starts on 4 January. Additionally, young women aged 16-24 will have access to one free Sportsfit week from 8 January.
Check out the social media here:
www.facebook.com/SportsFitLondon
www.twitter.com/SportsFitLondon
Sacha Shipway, Sportsister
The Sports Magazine For Women
Select a sport
Find out how to get started, training plans and expert advice.