BT Sport Action Woman: Why Armitstead feels on top of the world
This was the year that Lizzie Armitstead added world road race champion, World Cup champion and national champion to her already phenomenal cycling c.v.  It is a resumé that includes Commonwealth champion, won in Glasgow last year, and not forgetting the Olympic silver medal from London 2012. And if that didn't make 2015 memorable enough, her boyfriend, the professional cyclist Philip Deignan, proposed to her at the top of a mountain.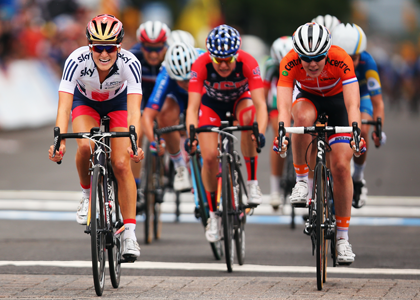 "It was all about becoming world champion this year," says the 26-year-old Yorkshire woman. "I wanted that one goal and I was willing to give up the consistency needed to win World Cup competitions in order to achieve it." But Armitstead was on fire as she also claimed the World Cup title for the second year running. "An added bonus," she says.
The UCI Women's Road World Cup is a gruelling season-long series which adds to an already busy year. "I race about 50 days per year and am away every weekend," she says. But she is quick to point out the positives. "I race so much that I don't get nervous. I'm very strategic about my tactical plan and visualise what I'm going to do in the race. Maintaining focus is simple for me and I like that aspect of cycling. Although before the World Championships was the most nervous I've ever been."
It was not all plain sailing and 2015 had spills as well as thrills. In June she crashed out of the Women's Tour following a fall just seconds after she won the first stage in Suffolk. "That was definitely the lowest point this year," she says. "I had won the race and I put my hands in the air. Unfortunately about 20 metres after the line a gust of wind took my front wheel. I was travelling about 60kph and it took me straight into a photographer and there were a few somersaults after that. I was lucky as it wasn't as serious as it could have been. It could have been a season-ending crash. I was just bruised and probably had a bit of concussion as the following week was a bit blurry."
Armitstead is one of British Cycling's greatest success stories, having risen through the ranks of the Olympic Programmes after being spotted at the age of 15. It was at the UCI Track Cycling World Cup in 2008 that Armitstead first wowed the crowds when she claimed a hat-trick of gold medals. Road racing was her main focus leading up to the silver medal at London 2012, and has remained so ever since.
The winner of the World Championships is awarded the prestigious 'Rainbow Jersey', the significance of which Armitstead puts into perspective. "In sport in general, the Olympics are the pinnacle, but in cycling being world champion and wearing the Rainbow Jersey is very special. I get to train and race in those colours all year. I'll definitely frame it after that."
Aside from an extraordinary talent, Armitstead puts this season's success down to two factors: tactics and a stable, happy life outside cycling. It was tactics – the wrong ones on this occasion – which provided a learning experience at the 2014 World Championships in Ponferrada in what Armitstead cites as "my worst defeat". "I was in physical condition to win the race and tactically I got it wrong," she sighs. "To live with that through the winter … I didn't know how to process it. I couldn't go away and train harder, I just had to get cleverer. Be patient. Have confidence."
That turned out to be a winning formula and one to which her boyfriend clearly contributes. "He has been a fantastic support and it has brought a stability in my home life. I feel happier, which has definitely been a factor in the success of this year."
Armitstead first met her fiancé, an Irish cyclist with Team Sky, in 2010 when the pair were team-mates for Cervélo TestTeam, but they didn't get together until 2014. It was in September this year, just weeks before "the big goal" of the World Championships, that Deignan popped the question. "It was a big shock and then I left for the World Championships," she says.
The fact they are both pro cyclists is both a vice and a virtue. "Although we live together in Monaco, we don't get to spend much time with each other. But it's definitely good to have someone who understands what you are going through. We are very different in temperament and as riders so we complement each other in that sense, but we try not to give each other advice on cycling. I might tell him to take it easy one day because, unlike his trainer, I can see how he is as soon as he gets out of bed in the morning. But it's more a caring thing than training advice."
Family is also important to Armitstead. When asked if she finds time for other hobbies, she admits that apart from enjoying cooking and preparing her "nutritionally balanced meals" (which occasionally include her guilty pleasure, Camembert) there is little time. Besides, she would rather get on a plane to see her family in Leeds.
Her trophy cabinet is filling nicely. Armitstead admits: "Three nice titles – I'm Commonwealth, national and world champion. It makes me feel proud. But there's one missing …" It doesn't take a clairvoyant to know she means the Olympic title. "2015 will be a big boost going into Rio. This year I've learnt that I'm capable of more than I thought I was. I just need to follow the same programme I used last winter, have confidence in my ability and be patient. And don't do anything drastically different."
But it is not all about winning medals for Armitstead. "I'm generally fairly level-headed and always had a good perspective on cycling and where it's placed in my priorities. I definitely want a family one day, but I'm in no rush. It's a difficult sport for women to juggle with motherhood as I race most weekends and train for hours nearly every day of the year." She says this without a hint of complaint.
It is clear that Armitstead loves the sport and all aspects of it. And she won't be resting on her laurels any time soon. "Even if I win gold [in Rio] I would still struggle to walk away from cycling just yet. There are other races to win – like the Tour of Flanders."
Eleanore Kelly for the Mixed Zone
Sportsister the Women's Sports Magazine
This article was first published on themixedzone.co.uk by Women's Sport Trust
Lizzie Armitstead have been nominated for the BT Sport Action Woman of the Year 2015.
During the voting process for the BT Sport Action Woman of the Year, the Mixed Zone will be publishing exclusive interviews with all 10 contenders to help you make your choice.
The winner will be decided by public vote, which closes on Monday, November 23, and will be revealed live on the Action Woman of the Year Awards show, presented by Clare Balding on BT Sport 1, on Tuesday, December 1. 
For a full list of the 10 sportswomen in line for the prestigious title – and details of how to vote CLICK HERE.
Select a sport
Find out how to get started, training plans and expert advice.