Cycling Europe's last wild River – #takeonNATURE
Thanks to this year's campaign focus, #takeonNATURE, this year has been very much a year of firsts for me. I have run my first ever marathon and sky running event and thanks to my most recent adventure, I have now completed my first ever bike touring/expedition experience and I absolutely loved it.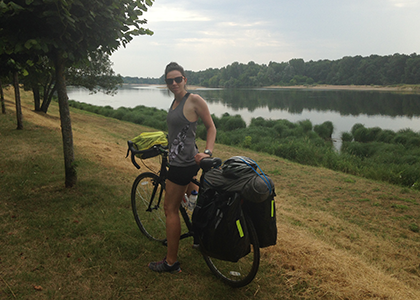 I am thoroughly enjoying the variety of these challenges, but most significantly, the opportunity they present to challenge and explore the great outdoors through human powered adventures, and simply soak up the awe-inspiring landscapes.
I haven't done a huge amount of cycling thanks to being hit by a car when I was 14 and breaking my arm (the driver just drove off and left me – what a pig!), therefore, I don't have the best relationship with bikes. However, I wanted a summer adventure this year without a huge price tag.
I follow a few other #adventurequeens such as Anna McNuff who heroically solo-cycled all the states of the USA in 2013. I loved the idea of being completely self sufficient and the freedom a bicycle offers you when travelling, combined with the physical demands of powering your own journey. I did a bit of research and discovered the Eurovelo, which is the European cycle network that can get you across Europe in lots of different directions along a variety of different trails. Doing #takeonNATURE this year, I was instantly drawn to the Eurovelo 6: The Atlantic to the Black Sea along Europe's Rivers.
Straight away I did what usually do and thought way too big and wanted to cycle the Danube, Europe's largest river. After further research, realising I'd need around 3 months off work (not going to happen) and remembering I was a complete bike novice, I decided that could be one to aim for in the future. I then looked into cycling the Rivers Rhine and Loire and decided I wanted to do them both individually, starting with the Loire as my first one this summer. This was due to a number of reasons including logistical ones, such as transporting my bike via the Euro star rather via plane for my first bike expedition to keep things simple.
More importantly however, I was drawn to the Loire as it is considered to be the last remaining wild river in Europe. Reviews from previous bike adventurers described it as "mysterious, capricious, immutable and unpredictable" and often referred to it as being one of the most beautiful bike routes they've done on their world tours. These enticing words combined with the excellent food and wine on offer along the way sounded great to me!
The reviews did not disappoint; the River Loire is stunning from start to finish and provided an excellent focus point to follow for the journey. It became my friend, waking up every morning to watch the sun rise over it and every evening the sun set in the direction of its culmination. Camping along the way added hugely to the experience and allowed me to appreciate countless sun rises and sun sets and contemplate how sad it is that we miss them in normal everyday life.
I truly missed the river when the route deviated away from it. It was really interesting to watch how the river changed from its infancy in central France, as it weaved its way and became bigger passing through national parks and UNESCO sites to its end in the Atlantic. The river's features and scenery transformed with each day from its sandy shores and beaches (which we were incredibly fortunate to camp on), remarkable gardens, characterful towns and picturesque villages, protected vineyards and natural wildlife sites.
Wildlife was in abundance from migratory birds (we saw three hawks in the first week) to beavers that have chosen the welcoming river as a refuge. There were also several mornings when we opened the tent and loaded up our bikes surrounded by rabbits. There is so much more you see when wild camping and travelling by bike that the noise of campsites and cars disturbs and frightens away.
The Loire Valley is part of UNESCO's World Heritage list as a living, cultural landscape. This international recognition defines the largest listed site in France. It stretches for 280km of the cycle route, between Sully-sur-Loire and Chalonnes-sur-Loire. Harmony is the keyword of this heritage site where men and women find their rightful place in nature. It brings together natural and historial heritage, chateaux, gardens, towns and villages, traditions and expertise of river culture and wine production, all in rich symmetry.
There are many other ways you can create your own human powered adventures in this unique landscape. There are an abundance of treks available, as well as traditional sailing-rowing boats (seils), canoes and kayaks which can all navigate the royal river in peace. We bumped into lots of people kayaking the whole river, being self sufficient carrying all their equipment from source to sea and said nothing but great words about their experiences.
Not only is it wild, but it also has a historical royal heritage with chateaus in abundance, including the infamous Château de Chambord. For the majority of the cycle, we followed the Loire à vélo trail  which is an 800km cycle route that passes through the Loire Valley regions from Cuffy in Cher to Saint-Brevin-les-Pins in Loire-Atlantique.  Anyone can use the route to enjoy a simple bike ride, day cycling trip or take on the whole river challenge (the Velo trail doesn't cover the whole river, just the final 800km).
When I say anyone can cycle it, I really mean that. The Velo trail is fairly flat and we came across all types of people from young families with trailers on the back to retired couples cycling their way around the country, continent, and world. The route is predominantly off-road or on remote roads, all made of tarmac, with a few gravel sections or mountain bike trails on offer if you choose to do them.
Ideally you would want to use a hybrid rather than a road bike for better suspension and thicker tyres to cope with the gravel sections. We used cyclo-cross bikes which took the weight of our panniers perfectly, but still allowed us to maintain some speed. It is certainly not a route to do in a rush as you want to be able to take the time to discover the rich and diverse heritage by bike alongside the majestic river and recharge your batteries in the heart of these exceptional thriving cultural landscapes.
For ease of safety, the route is signposted in both directions. Guide maps are regularly displayed along the route designed to help cyclists both for planning and during your excursions. Services along the route are developing; adapted rest areas, train accessibility, tailor-made visits etc. The sign "Accueil velo et Loire a velo" designates accommodation, bike rentals, sites to visit and Tourism Information Centres that are committed to hospitality and quality services to cycling; luggage, lockers, bike supports, repair kits, hearty breakfast and more.
This was a fantastic first bike touring experience which has certainly sparked a new found love of cycling adventures for me. I'm already looking at other trails and routes, many of them along some of the world's most stunning rivers thanks to the inspiring bike tourists I met on my trip.
In a world where we can travel from continent to continent in a matter of hours, high up away and disconnected from the earth's surface, we often forget that crucial part of travelling which is the journey itself. This experience highlighted how much I've neglected that part in my travels and I thoroughly enjoyed the serenity and liberty cycling around aimlessly on my bike provided. At the start of the trip I only managed 30km a day and by the end was comfortably covering 100km a day and by no means rushing or missing things along the way. I certainly returned from my trip feeling healthier, fitter and incredibly relaxed and stress-free.
For further info/links:
Clarissa Schilling, née Goodwin, Sportsister
The Women's Sports Magazine
Clarissa inspires others to #takeonachallenge
Off the back of completing 'My Year of Ultimate Challenges' follow me as I attempt to take on bigger and more enduring challenges from abseiling, cycling, stand up paddle boarding and swimming to desert races, mountain treks, adventure and obstacles races….with as much variety as possible! I'm doing this in the hope to encourage girls and women to #takeonachallenge, get active and have fun whilst raising money for the Go Sisters World Series which aims to promote female participation and empowerment of girls through sport across the globe. I am also doing all of this in the memory of my father who inspired and made me the sport fanatic I am; and raising money for The Guide Dogs for the Blind Association in his honour. Follow my journey through the highs and lows of my training, reviews of the events I partake in, and be part of this fulfilling journey of discovering how hard we really can push ourselves!
TO READ THIS BLOG IN FULL CLICK HERE
Select a sport
Find out how to get started, training plans and expert advice.