Netball World Cup: England dominate group stages
The Netball World Cup is well underway with the last games of the group stages playing out on Monday. Both England and Wales have won three out of three matches and are heading into the next round as top of their pools. Scotland defeated Samoa but lost to England and Jamaica in a tough group. Fans in Sydney have been treated to some incredibly close and exciting games, with more to look forward to this week.
England vs Scotland – 7 August – ENG 60-19 SCOT
England got their Netball World Cup campaign off to a flying start with a 60-19 victory over Scotland. The match began well for the Roses with excellent work in both attack and defence. Changes were made for the second quarter and once again England came out firing, scoring five goals in a row. However, a scrappy end to the half saw England leading only 27-11 at the interval. In the third quarter Stacey Francis came on at WD along with shooting duo Helen Housby and Rachel Dunn, who netted 15 from 16 attempts in the quarter. Serena Guthrie had a stormer of a game with multiple interceptions and a cartwheel. England got better and better as the game went on and blew away their opponents. Scotland just missed their target of keeping the goal difference below 40 goals, as England continued to dominate and win the match by 41 goals.
England vs Jamaica – 8 August – ENG 54-50 JAM
The Roses secured another win with a 54-50 triumph over Jamaica in an incredibly tense match. It was a closely fought game that could have gone either way even into the final quarter. Before the game began, the 21,000-seat venue fell silent as the competition paid its respects to Tracey Neville and her family after her father sadly passed away on Friday. The first half saw Jamaica creep ahead before England fought back and, after a nail-biting goal for goal battle, England took the lead and secured the hard-won victory. England showed incredible resilience to come out on top after a close, physical game at an emotionally charged Allphones Arena.
England Roses vs Samoa – 9 August – ENG 85-34 SAM
England continued their successful streak to make it three out of three wins with a crushing 85-34 victory over Samoa. A new starting seven came out strong and stormed ahead, with England leading 22-4 after the opening fifteen minutes. The second quarter delivered more of the same, with Geva Mentor and Sonia Mkoloma using their experience to dominate the Samoa attack and at half-time the score was 43-10. Changes were made at the interval and the new line-up struggled into gear, allowing Samoa to score 14 goals in the quarter, putting the score to 61-24. With a point to prove, the same seven remained on court and played fantastically. Jo Harten's shooting was consistently excellent, with a flurry of long range attempts, and England pushed on to secure a convincing win.
Scotland vs Samoa – 8 August – SCOT 47-36 SAM
Scotland defeated Samoa 47-36 in an aggressive match for their first Netball World Cup win. Samoa led by one goal at the end of the final quarter, but messy errors let Scotland push their way back into the match. The physical Samoan's high penality count saw Scotland take a 23-22 lead at half time. Lesley MacDonald came back on and along with Lynsey Gallaghe played brilliantly, as Scotland raced ahead to secure the win. 
Scotland vs Jamaica – Monday 9 August – SCOT 71-24 JAM
In their third match of the competition, Scotland lost to Jamaica in a crushing 71-24 defeat. The Thistles were outscored in every quarter, as Jamaica's Jhaniele Fowler-Reid scored 59 of her team's goals. Despite a strong display by both sides, Jamaica dominated to take the second spot in Pool B – putting Scotland in third place to enter the play-offs for positions fifth-sixteenth.
Wales vs Fiji – 7 August – WAL 59-52 FIJ
Wales began their Netball World Cup with closely fought win over Fiji. Despite trailing 16-13 at the first quarter the Welsh girls came back out firing and WA, Bethan Dyke's energy pushed teammates to take the half time lead at 33-24. Fiji's Taraima Mitchell shot with 100 per cent accuracy, keeping her team in the game, but Wales held strong and secured the win at the final whistle.
Wales vs Zambia – 9 August – WAL 71-44 ZAM
In their second consecutive win Wales defeated Zambia 71-44, enjoying a huge height advantage average of 15cm over their opponents. Zambia were entertaining to watch, with frequent bounce passes and Elizabeth Bwalya and Lucy Jere's one-handed shooting, but Wales dominated and were up 37-22 at half-time. In a brilliant moment for Zambia Naomi Changwe, one of the shortest players in the tournament, took an eye-catching interception, but the Welsh ladies raced ahead to triumph with a convincing win.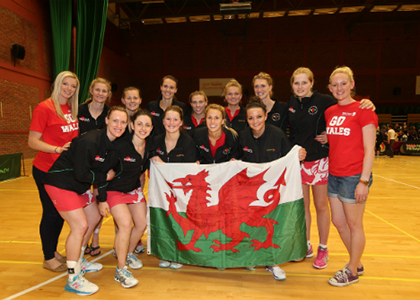 Wales vs Uganda – 10 August – WAL UGA 49-47
Wales secured a third victory by defeating Uganda 49-47 in an incredibly close match. Both teams entered the game undefeated, with Uganda boasting a better goal difference with Peace Proscovia holding the second highest shooting tally of the tournament. After a strong start the Welsh held the lead until the third quarter, when Uganda fought back and crept ahead to 39-35. Despite relentless work from Uganda's defence, Wales' WA, Bethan Dyke and C, Kyra Jones worked tirelessly to feed their shooters, and faultless shooting from Chelsea Lewis and Emma Thomas pushed Wales back in front to win the game.
England will face Australia tomorrow in what is set to be an exciting match, after the world number ones were defeated by New Zealand earlier in the week. There is everything to play for and we wish all of our British teams the best of luck!
Sportsister, The Women's Sport Magazine
Select a sport
Find out how to get started, training plans and expert advice.