Mountain Girl Blog: Setting the Summer Intentions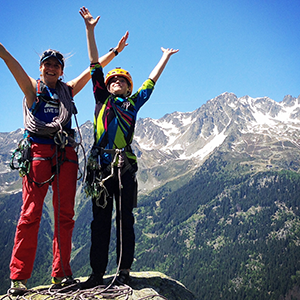 Now I don't want to tempt fate but it does look very much like summer has arrived in the Alps. Whilst the past few weeks have been ridiculously inconsistent weather-wise with temperatures in the high 20's one day then snow at the house the next, it does finally look like we've got some sunshine and warm temps lined up for the foreseeable. Cue much digging out of summer clothes and even more uncorking of rosé….
This is great news because I'm fully ready to get involved with this summer's fun and games. Whilst I did admittedly struggle to say goodbye to winter in my last post, now that we've hit June I'm perfectly poised for Pimms and play. The months ahead are full of plans for vertical and endurance games and high up the list is my long-held desire to climb Pointe Percée in the Aravis. It's basically the route that I've wanted to climb since I moved here and whilst life, bad weather, family, injuries, other sports have seemed to put numerous spanners in all kinds of works to date, this summer I'm determined to get it dialed and entered into the logbook. It's part of a collection of beautiful multipitch routes in the Aravis known as La Grand Arabesque – a series of 5c/6a multi-pitch routes that can be done over 2 days and sounds like an amazing journey through one of my favourite mountain ranges. I'm not sure if we'll get the whole LGA done this summer but I'm gunning for Pointe Percée at the very least.
With the big PP in mind, I've been out and about doing a few easy multi-pitch climbs of late, re-familiarizing myself with the processes, trying to move faster on the rock and becoming more efficient at setting up belays and abseils etc. I'm really enjoying being out in the mountains rather than just yo-yo'ing up and down the same route and sitting at the base of a crag all day. I've also got the trail shoes out again which has been great. Discovering the joy of running through alpine meadows, along ridges and up high in the mountains was one of my greatest experiences last summer and I'm hoping to build upon everything I learned last year. Priority number one will be not to break my ankle like I did in the Tour des Fiz trail event last July. Nothing quite ruins a summer like a broken bone that's for sure….
Another exciting mountain adventure on the horizon is a potential trip to climb the 6,153m Stok Kangri in the Ladakh region of northwest India in August. I am the Contributing Editor to Trek & Mountain magazine and am hoping to accompany a readers' expedition that we are organising to India in association with Peak Mountaineering. I'm just waiting for confirmation from the Indian Tourist Board that they will help out with the flights and then it will be time to start putting in some serious hours on the hill and heading high to try and get ahead of the acclimatization game. If it all looks like it's on we'll hopefully head for the 4,061m Gran Paradiso in July which should help with that process….ok, ok you got me, I'm just going for the gelato. So sue me!
So multisport adventures are definitely the order of the day right now and recent weeks have even seen my old friend Dorothy leave the garage and head for the open road. Dorothy you must understand is my road bike and the friend that I spent the most time with a couple of years ago whilst training for the Etape du Tour.  I was never interested in humanising the bike but in a bid to become a little bit more serious about my pre Etape training I signed up to Strava and it demanded to know the name of my trusty steed. They were probably looking for something a bit more like Cannondale but hey, Dorothy kind of suits her. Whilst I've always been fond of old Dot I have to admit that I kind of fell out of love with road biking last summer due to a desire to spend more time in nature and away from cars, lorries, fumes and noise. Despite that I've actually really enjoyed the couple of rides I've done so far this year which have included the Col de Colombiere and the Col de Ramaz and have been relatively traffic-free. I've become increasingly aware that the enjoyment of a ride is in direct proportion to the priority given to lunch and thankfully I've been riding with like minded folks this year. Long may it continue….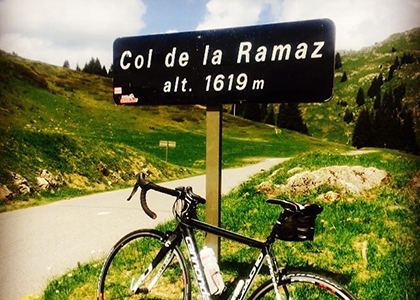 There's plenty to be getting on with in the Alps right now that's for sure and there's very little time to waste. As Ferris Bueller once observed, life does indeed move pretty fast and I for one am determined to make this summer count. I apologise in advance to anyone dragged along by my 'enthusiasm' but will endeavour to make sure they are fully lubricated for the adventure. Glass of rosé anyone?!
Sophie Nicholson, Sportsister
The Women's Sports Magazine
About Sophie's blog
Mountain Girl is passionate about the vertical wilderness, backcountry skiing, mountaineering, hiking, trail running, biking, and rock climbing. Oh and Prosecco - she really likes Prosecco.
Select a sport
Find out how to get started, training plans and expert advice.