New year, new challenges; Time to #takeonNATURE
Every year you see a plethora of articles, blog posts and features on new year's resolutions; #NYResolutions is still merrily trending away with more people talking about ones they're making or breaking already. I've said it before, and I'll say it again; I believe New Year is a chance to focus on taking things up rather than giving things up.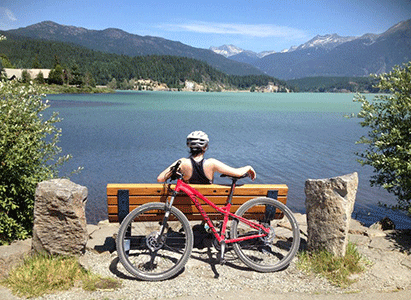 For me, it's getting back on track with some new challenges after my injury laden 2014. A couple of years ago I would have moaned about it as I'm fairly injury prone. However last year, for once, I was actually patient and learned a lot about my body during my recovery (to my physio's joy), and also what I wanted from it in a fitness sense. It also gave me the time I actually needed to get my work-life balance back, and plan important things like my wedding and honeymoon!
The latter surprisingly providing an idea for the direction I wanted to take my challenges next. We had a very active honeymoon in Canada, doing lots of cycling, running and trekking with a bit of proper mountain climbing in the stunning mountains of British Columbia and Alberta.
I certainly caught a bug for those big landscapes and it gave me a new big idea. This was further reinforced after I went on an adventure trip to Iceland. You can see here in my previous post the sort of things I managed to get up to, challenging this awe-inspiring landscape which most definitely left a lasting imprint on me.
As a result, this year I'm planning to #takeonaCHALLENGE in the great (mostly british) outdoors. It was simply amazing to go and discover the stunning landscapes in Canada and Iceland by physically getting to confront them, explore, navigate and negotiate around and through them. It added a whole other dimension to physical activity that I have missed by having my roots in sport on athletics tracks and hockey pitches, as well as growing up in the flattest county in England.
I simply fell in love with the hills, the mountains, the rugged terrain and touching the sky at the top. However, it made me realise you don't have to go far or leave our shores to do so. I realised how amazing our own doorstep actually is, and how much of it I haven't truly explored; and what better way to explore it than challenge it? Thus, #takeonNATURE was born.
I want to celebrate the amazing land and seascapes our mighty island nation has. I want to be inspired by them, learn about them and myself by challenging them. My simple aims are to help raise the profile of all the possibilities, facilities and opportunities there are for everyone, and how by actively exploring them with friends and family can be an amazing way to spend your free time. This is something I don't know a huge about and want you to join me on my journey of discovery.
I've realised from the majority of my previous challenges, that doing them with others is so much more fun. Doing challenges together can be incredibly rewarding, pushing them further than they thought they could go, and indeed them helping motivate you to do the same. It also makes the celebrations at the end more fun!
So I'm inviting you to come and join me on these challenges to see how far we can push ourselves out of comfort zones, and take advantage of what is on our doorsteps, getting fitter, healthier and happier in the great outdoors.
Join me as I set off to the coast, into the hills, out to the forest or to paddle the waterways, race along the trails or take to the skies. Come on, you know you want to! Details on the actual events coming soon….
For more information: #takeonaCHALLENGE, #takeonNATURE or to join me on a challenge, visit the website www.takeonachallenge.co.uk or you can catch me on Twitter @takeonachalleng @clarissagoodwin
Clarissa Goodwin, Sportsister
The Women's Sports Magazine
Clarissa inspires others to #takeonachallenge
Off the back of completing 'My Year of Ultimate Challenges' follow me as I attempt to take on bigger and more enduring challenges from abseiling, cycling, stand up paddle boarding and swimming to desert races, mountain treks, adventure and obstacles races….with as much variety as possible! I'm doing this in the hope to encourage girls and women to #takeonachallenge, get active and have fun whilst raising money for the Go Sisters World Series which aims to promote female participation and empowerment of girls through sport across the globe. I am also doing all of this in the memory of my father who inspired and made me the sport fanatic I am; and raising money for The Guide Dogs for the Blind Association in his honour. Follow my journey through the highs and lows of my training, reviews of the events I partake in, and be part of this fulfilling journey of discovering how hard we really can push ourselves!
TO READ THIS BLOG IN FULL CLICK HERE
Select a sport
Find out how to get started, training plans and expert advice.