Getting started: A guide to solo skiing
As we head into the ski season, many of us will begin to feel the pull of the slopes, however not all of us have the benefit of friends and family who feel the same. Whatever your situation or reasoning, the solo ski holiday is rising in popularity and there are now several packages to suit the independent traveller. Here Neilson's Paul Deadman shares his tips and recommendations, encouraging those considering a solo ski trip to go for it:
Why go solo?
Meet likeminded people – if your circle of friends or family lacks snow lovers, a solo skiing trip could be just what you need to get your fix of the slopes while meeting like-minded people who love the mountains and being active outdoors as much as you do.
Time for yourself – being at one with nature, enjoying breath-taking scenery with no distractions, undoubtedly promotes better mental health and encourages spirituality. For many it provides the perfect tonic and escapism from the stresses of everyday life. If that's what you're looking for, skiing solo is an opportunity to amplify the experience – offering true respite and relaxation. That said if you decide you do want company, you won't have to look too far.
Go at your own pace – one frustration of going skiing with companions is the varying ability levels and pace of the holiday. When skiing solo you can ski at the speed you want to without waiting for people or holding them back, you can go wherever you want to and stop for a second or third hot chocolate if you want to!
Before you go
Research solo ski deals – due to popular demand, there are now a number of operators providing solo ski deals whereby if you're traveling alone you won't be penalised with solo supplements.
Choose the right resort and accommodation – think about what you want from your holiday, do you want to socialise, enjoy the nightlife, do your own thing or explore as part of a group? Do you want your own space or to share with a fellow solo skier? These factors will determine which resort and accommodation type will best suit your needs. A ski chalet will often tick a lot of these boxes as they're a sociable base with privacy too.
Join a forum – forums and solo skiing discussion boards are a great way to connect with people looking for solo skiers to join their group or simply for gaining confidence and tips from other independent travelers. You may even be inspired to alter the direction of your holiday or organise a ski-day with fellow snow-worshippers.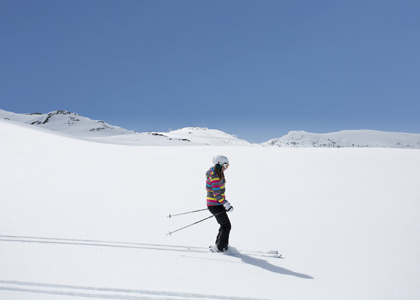 While you're there
Sign up for a ski/board leading service – Another great way to meet new people is to join a ski leading service. Resort hosts will help you familiarise yourself with the mountain, find the best spots for lunch and to ski or board with those of a similar level.
Stay safe – while skiing is one of the most enjoyable and exhilarating sports, it also has its risks. When skiing solo it's important you look after yourself and follow the necessary precautions to prevent any potentially dangerous scenarios, both on and off the slopes. The old saying 'safety in numbers' still stands true, so if you're concerned – opt for group ski-sessions, buddy-up and definitely don't go off piste alone.
Have fun – a solo ski holiday is all about you. You are free to do what you want, when you want. It's what you make it, so relax, let your hair down and have fun.
Best resorts for solo skiers
Italy, Sauze D'Oulx – Hotel Stella Alpina and Hotel Derby 
Italy, Bardonecchia – Hotel La Betulla 
Bulgaria, Borovets – Hotel Moura and Hotel Flora 
France, La Plagne – Neilson Chalet Montagnettes
For more information on solo ski holidays call 0333 014 3351 or visit www.neilson.co.uk/ski/solo-ski-holidays
Paul Deadman for Sportsister
The Women's Sports Magazine
Select a sport
Find out how to get started, training plans and expert advice.