Louise Hazel visits South Africa with The Supporters Club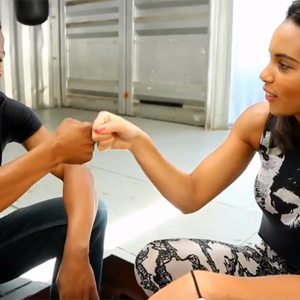 Commonwealth gold heptathlete and Olympian Louise Hazel travels to Brazil to see the impact of Fight For Peace, a charity backed by The Supporters Club, to see how their work is changing young lives across Cape Flats.
I've travelled the world with athletics, but I was totally overwhelmed with the backdrop that makes up Cape Town. Thousands of tourists visit the city every year and they go for the incredible scenery. It's such a stark contrast to the poverty, crime and drug problems that can be seen in the Cape Flats, just a stone's throw a way.
I visited the area with BT Sport's The Supporter's Club to see how one of their charities, Fight for Peace, support local organisations to help young people avoid a life of crime and violence. Some of the people I met were preparing for a big boxing tournament.
I met Blaze and Zukile, who are now working as gang mediators and boxing activators at Nyanga Yethu, a place that hosts activities for young people in the community. They told me what it was like growing up in the township of Nyanga, which is one of the most dangerous townships in South Africa.  They've had some real challenge having grown up around violence and gang crime. They have experienced things that a normal teenager shouldn't really have to go through. However, they've seemed to really come out of the other side and they're now both positive role models in their community.
I was introduced to two teenage sisters who live with their mother, Funeka, and four other relatives in a small shack in the township of Philippi. They've been burgled several times and they really didn't have anything to start with. The mother, Funeka, is unemployed and is seen as the breadwinner of the family. They box for Golden Stars Gym, which is another partner of Fight for Peace. I shed a tear when I sat with Faneka to watch her girls in the tournament. It was so emotional. These two girls have come from huge struggles and they suddenly forgot all of that for three rounds of their boxing match. They both walked away as champions and all the young girls got to see some really great female role models, which is something that I was really inspired by.
Nika and his boxer, Ntandazo, really impressed me. Nika found Ntandazo looking for a boxing gym in Langa and he took him under his wing and trained him at his boxing academy. Ntandazo has been through so much and to have a role model like Nika helping him through boxing is so encouraging.
I think what was amazing was how everyone came together and they understood that the message isn't necessarily about winning but it's about what you do now and what happens in the future. This is the beginning for a lot of the journeys.
The sad side is the huge disparity I saw. You have all this affluence, tourism and business on one side of the city and on the other side is the Cape flats, stricken with poverty. Such an extreme. Cape Town really has difficult problems to overcome. But I feel like Fight for Peace and the organisations that they work with in Cape Town are doing an amazing job in challenging those problems.
The work that the Supporters Club does in helping charities like Fight for Peace is so important. It's not about throwing money at a cause. It's about facilitating change and giving them the education that they need so that they can go and build a sustainable future.
Louise Hazel, Sportsister
The Women's Sports Magazine
Fighting for peace with Louise Hazel aired on BT Sport 2 at 6.45pm on Saturday 13th December, and is now available online.
Select a sport
Find out how to get started, training plans and expert advice.