Iceland – Glacier walks, lava tubing, & trekking the Mid-Atlantic Ridge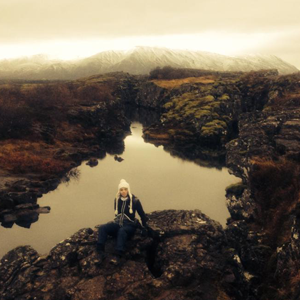 After growing up in the countryside, and having lived in several busy cities since leaving home, I am increasingly finding myself craving the outdoors and a-back-to-nature lifestyle. This has been reflected in my choice of challenges; I am increasingly selecting races and events that battle nature's finest in the forms of hills, rivers and mountains, with spectacular vistas to inspire me along the way.
I therefore jumped at the chance to go on a trip to Iceland with mouth-watering scenery that, to simply look at, is an adventure in itself. Just 30 minutes outside of  the modern and quirky capital of Reykjavik, you find yourself instantly surrounded by truly awe-inspiring views away from any civilisation.
The vast landscapes make you feel as if you are on another planet; with the extreme shades of black sands and soil, against the lime green moss and grass and snow capped glaciers, mountains and volcanoes occupying almost every view. It is therefore easy to understand why so many tv series and movies, such as Game of Thrones and Noah, used Iceland for their shoot locations.
With natural wonders in abundance, it is incredibly easy to be awe-struck by the waterfalls, geysers, glaciers, mountains, volcanoes and stunning waterfalls. The Icelandic folk are clearly made of strong stuff to live life in these exposed yet stunning landscapes. This makes the south coast of Iceland a perfect playground for those with an appetitite for exploration and adventure.
There's something for everyone; from taking a dip in the hot springs which are all heated by Iceland's geothermal energy, to sailing the Arctic fjords and seeing this active volcanic island from its waters. Or you can opt for the plethora of activities that allow you to challenge the unique landforms Iceland has to offer, whether running, hiking, climbing or biking them.
During our trip we chose to hike through Thingvellir (the parliamentary plains). This has got to be one of the most memorable landscapes I have ever seen. This national park is where Iceland's parliament was established in 930AD. However, it's more noticeable characteristic is the fact it is scoured by the Mid-Atlantic Ridge. Large rift valleys are clearly visible where the Eurasian and North American tectonic plates pull apart at around 2cm a year. There are plenty of trails to follow with the most dramatic 360 degree views along the whole hike as you hop between the two plates.

Sitting on the Mid Atlantic Ridge
Our next challenge was to take on the tongue of the Solheimajokull glacier. Solheimajokull is an outlet glacier from the Mýrdalsjökull ice cap. Our glacier walk was operated by a company called Arctic Adventures who provided us with basic ice equipment and gave us a short but informative lesson on the use of crampons and ice axes.  After a stunning 30 minute hike to the tongue's edge, we put on our helmets and crampons and began our exploration of this receding glacier.
The walk took us through a beautiful frozen wonderland of ice sculptures, sub-glacial rivers, ridges and deep crevaces. We learnt to carve basic stair cases and ladders into the ice to help us navigate our way up the tongue.
The whole Mýrdalsjökull ice cap is melting due to current global warming and the Solheimajokull glacier is currently retreating about 100 metres per year. At this current rate, within a couple of decades, the mesmerising glacial walk I did will not exist. The glacial tongue will become an ice lake at the front of the glacier edge. Knowing this made the walk even more meaningful and highlighted my desire to take on challenges in nature's finest, as we may not be able to do so in some environments for very long. With such a stunning and serene environment, it made me very sad to think the next generation would not be able to experience this same glacial walk.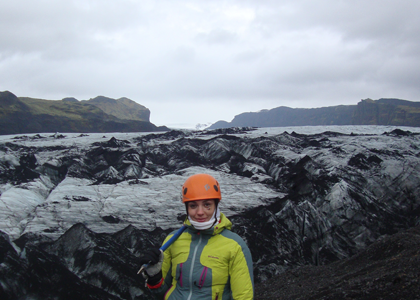 All geared up ready to take on the Solheimajokul glacier
The final activity we did was a huge challenge for me – I am not a big fan of small spaces. However, #takeonachallenge is all about pushing yourself to the end of your comfort zone, in whatever form that may take. Again, in the Thingvellir National Park under the spectacular lava fields, there is the unique opportunity to go caving. However, these are no ordinary caves. This is an underworld adventure through lava tubes, formed by the last volcanic eruption in the region.
This is smaller than any cave experience I have previously had, and you are advised to wear sturdy shoes, and not to wear expensive jackets. This is due to the truly magnificent rock formations left behind from this last eruption, which created un-even surfaces in some sections, in constrast to incredibly smooth in others. These formed because surface lava solidified but the magma continued to flow through the tunnels. Because they are tubes and tunnels, we very rarely stood up properly on the 1 hour and 45 minute underground journey. We crawled for most of it, with some sections where we had to scramble. So not a wise choice if you are claustrophobic! I usually struggle with this, but I managed. Even for the section where they ask you to turn your head torch off! I also felt a huge sense of achievement having made it through and not losing my nerve!

Caption: The Thingvellir Lava Fields above the lava tube caves.
Many who travel to Iceland focus on the Blue Lagoon and the Golden Circle, which are themselves natural wonders worth a visit. However, there are a plethora of other opportunities in Iceland. Many that invite adventure and pose excellent challenges. I have simply skimmed the surface with my visit, but this volcanic island certainly left an adventurous imprint on me. If I went back I would take my bike and explore away…those roads and views were made for long rides and memories galore.
Travel company: www.discover-the-world.co.uk
Clarissa Goodwin, Sportsister
The Women's Sports Magazine
Clarissa inspires others to #takeonachallenge
Off the back of completing 'My Year of Ultimate Challenges' follow me as I attempt to take on bigger and more enduring challenges from abseiling, cycling, stand up paddle boarding and swimming to desert races, mountain treks, adventure and obstacles races….with as much variety as possible! I'm doing this in the hope to encourage girls and women to #takeonachallenge, get active and have fun whilst raising money for the Go Sisters World Series which aims to promote female participation and empowerment of girls through sport across the globe. I am also doing all of this in the memory of my father who inspired and made me the sport fanatic I am; and raising money for The Guide Dogs for the Blind Association in his honour. Follow my journey through the highs and lows of my training, reviews of the events I partake in, and be part of this fulfilling journey of discovering how hard we really can push ourselves!
TO READ THIS BLOG IN FULL CLICK HERE
Select a sport
Find out how to get started, training plans and expert advice.