Have your say: Unfair criticism over attractive female adventurers
This time last year Lissa Cook interviewed one of the UK's best climbers, one of our top snowboarders and a promising debut filmmaker about the lack of women in adventure sports following an angry email about the absence of women in the Sheffield Adventure Film Festival trailer. This year the festival has again received criticism because the women featured are conventionally attractive – Lissa Cook has her say in response.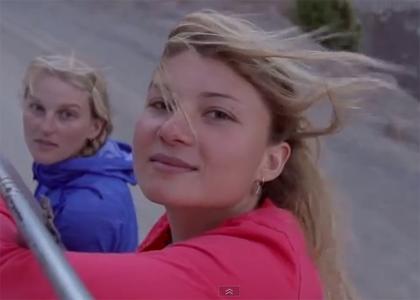 This week, we've been targeted by an angry, feminist blogger for the "tiny number of women" featured in this year's trailer.  LaDIYFest writes:   "There's a young, slim, blonde woman going for a run with her dog in the countryside…Another young, conventionally attractive woman with a nose piercing appears in a soft focus close-up…Two women – again, attractive, young and blonde – stand together, looking happily at the camera."
"What's striking about these women…is that none of them are pictured in active roles…Instead of getting messy and sweaty from doing extreme sports, and looking powerful, exhilarated and inspiring, [they…] have a role that's largely decorative…They're a pretty foil to the beard-preening, macho air-punching and (at one point) naked dick-grabbing."  Click here to read more. 
I'm a feminist.  I'm working hard to strive for equal representation for women on screen.  I'm not angry but I am frustrated that we weren't approached ahead of publication.  (Perhaps that's my old-school ex-BBC producer training).  In our defence:
1) Are we guilty of peppering the trailer with sweat-free, eye candy?  The young, slim, blonde with dog is Sarah Ridgway, GB Mountain runner.  The two attractive blondes are elite climbers Emily Harrington and Hazel Findlay – the first woman to climb the super hard E9 grade who you see taking a mega-fall on a massive wall.  The seductive woman with her nose pierced is the fictional counterpart to the skiing 'dick-grabber'.  (Hard to sum-up 'Valhalla'.  Suffice to say, it's one of the most original films we're showing from one of the industry's most innovative independents).
2) Beard-preening?  I'm chuffed we're representing older blokes like Wheelin's magnificently hirsute cycling Commodore and Mission Antarctic's moustachioed sailing legend Jerome Poncet.  (The other chap is another of Valhalla's inventive cast of characters).  As it happens, we're also screening a film about a 75 year old climber as well as the redoubtable 90 year old Keeper of the Mountains, Elizabeth Hawley, but she's a journalist which doesn't make for great trailer action.
3) We are trying harder. Matt watched 350 entries this year – twice as many as last year.  105 have made the final cut.  They only get in on merit.  We had a complaint from a disabled adventurer we turned down.  The film wasn't good enough.  He's up against stiff competition – we're proud to be screening 10 films dealing with disability and injury.  We've rejected some films with women in that don't make the grade.  But, we've doubled the number of films either made by women and/or featuring female athletes .  It's still only a lamentable fifth of all the films we're showing, but it's progress.  (Happily, two of our three judges are women).
4) The trailer's a logistical nightmare.  You have to edit it before you have all the permissions and HD versions so you have a very limited selection compared to the final festival programme.  I'd have loved to include Kathryn Bertine's brilliant 'Half the Road' about the fight for equality in pro-cycling or 'Made of Steel' about base-jumper Karina Hollekim's recovery from a near fatal accident.  Permission came through to late to include a clip from 14 year old Laura Dekker's round the world solo voyage 'Maidentrip.'
5) We're not a big company with unlimited resources.  Matt's a self employed consultant working on several events over the year with two days a week support from myself.  Including two or three more women who feature our films like world-class climbers Mina Leslie-Wujastyk, Pamela Shanti-Pack and Caroline Ciavaldini, runner Anna Frost or surfer Lea Brassy would have more accurately reflected the female/male ratio in the final programme, though they'd have all lost points measured against LaDIYFest's attractiveness/weight yardstick.  (Perhaps we should all ask ourselves if we're primed to focus on how a woman looks rather than what she's doing?)
6) The irony is that the trailer's producers Lukasz Warzecha and Wojtek Kozakiewicz (PolishedProject) also made Sarah's film, part of a series entirely about women in adventure sports – including Paralympian Karen Darke – for Epic TV called 'Wild Women'.  As Lukasz points out, criticising him for selecting slim women is a bit unfair, "It's like complaining there are no obese people competing in the Olympics."
Sarah herself says, "I don't feel the need to always show off in film the 'epic' things I do because the simple act of running with grace with my best mate [Bella the dog] demonstrates how much work I've invested in making it look effortless. How disappointing that this lady ignorantly depicts my presence as just being 'young and slim' instead of admiring the way I am.
"Our sport does indeed make us glow with health and provides us with fit, lean, strong bodies.  So yes, our choices in life, hard work and passion makes us attractive – men and women – a bonus for sure but not the driver."
"Like I mention in the Wild Women film – we should all just keep trying to reach our ceiling.  So I'll make no excuses for wanting to be unpretentiously beautiful, as well as challenge myself in my sport and life – and I have enough confidence in my self-worth to know I can work to be the best I can without even thinking about whether I'm a man or a woman."
To conclude, there is undoubtedly a serious debate to be had about why there aren't enough women in the adventure sports industry: early socialisation of women; gender stereotyping; the failure of manufacturers and advertisers to promote women and women's kit; physical limitations and self-imposed constraints – all of which I addressed in last year's interviews.
ShAFF judge and Trail Running Magazine Editor, Claire Maxted, who describes herself as an "equalist" rather than a feminist, adds a final rallying call, "I edit a magazine in a male-dominated sport.  Feminist ranting is much less helpful than feminist supporting and doing.  Rather than bashing ShAFF, work with us to find out all the ways everyone can help, support and promote female adventurers."
In that spirit, we've invited LaDIYFest to ShAFF and hope her article and this response fuel that debate.  We promise to try even harder next year, but please don't shoot the messenger (especially without talking to her first!).
Lissa Cook, Sheffield Adventure Film festival
You can win tickets to this years Sheffield Adventure Film Festival – click here for more details
Select a sport
Find out how to get started, training plans and expert advice.