#TakeonaChallenge Blog: Nuts Challenge Review
When we heard about the Nuts Challenge, we promptly sent our blogger Clarissa Goodwin to give it a shot.  Set out over a 7km lap inclusive of about 100 obstacles, the Nuts Challenge is consistently labelled as one of the UK's top mud runs and obstacle course races.  Clarissa, of #TakeonaChallenge blog fame, entered the event as her first race in the Mudstacle Obstacle Racing League.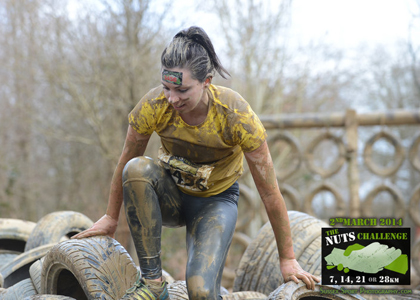 The Course
Located in Dorking, Surrey, the Nuts Challenge is a military style assault course designed to push individuals to their limit. The Challenge has four distance options for different abilities (7km, 14km, 21km or 28km). As with most events on the obstacle racing circuit, the Nuts Challenge offers elite heats as well as accommodating those who wish to don the fancy dress and use the opportunity to raise money for a worthy cause.
It is important to note that this is one of the toughest obstacle races out there, and the course must be respected. The longer-distance races make some of the hardest events available in the country, and very few people actually finish. The wet weather we had suffered over winter certainly did not help—any grass that was visible was floating on oversaturated mud and made the course that extra bit challenging and exhausting. Considering that parts of the course were covered in ice last year, I was grateful to only have a bit of extra mud in my way!
There was a great vibe at the start line, which left from just behind the event village.  As with most of these types of events, there was a mass warm up—crucial on the cold morning of the race—and everyone was bracing themselves for the cold mud and water they knew awaited them.
The county mile that started the race was a double-edged sword.  It was possibly the only time during the event I actually ran properly, without feeling like I was going to slide, slip or lose my grip on every step—but it lured me into a false sense of security.
After that country mile, we faced obstacle after obstacle with no time for rest. These range from climbing bales of hay, 15m crawls in the dark in cold muddy water, river crossings (involving running through the freezing water and sliding up and down the steep banks), rope swings, high walls, fences, cargo nets, tyres (many, many tyres!), more river crossings, steeple chasing over mud walls, the big and little dippers, descending mud slides and traversing through murky ponds under posts, sliding down poles from frightening heights, crawling under tarp, and rope climbs in dark tunnels. All of that, all within just the first 5k…!
Organisation
The organisation of the event was excellent, with clearly signposted and colour coded walkways for spectators to use to watch the races along different sections of the course. As soon as we finished the event we were awarded our medal and wrapped up straight away—points for much-needed efficiency there!
My Race
I was aiming to complete the 14km two lap race, but unfortunately injured my knee 6km into the race. This is never fun and I was very disappointed considering this was the first event of this type I had done on my own—I have done multiple obstacle races before, but never any this tough and always as part of a team.
I will certainly do this again—I want to earn my medal and complete at least one full 7km lap. I'd love to one day be one of the few to complete the 28km (four lap) event. The difficulty of this event certainly surprised me and I would certainly advise any who were looking to take part to put in some good preparation before—strength training is a must!
Of the events in this ever increasing competitive market of obstacle races, this is certainly the toughest challenge I have done. It is, however, is a truly fantastic event that brings the unique, friendly and supportive obstacle racing community together.
Plus Points
On the day registration was simple, efficient and very quick
The spectators' walkways were a great idea and well located to allow support on different sections of the course
Excellent marshals and medics around the course who were excellent motivators
Minus Points
The event village was submerged, which meant the spectators were nearly as muddy as the competitors (blame the weather, not the organisers!).
Poorly marked and not enough toilets, which led to dreaded long queue.
Watch the video (and look out for our Clarissa!)

Give it a try!
Next event: This summer! 30/31st August, 2014.
The venue is also open all year around for the Mini Nuts Challenge, which is where you can take a group of mates or colleagues for a fun day out and tackle the assault course as a team! (You will need 10+ participants at £29.99 per person)
For more information, check out the Nuts Challenge website: www.thenutschallenge.co.uk
Clarissa inspires others to #takeonachallenge
Off the back of completing 'My Year of Ultimate Challenges' follow me as I attempt to take on bigger and more enduring challenges from abseiling, cycling, stand up paddle boarding and swimming to desert races, mountain treks, adventure and obstacles races….with as much variety as possible! I'm doing this in the hope to encourage girls and women to #takeonachallenge, get active and have fun whilst raising money for the Go Sisters World Series which aims to promote female participation and empowerment of girls through sport across the globe. I am also doing all of this in the memory of my father who inspired and made me the sport fanatic I am; and raising money for The Guide Dogs for the Blind Association in his honour. Follow my journey through the highs and lows of my training, reviews of the events I partake in, and be part of this fulfilling journey of discovering how hard we really can push ourselves!
TO READ THIS BLOG IN FULL CLICK HERE
Select a sport
Find out how to get started, training plans and expert advice.