#takeonaCHALLENGE: About me and this blog
Welcome to my blog! This blog is all about me taking on challenges in the hope to encourage women and girls to do the same; #takeonachallenge, get active, discover what we can really achieve and have loads of fun in the process – life begins at the edge of your comfort zone.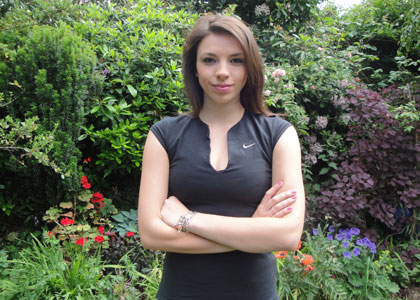 I'm just an ordinary 20-something year old who grew up annoying people by never sitting still. It appears I am trying to avoid growing up and still want to act like a kid; whether that be off on adventures exploring inspiring landscapes, or running and jumping around in a not so co-ordinated or majestic manner (but who cares?)
I have been incredibly fortunate in life to combine my two passions, travel/inspiring landscapes and sport. The day job being a geography and sport teacher (yes we just love to don the tweed, colour in, you name it I have heard it), and then my spare time dominated by my love of sport; in particular training for athletics and hockey.
Discovering my love of challenges
However, in the build up to the Olympics during 2011, I decided that I wanted to try something new. My father had passed away a few years ago and I wanted to do something fitting in memory of him. I decided that I would take on a new and different challenge every month for over the course of a year with the aim to finish just in time to put my feet up and watch the professionals work their magic at the Olympics.
I also wanted to use each challenge as an opportunity to raise money for charity in honour of my father who inspired and made me the sport fanatic I am. I was lucky enough to reach international and national level standards in different sports thanks to my dad's patience, dedication, inspiration and constant support. I wanted to commemorate his memory in the way I thought most fitting to how he raised me, to make him proud, and by doing the things which he always enjoyed watching me take part in, and seeing me enjoy the benefits of – sport and exercise.
That was where 'My Year of Ultimate Challenges' was born. That year I was also completing my teacher training, playing in the England Hockey Investec Premiership League and was involved in the national development squad – so it proved to be a pretty busy year! However, I completely fell in love with pushing myself in new areas and discovered the new sport of OCR (obstacle racing).
The birth of #takeonachallenge
After completing 'My Year of Challenges' I realised I had definitely caught the bug. I had been stuck in a rut of playing and training and had finally found a remedy for an itch I had been feeling for a while.
I was fed up of being judged by what others thought of me in sport, having to answer to coaches in order to qualify for things, and didn't feel I was really progressing and getting what I wanted out of it any more. It had de-motivated me and finding motivation to go and do fitness was getting harder – I just wanted to return to being a kid and play again, getting fit and healthy the fun and natural way.
This is where my challenges, in particular obstacle racing, ticked all the boxes for me!
I loved just running, jumping, dodging, crawling, diving about, getting muddy, pushing myself further than I ever had; and what's more, I loved doing it with my friends and family. I now have the pleasure of completing most of my challenges with my brother, which has allowed us to spend time together in our busy schedules and revisit out 'play-days' from our youth (and our dangerous competitiveness!)
This was the key point for me. I had found a way of pushing myself and fulfilling an aim of encouraging other young girls and women to push themselves too; reaping the benefits of being fitter and healthier in a fun way.
29% of women partake in at least one session of exercise a week compared to 41% of men. That's 6.3million compared to 8.5m – that simply must change and my mission is to 'pay it forward' and help inspire others to get active as a thanks to those who inspired me (figures from WSFF).
So, my aim is to share the things that help me to get off the sofa and out of my oh-so-comfy onesie, and help encourage others to push themselves to their limits and feel what it's like out there,
……because life begins at the edge of your comfort zone…….come and join me there!
I have a Just Giving page to allow everyone and anyone who is inspired by what I am doing to donate any money they can to The Guide Dogs for the Blind Association: www.justgiving.com/Clarissa-Goodwin/
More info: www.takeonachallenge.co.uk
Clarissa inspires others to #takeonachallenge
Off the back of completing 'My Year of Ultimate Challenges' follow me as I attempt to take on bigger and more enduring challenges from abseiling, cycling, stand up paddle boarding and swimming to desert races, mountain treks, adventure and obstacles races….with as much variety as possible! I'm doing this in the hope to encourage girls and women to #takeonachallenge, get active and have fun whilst raising money for the Go Sisters World Series which aims to promote female participation and empowerment of girls through sport across the globe. I am also doing all of this in the memory of my father who inspired and made me the sport fanatic I am; and raising money for The Guide Dogs for the Blind Association in his honour. Follow my journey through the highs and lows of my training, reviews of the events I partake in, and be part of this fulfilling journey of discovering how hard we really can push ourselves!
TO READ THIS BLOG IN FULL CLICK HERE
Select a sport
Find out how to get started, training plans and expert advice.