Sportsister meets Short Track Speed Skater Elise Christie
With her feisty determination, dip-dyed blonde hair and diminutive stature (she stands at just 5'3") Elise Christie brings a dynamic energy to the word of short-track skating and is bound to wow the audience here in the UK.
Experience counts for a lot at the Olympics and Sochi will be Christie's second Games, having represented Great Britain in Vancouver when she was just 19 years old.  She finished in the top 20 in all three events; the 500m, 1000m and 1500m, but left with doubt, wondering whether she wanted to just pack it all in.
"That experience changed me," she admits. "I went into it thinking, I'm not ready, I'm not going to win a medal, and it was hard to deal with. To be honest, for a long time I never really thought I was going to get anywhere in the sport."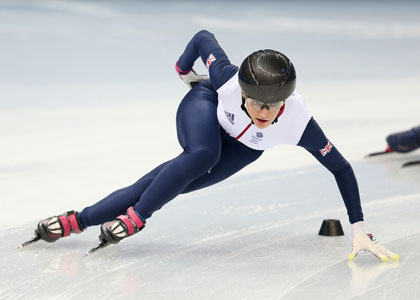 But shortly afterwards something clicked. "Since then I have approached everything differently. You see a lot of Olympians do maybe three Games and finish in the same place every time. I didn't want to be one of them, so I decided I needed to change completely.
"I wanted it so my opponents were trying to beat me rather than me trying to beat them all the time, and that gave me a very different mind-set."
And since going from a regular, and in her words "lazy" teenager to a dedicated professional athlete, Christie has won two gold medals and reached the podium a further four times in World Cup races. She also won bronze at last year's World Championships, finished the year ranked world number one in the 1000m distance and won the recent European title.
Could Sochi be her time to come home with an Olympic medal?
To read our full interview with Elise click here to download our February digi mag.
Sportsister,
The Women's Sports Magazine
Select a sport
Find out how to get started, training plans and expert advice.