Sochi Sports Guide: Alpine Skiing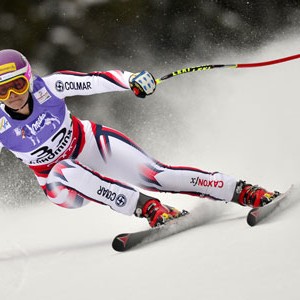 Date: 9-22 February
Venue: Rosa Khutor Alpine Resort
Overview
Alpine skiing is one of the biggest Winter Olympic sports on a participation scale, appealing to everyone from amateur ski holiday enthusiasts to elite competitors.
The 2014 games in Sochi features ten separate events within alpine skiing, with men and women's categories for downhill, slalom, giant slalom, super-G, and super combined races.
Alpine skiing became an Olympic sport in 1936 with the debut of the combined event. In 1952, combined was taken off the programme, with skiers instead racing in the downhill, slalom, and giant slalom. The 1988 Winter Olympics in Calgary however welcomed the return of the combined event and the addition of the super-G. 
Jargon buster
Slalom: A discipline of alpine skiing that features a race around flag gates on a downhill track. The Olympics will see skiers competing in separate separate slalom and giant slalom events. 
Carving: A method of turning that uses the edges of skis. Modern ski technique is a combination of carving and skidding, and is aided by the shape of parabolic skis.
Parabolic Skies: Modern racing skis that are curved in an hourglass-like shape. Also known as 'shaped skis', parabolic skis aid in turning and carving technique. 
Poles: Aid in negotiating turns and maintain balance in racing. Poles for slalom events are straight, whilst poles for the downhill and super-G events are often curved to reduce air resistance. 
Catsuit: The tight-fitting body suit worn by competitive skiers. Often made of lycra, the catsuit reduces air resistance and allows for optimal comfort and mobility. Skiers may wear padding under the suit—many slalom skiers, for example, typically wear arm, knee, and shin pads.  
Gatekeepers: Officials who ensure that all gates are passed correctly in the slalom events. They are aided by video controllers, who monitor the gates via video tracking.

Basic rules
The Sochi Games will see skiers contest five events in the women's competitions, with the courses, techniques, scoring, and rules being unique to each event.
The downhill event is held over a long, curving course, on which skiers race one at a time. Downhill athletes reach some of the fastest speeds in alpine skiing and the gold medal goes to the skier with the quickest time.
In the slalom, skiers race downhill on a course covered with flags and gates. Athletes ski twice and their two times are added together, with the skier having the fastest total time declared winner. The giant slalom event is similar to the slalom, except the gates are placed further apart. The women's event features between 56 and 70 gates. 
In the super giant (Super-G), athletes ski a course that runs a similar, but which also features gates. Gates in the Super-G are placed about as far apart as they are in the giant slalom, and thus skiers are able to reach very high speeds. Each skier races the course only once.
The super combined event features one run of a shortened downhill track and one of the slalom. The skier with the fastest combined time is declared the winner.

Ones to watch
Chemmy Alcott (pictured above) is competing in her fourth Olympic Games and is definitely an exciting hope for Team GB. The 31 year old became the first and only Briton to win a run in a World Cup race at the Soelden World Cup in 2008, and finished eleventh in the downhill at the 2006 Turin Olympics as well as finishing in the same position in the super combined in Vancouver four years later.
Alcott has garnered quite a bit of media publicity over her ski career, appearing on Dancing on Ice in 2012, and also being an ambassador for Right to Play.  
Rivalries and favourites
The women's alpine skiing events will be missing two of its biggest personalities from 2010, leaving the field open.
Earlier this year, two time Olympic medallist and two time World Cup champion Lindsay Vonn of the USA announced that she will miss Sochi with a knee injury, and Swedish skier Anja Pärson, six time Olympic medallist, retired in 2012.
With falls and unpredictability rife in the sport, alpine skiing is dramatic, and the slalom event will certainly be hotly contested in Sochi. Maria Höfl-Riesch of Germany is a two time World Champion and defending gold medallist in both the slalom and super combined events, but hot on her tails will be 18 year old reigning World Champion American Mikaela Shiffrin.
Who to follow on Twitter
@ChemmySki – Chemmy Alcott
@TeamBSS – British Ski & Snowboard
@Maria – Maria Höfl-Riesch
@MikaelaShiffrin 
Olympic fact
World renowned and mulit-award-winning violinist Vanessa-Mae will compete in Sochi for Thailand. The musician, whose pop-classical albums have sold over 10 million copies, has focused on skiing since 2010 and recently met the points requirement for qualification in the slalom and giant slalom.
Erin Walters, Sportsister
The Women's Sports Magazine
Select a sport
Find out how to get started, training plans and expert advice.