Sue Mott on the BT SPORT body image survey
So she doesn't just have to win, our British sporting heroine, she also has to pout like a supermodel with a salon-fresh hairdo and a thigh gap. Realistic? Err…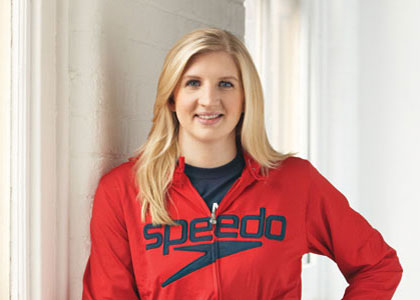 British sportswomen are involved in tug of war. On one hand, they have to win. On the other hand, they'd better look hot, thin and preferably blonde while they're about it. And by "hot" we don't mean heated. We mean sex-ed up entry level material to men's fantasies, women's aspirations and general billboards.  We now know – thanks to a BT Sport Survey of 110 sportswomen from 20 different sports – that the vast majority of this elite cohort are feeling the significant pressure of having to conform to a very narrow interpretation of what a woman should look like.
"You know…stick thin, big boobs and a pretty face," said Rebecca Adlington (pictured above), the swimming world champion and four time Olympic medalist, who started all this. She is the accidental activist. She certainly never imagined that her emotional breakdown in the jungle of ITV's I'm A Celebrity Get Me Out Of Here, when she tearfully confessed how proximity to a Miss Universe brought on feelings of insecurity, exacerbated by the malevolent drivel from the trolls on social media, would provoke a storm of interest. And horror.
If Adlington, a woman of such substance, decency, dynamism could feel so miserable about body image, what chance the rest of us and our bodily variations?
And it turned out that Adlington was far from alone. Of the athletes surveyed, from sports like athletics, football, cricket, gymnastics, volleyball, hockey, tennis, swimming, 80% said they felt pressure to conform to a certain type of body image and 90% empathised with Adlington. Nearly three-quarters of them, perhaps the most terrible indictment of all, said they felt the public and media valued the way a female looks over her achievements.
When their achievements had taken them to the top of the world? When their path to that summit had been so hard fought through blood, sweat, tears, muscle-building, guts and performance?
Their comments read like a united cri de coeur.
"Celebrate strength and fitness rather than image and clothing."
"Everywhere you look there's a skinny girl! And everyone wants to look like them but it's a fantasy!
"If a woman isn't [attractive] she is teased by comedians or made fun of via social media."
"I was too thin (but at that point I still had more fat than my coach really wanted)."
"Of course it is important for women to look like women. It is part of our charm. But we need to show that being pretty, strong, healthy, attractive, isn't down to your dress size."
"Women are still first judged on their physical appearance before their talent, personality and achievements."
"Break out of very rigid and narrow minded views of what females SHOULD look like and embrace women as they are."
"I wear my permanent 'swimmer's shoulders' as a bade of honour! I'm bloody proud of them!"
"In general, the role models of today are thin 'celebrities' from reality TV shows rather than amazing women who have achieved something special. It's a shame."
All of them know that the most vicious of social media trolls are just saddos being vile on the sofa while spooning cold beans into the jaws as a substitute for living, but the pressures extend far beyond there. It's a daily bombardment, in Adlington's eyes.
"It's the same everywhere. In films, on posters, in magazines, in advertising – every single thing you see: what's beautiful in a woman is 'stick thin, big boobs, pretty face'. Well, what makes that beautiful? Why isn't something that's normal beautiful?"
Victoria Pendleton (pictured above), the former world and Olympic champion cyclist, supports her. "I saw Rebecca in the Jungle and how upset she was. It was very disheartening to think that someone who'd achieved so much, worked so hard and had so much talent could feel less valued socially than someone just beautiful on the outside. It's a really sad thing.
"I think it's a harsh reality that you don't just have to be talented physically, you also have to be prepared to change the way you appear. I've experienced lots of lovely airbrushing over the years. I've had my muscles softened or reduced to look smaller or more feminine. I was actually quite saddened by it because I'd worked really hard to build those muscles."
It's an unlovely power these air-brushers wield. To banish a decade of hard graft down the gym. As well as draconian, it's dishonest.  Hallo? Sportswomen – indeed, women – come in varying shapes and sizes, various necessary shapes in the case of sport where weightlifters rarely look like high jumpers. You can see how confusion arises. If you have a coach telling you to put on muscle and a cosmetic/fashion/media industry telling you to lose it, what's a girl supposed to do?
You're worth so much to this country with an Olympic/Paralympic medal round your neck, but so much more if you can lose it down your hoisted decolletage.
It's all a bit painfully muddled. A rising obesity problem, a cult of thinness, silicon chests and eating disorders. Sport could be the most wonderful antidote. It could be the place girls go to be themselves involving movement, endorphins and muscle-power as opposed to tranquilizers, suction and lettuce. It clearly isn't, to judge by the survey.
Adlington has done us a massive favour. She has talked about it. The surveyed sportswomen believe almost unanimously (97%) that this is a problem not just in sport but wider society. Perhaps politicians, parents, schools, coaches and sports, presented by this evidence, will gather they have under-estimated the scale of the issue. And, as for the media, I'm guilty. Many is the time I wrote, as Sunday Times Tennis Correspondent:  "pretty, blond Swede, Stefan Edberg…..
Noting someone's good looks or otherwise is part of the human condition. But if our leading sportswomen feel abused, berated and otherwise denigrated for not being cast members of The Only Way Is Essex, something is very wrong.
Sue Mott
TWITTER: @suemott1
Full survey results here on BTSport.com sport.bt.com/womeninsport
Select a sport
Find out how to get started, training plans and expert advice.