Natalie Tries: Roller Skiing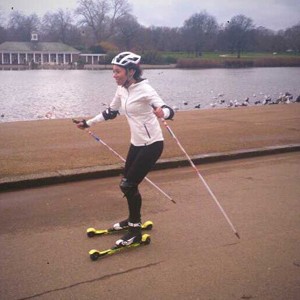 For the first few minutes, rollerskiing is an utterly alien concept as you grapple to get used to odd, elongated skates strapped to your feet and the enormous poles swinging from your arms. But once you banish your fears and let your childish love of speed overwhelm you, I guarantee you will love it and will be desperate to get on those hills.
Rollerskiing is a technique used to train skiers in nations where there isn't any snow, and it can train you for both cross-country skiing and speed races. Britain is one of the best non-snow nations at competitive skiing, and we have rollerskiing to thank for that.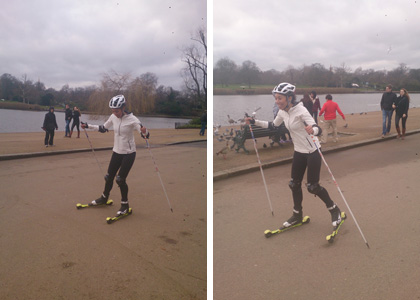 But it's not just for the elite. Even if you've never skied in your life (like me) and have no desire to (like me) then you will still find a wealth of benefits in going to classes. This is skiing for people who don't like the cold – ideal!
A beginner's class gets stuck in straight away. If you're impatient like I am then you'll be glad to know there isn't too much theory. It's straight on with the kit, on to the grass to practice positioning, stopping and turning and then straight onto the tarmac to get those wheels in motion.
The key is to be fearless. If you're afraid, you're not going to enjoy. You will be fully kitted out in helmet, knee-pads and elbow-pads, and it's not really that far to fall – so let go of your fears. As soon as you stop concentrating on being afraid and start concentrating on your momentum and gliding motion it becomes ten times easier.
The session kicks off with some balance drills to build your confidence on the skis and help engage your stomach muscles. We 'Supermanned' on one leg, balanced an invisible tray and whizzed around in circles – definitely losing my street cred in Hyde Park… but it felt too good to care. As soon as you get the hang of propelling yourself forward an insatiable need for speed grips you and you just want to whizz around the park.
It's such an incredible work out. Once we started doing the proper skating strokes it was made clear that it is your core and your legs that are doing the work – not your arms. You'll feel the burn in your glutes and quads as you keep the weight forward, hinge at the waist and propel yourself forward. Core strength is essential both for balance and for helping your legs to keep you moving. The poles are really just there to speed you up, once you get going you don't really need them for stability.
This is an endurance test. Like with cross-country skiing, the more you put into it the further you will go. The great thing is that it's low impact so you can go for hours and give yourself a fantastic cardiovascular workout without pounding your knees and ankles. And better than cycling, it won't compress your spine.
Rollerski offer sessions in Hyde Park, Cambridge, Redbridge and Dorney Lake. Book onto a single class or dive in with a four-week course. The ultimate aim is to join a rollerski club and work up towards racing. That would certainly be an exhilarating experience that you wouldn't forget in a hurry. The sessions provide all the kit included in the price, you can buy your own gear but it will set you back quite a bit.
More info: www.rollerski.co.uk
Natalie Morris, Sportsister
The Women's Sport Magazine
Select a sport
Find out how to get started, training plans and expert advice.