Have Your Say: Why are there a lack of female sports journalists?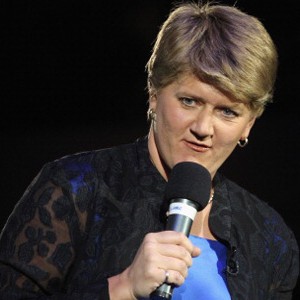 Much has been discussed about the coverage of women's sport in the media. However an issue just as important is often overlooked. The lack of female sports journalists within the industry.
As a trainee sports journalist I often look for female role models for inspiration. However a scan of the back page of many national newspapers reveals a dearth of female by-lines on reports and photos. Last year at The Sports Journalists of the year awards Clare Balding (pictured) won the Sports Broadcaster of the Year award and rightly so. Now a national treasure she is held up as the prime example of a successful female sports journalist.
Gabby Logan, Sonja McLaughlan, Hazel Irvine and Suzi Perry are also familiar faces on people's televisions. However whilst in broadcasting the situation looks promising, the print media lags dramatically behind.
Before Clare Balding won Broadcaster of the year in 2012 only one woman, out of 255 names, had made the roll of honour since the awards inception. This was Emma John Young who won the Young Sports Writer of the Year award in 2008. The shortlist at the British Sports Journalist awards 2013 (recognising the work produced in 2012) contained only three women out of 92 nominees. Whilst researching this piece I typed 'top female sports journalists' into Google. The first result that popped up was "40 hottest Female Sports Reporters" written for Men's Fitness. Believe it or not, if you need reminding we are in 2013.
So why the lack of females in the sports journalism arena? Is it a lack of opportunities, a lack of respect, or are women just not interested in reporting sports? More likely is that the woeful under representation of women on sports desks stems from a long-running 'boys club' culture within the industry.
Female sports journalists, even in 2013 are still viewed as a rarity. According to a SJA (Sports Journalists' Association) survey done in 2006 (there is surely a call for the SJA to undertake another, more recent survey) less than 10% of British sports journalists are women. Anecdotal evidence from the survey included comments such as: "Our journalists are nearly all men but we mostly cover football and rugby." Oh well that's okay then, because women don't want to, or have the skills to cover football or rugby. I know every women on my course (of which there are eight), would disagree. In fact many of them are far more knowledgeable about football and rugby than many men. These attitudes are hardly likely to make young girls pick up their pens and microphones and run all guns blazing towards a career in sports journalism.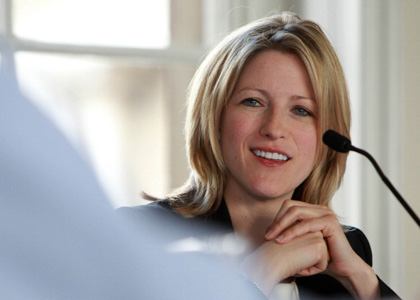 When Jacqui Oatley (pictured) became the first female commentator on radio five live there were comments made that ranged from: 'her voice is too high pitched' to 'what does she know, she's a woman?'. This is an easy insult so often hurled at female journalists, particularly those reporting traditionally 'male sports' such as football and rugby. The idea that just because we are women, that somehow makes us less knowledgeable about a given sport is just ridiculous. Being a man rather than a woman does not gives you a greater innate knowledge of any sport, not even football. I often get surprised looks when I tell people I am studying sports journalism. The idea that a woman would want to, or be qualified to write about sport is still unfathomable to some. 
Whilst broadcasting appears to be a slightly more female-friendly arena, for women, shattering the glass ceilings in fleet street appears harder than ever. This March Alison Kervin became the first female editor of a sports desk when she was appointed as sports editor of The Mail on Sunday. A victory for female journalists everywhere, and it raises the hope that further high-profile appointments will follow.
However it also throws up the question as to why it has taken so long? Why did we have to wait until 2013 for a woman to take charge of a sports desk? Despite the overall discouraging picture, women are completely non-existent in the print media. There are female journalists making their mark. Ashling O'Connor who writes for The Independent; Martha Kelner, sports reporter for The Daily Mail and who shock horror even covers football; Anna Kessel who writes for The Observer and The Guardian, Laura Williams, another to write for The Daily Mail; Alyson Rudd writes for The Times and Amy Lawrence from The Observer are all paving the way for those to follow.  However progress appears excruciatingly slow, in the Press Gazette's top 50 sport journalists of 2012, just two were women.
Sue Mott is regarded by many as the trail blazer for female journalists. Revered by her peers she has written for The Daily Mail, The Sunday Times and The Telegraph to name a few. She commands the respect of both women and men within the industry, however it has not been an easy road. As a woman reporting on football in the 1980s she recalls being called 'the one with the teeth' by Brian McClough. Would Martin Samuel have ever been referred to as 'the one with the moustache'? I think not.
All too often there is a tendency to see female broadcasters being used as 'window dressing' and to use a somewhat repulsive phrase, 'touchline totty'. The aesthetic qualities of male broadcasters are not judged, so why those of women? A scan of Twitter, discussion boards and online articles show that all too often references are made about female journalist's appearances.
Some employers don't even appear to try and hide this fact. The website profile of Talk Sport presenter Lisa Francesca Nand does nothing to refute the idea that the use of women as sports broadcasters is often tokenism: "Normally we wait for presenters to earn their stripes but we catapulted our former traffic & travel girl straight in there purely on looks". The longer these kind of attitudes persist, and with a small pool to choose from, the likelihood of more women following in Alison Kervin's footsteps and securing editorial positions is slim. There is also the feeling that female sports journalists have to prove themselves twice over. Heaven forbid if Juliette Ferrington pronounces a footballer's name wrong, however it appears that Martin Keown has made his career out of pronouncing footballers' names wrong. Women don't just have to be good, they have to be outstanding to overcome the barriers facing them.
The 'old boys' reputation of journalism no doubt deters women from entering the industry. Journalism is also renowned for its anti-social work hours. Perhaps this lack of flexibility makes the profession even less appealing for women, particularly when they have children. Further anecdotal evidence from the SJA survey makes for depressing reading. Comments such as: "Women must be prepared to be isolated and to be met with resistance" is hardly the stuff to inspire the next Clare Balding's or Ashling O'Connor's.
There is no doubt sports journalism is a world dominated by men. When I attended a Welsh rugby press conference whilst at the BBC I was the only female in the room. One journalist, who shall remain nameless, asked me when more tea and coffee would be served- (I smiled sweetly and said I didn't know as I was here to speak to Alun Wyn Jones, not the catering department). These old fashioned attitudes and prejudices, whilst not always expressed with ill-intentions, no doubt make women think twice about entering the profession.
There are those that may argue being a woman could now be an advantage to aspiring sports journalists. Organisations looking to redress gender imbalances may undertake 'positive discrimination'. The BBC has made no secret of the fact that they are actively seeking to employ more female sports journalists. Specific positions for trainee female sports journalists have been advertised, however you can't help feel this smacks of tokenism. If I get a job as a sports journalist I want it to be because I am good enough, not because I am filling a quota and making the HR department meet its equality guidelines.
Journalism is all about getting your foot in the door. This is incredibly difficult for any young sports journalist and for women it appears doubly difficult. With limited role models to look to and depressing stories from those within the industry, women often feel they are fighting the boys just to be let into the boys club. Diversity in our newsrooms is crucial. We need different brains, different ideas and different opinions to produce the best quality journalism possible and on sports desks this is more pertinent than ever.
More women on sports desks can ensure a wider representation of sports, making them sports desks not just 'football desks' as it so often appears. The benefits of this are obvious. However whilst positive steps in the right direction are being made, and as an enthusiastic trainee I try to remain positive, until journalism truly sheds its image of an old boys club then I fear very little will change.
Beth Shine, Sportsister
The Women's Sports Magazine
Select a sport
Find out how to get started, training plans and expert advice.