En route to the Etape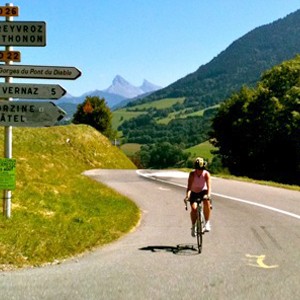 After weeks of winter clinging on like a needy neurotic stalker, spring finally came to us in the Alps this week. The sun came out, temperatures soared, avalanches came down and the lycra went on. There was no postponing it anymore, it was time to get on the road bike and officially start my training for the Etape in Annecy in July.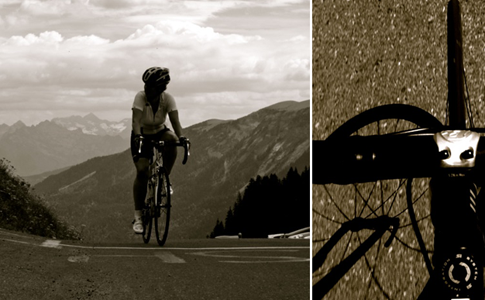 Over the past 5 months my life and work have been dominated by snow – getting up early for powder days, digging the car out to get to work, managing a team of 30 snow reporters around the Alps, and basically reacting to every snow crystal that has fallen across France this winter! Don't get me wrong, I love winter, skiing and après as much as the next snowflake but I really have no problem with the transition of seasons, in fact I welcome the change. This is the time of year when we replace skis with bikes, dig out the climbing harnesses and whack the rosé in the fridge…..spring in the mountains – you've got to love it!
So the biking began last week as predicted but what it brought with it, no one could have seen coming. In the past seven days there's not only been a total transition in the weather here in the Alps but also a rather less predictable one within me! The sun has shown itself and so too has a fierce competitor who until now has laid buried deep within. I have quite honestly shocked myself with how swiftly and easily this monster has been unleashed and can hardly believe the person that I have now become. From happy go-lucky chilled powder hunter to determined, focused and cycling geek in just one week. I kid you not, I have registered with Strava, ordered a host of sports nutrition products, spoken about distance mostly in terms of elevation gain, and swapped my hour long commute in the car for a rather arduous 50km bike ride home with a fair bit of uphill! Well I've done it once….. Anyway, I also appear to have signed up for 3 more big cycling events this summer. You'd have thought that taking on the toughest stage of this year's Tour de France would have been enough wouldn't you? Well so would I – but that was last week…..
So change is afoot and I'm delighted that my new 'focus' (not obsession my friends, I refuse to be obsessed with anything other than Prosecco) has coincided beautifully with the end of my stint in full time employment. 9 hours at a desk with a 2 hour commute do not maketh a potential Sir Bradley of Wiggins or a happy Mountain Girl so I'm heading out to do my own thing and launching Yodel Communications – my own communications agency designed for the action sports and outdoor adventure sector. I'll keep you updated with all the exciting projects I'll be working on but before all of that, it's time for manfriend and I to place our bikes carefully in the truck, chuck in some climbing and camping stuff and  head south to Italy in search of sunshine, windy roads and warm rock. And Prosecco.
There are many hills ahead but as always, I'm excited to take them on.
Bring on the summer of 2013….
About Sophie's blog
Mountain Girl is passionate about the vertical wilderness, backcountry skiing, mountaineering, hiking, trail running, biking, and rock climbing. Oh and Prosecco - she really likes Prosecco.
Select a sport
Find out how to get started, training plans and expert advice.