Mountain Girl blog: La Grave K2 Womens Adventure Week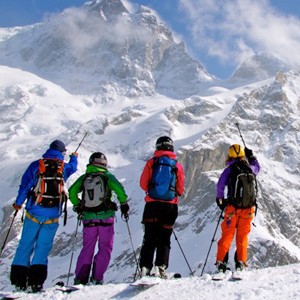 On Saturday the 23rd of March, I jumped in my truck with every piece of ski and mountaineering kit I own and a whole load of butterflies in my stomach. My destination was the off piste and steep skiing mecca of La Grave where I would join up with a group of women from all over Europe taking part in the K2 Womens Freeride and Backside Adventure Week.

Left:The K2 Womens Freeride and Backside Adventure Week. Right: Smiling on the steeps.
Ranging in age, ability, and nationality, we skier girls arrived in the small Alpine village and congregated on The Skiers Lodge with one goal in mind – to experience, immerse and test ourselves in this legendary freeride destination and to have a whole lot of fun!
It became obvious straight away that we wouldn't be messing about this week and after just a couple of quick laps of the gondola on Day 1 to get our legs warmed up on our K2 test skis, we took advantage of the recent snowfall to tackle one of La Grave's infamous steep couloirs – Trifides 1 (www.skierslodge.com/legend).
This set the tone for a week dominated by colourful characters, thigh burning descents and life affirming moments in a spectacularly humbling mountain landscape. Over the course of 6 days we donned our harnesses daily to lay down symmetrical powder tracks on the glacier under impossibly blue skies, rappel into steep rocky couloirs with our hearts in our mouths, hike in the pursuit of fresh lines, and laugh, eat, and drink with great new friends.


Above: Picking out the lines
La Grave is ever changing, ever challenging and so it was over the course of this K2 Women's week:  we really did experience the whole spectrum of conditions out there from bluebird, scorching sunshine  to mind bending zero visibility, from fluffy, forgiving powder to icy moguls and wet, heavy cement-like snow….in fact, there were even a few rocks and tree stumps in there to leave your skis with a permanent souvenir of this most challenging of ski destinations! No matter what conditions we encountered, we grew from the experiences and I for one choose to see any scars on either my skis or my pride as a true badge of honour!
Each evening we would all congregate in the K2 bar in the Skiers Lodge to swap stories and photos and compare the extent of our leg wobble over several early evening beers. Our nightly routines of après beers , quick showers and 4 course dinners kept us grounded – no matter how the day had gone, we knew that the evenings would be full of laughter and growing friendships. As the days drew to an end, our nights in the bar grew later and later – a true sign that there was an enormous amount of fun being had!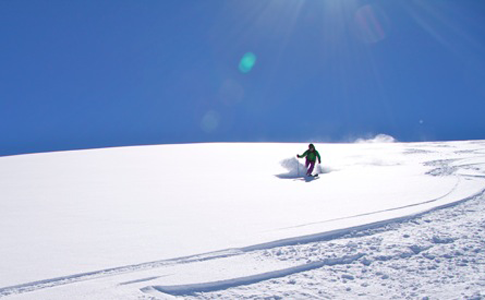 Above: Hero powder on the glacier
My personal highlights of the week were threefold:
a day's ski tour from Serre Chevalier involving a 3 hour, 950m skin and bootpack with crampons on to a col which was then rewarded with a leg shakingly steep and exposed 45 degree, 1,300m couloir! (Petit Davin, Breche Du Casset – www.skitour.fr/topos).
The second was probably the last run of the week – the 900m, 40-45 degree Couloirs des Freaux in minimal visibility but thankfully, some wonderfully forgiving fresh snow! (www.skierslodge.com/legend).
Awesome skiing aside, perhaps the most significant highlight of the week was the people that I met this week – the other K2 women, the guys at the Skiers Lodge, the mountain guides and the legendary characters of La Grave.
The K2 week may have been an humbling adventure into the unknown but we came out the other side safe in the knowledge that we were not only bigger and better skiers but that we had experienced something really special. Not only was this trip the highlight of my winter season, it was quite possibly my biggest skiing adventure yet.
It goes without saying that you have to stick your neck out to come to La Grave but if you do, you will be rewarded in in ways you can't even begin to imagine.
Long live K2 Womens Week and long live La Grave….. see you next year!
About Sophie's blog
Mountain Girl is passionate about the vertical wilderness, backcountry skiing, mountaineering, hiking, trail running, biking, and rock climbing. Oh and Prosecco - she really likes Prosecco.
Select a sport
Find out how to get started, training plans and expert advice.