Mountain girl blog – out with the girls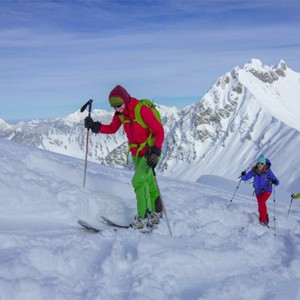 A couple of weeks ago I got the girls out…..stop sniggering…..not those kind of girls. I mean REAL life ladies….sisters who like to ski, backcountry babes, rad bettys, whatever you like to call them….a few weekends back I was lucky enough to have a day's ski touring in the Chablais with some pretty cool chicks.


This winter I have been trying to get used to spending 5 days a week sitting at a desk and was truly concerned that the ski season of 2012/2013 was going to pass me by in one epic powder cloud. As a ski website editor, every day and all day I find myself writing about the amazing conditions that we've been experiencing out in the Alps this winter, uploading videos of outrageous powder skiing and scrolling through countless images of people having the time of their life in the light fluffy white stuff.
Enough was enough and a date was put in the diary over a month ago to get out for a ski tour with some local ladies. When it comes to ski touring here in the Haute Savoie, I have barely scratched the surface and this was also becoming a source of increasing frustration (sense a theme in the past couple of blog posts?!!). Thankfully however I know of a group of girls who live 45 minutes away, are hugely active and experienced in the mountains and seem to be up for frequent adventures so I sent out an email a few weeks back and a plan of sorts was made…
After what seems like relentless snowfall practically all season, we were incredibly lucky to wake up on the day to bluebird skies, no wind and reasonably benign temperatures. After coffees, croissants and chat at my place in Samoens, we decided on a goal – the Pointe de Chalune – a 2,116m peak that I've been wanting to ski for quite some time. With all the snow that had been falling over the past week, we were keen to try and find some fresh lines but were also pretty aware that we needed to try and find a slope that had as safe as possible an aspect as the avalanche risk on the day was level 3 – 'considerable'.
The ascent was great. It started with a mellow skin along a really pretty track with trees laden with snow on either side. We then rounded a corner and could see the summit in front of us and anticipation built as we watched others descending in what looked like hero powder! The journey to the top of the Chalune was reasonably quick and whilst it was steep at times and extremely windy at the top, the views were amazing and the banter even better. When we arrived at the summit, it really was pretty cold so our transition from uphill to downhill mode was definitely a quick one – especially for me as two white spots on the end of my nose meant I had the beginnings of frostnip. Time to get out of the wind and enjoy the powder!
We found some excellent snow on the descent. Admittedly the top section was a bit sun affected as our earlier coffee and croissants meant our 10:40 start was hardly going to earn us perfect powder all the way, but lower down we had plenty of untracked, velvety powder and practically the whole mountain to ourselves. We were back down at the car before 15:00 and had definitely earned our tea, cake and later on countless glasses of wine and peanut m&m's! Hardly an Olympian's recovery food of choice but it certainly worked for us…:)
We really had an amazing day and even the presence of an honorary bloke on the girls day out didn't put a damper on our fun: quite the opposite in fact as he was more than happy to fulfil the role of photographer for the event. Bonus – it's always good to have staff!!
Thanks to all the ladies (Chrissie Barnes, Kate Scott of Alpine Footprints www.alpinefootprints.com, and Jane Williams) for a fantastic day out – here's to round 2 as soon as possible!
And thanks also must go to Mr Bruce Goodlad of Mountain Adventure Company  – the Technical Director of the British Mountain Guides and IFMGA/UIAGM Mountain Guide – a reasonably qualified photographer!!
Photo credits: Bruce Goodlad, The Mountain Adventure Company
About Sophie's blog
Mountain Girl is passionate about the vertical wilderness, backcountry skiing, mountaineering, hiking, trail running, biking, and rock climbing. Oh and Prosecco - she really likes Prosecco.
Select a sport
Find out how to get started, training plans and expert advice.