Mountain Girl Blog: 2013 The year of the lycra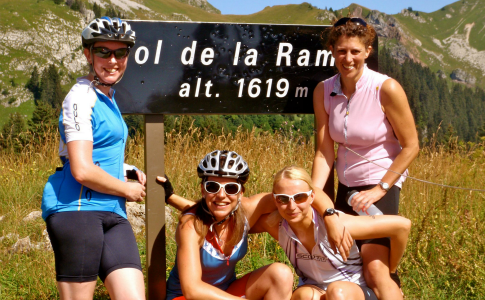 First and foremost, yup…I know. It's been ages. I can only apologise that such a long period of time has passed since my last blog post. So much has happened since I last communicated with you all that I barely know where to begin…
There's been a back injury which turned my autumn climbing holiday in Sicily into more of a vino and gelato excursion; there's been epic early snow conditions in the Alps which I've sadly not been able to make the most of due to my new permanent job as Content Editor for 13 ski resort websites in the Alps; and there's been lots of fantastic new ski touring kit arrive on my doorstep as a result of my new role as a European female ambassador for  US freeride apparel company Flylow (www.flylowgear.com), which I've been unable to use due to aforementioned grown up job thingie.
Whilst it's definitely safe to say that the last few months have been about professional progression, this permanent job thing has unfortunately come at a frustrating cost – what this basically means is that I don't get out in the mountains as much as I used to or would like. My tan has long since faded, any muscle tone has been eroded by my desk chair and I now have commuting stories. Woop di woop.
As 2012 drew to a close I knew that something had to change and in order to step forward enthusiastically into the New Year, I needed to know that I would be achieving something outdoors in 2013. So I did something a bit mad and decided to sign up for the Etape du Tour cycling event in France this summer. On reflection, it may have been a slightly over excessive reaction to feeling slightly aggrieved and thwarted in my sporting life, but hey ho, it's done.
Next July I am going to be cycling the toughest stage of the Tour de France in Annecy with 10,000 other nutters who have similar delusions of Wiggins-esque style glory. 130km, over 3,600m+ of elevation gain, and all done wearing lycra… it's an intimidating prospect at best but the promise of a free t-shirt swung it for me. It seems that we Scots will go to extraordinary lengths for a freebie.
Living in a ski resort means that cycling outdoors is going to be somewhat limited by snow/ice over the next few months so I am going to have to toughen up and do the one thing I despise more than anything else – getting on the turbo trainer indoors. In my opinion, there can be nothing more pointless and torturous than cycling on a bike where you don't go anywhere, don't see anything and don't breathe one molecule of fresh air.
So it's going to be an interesting few months but I'm up for it. First thing I'm going to have do is to get a bike that will actually change gear and buy myself some clippy shoes that actually work. And after that it's down hill all the way surely? I wonder if they make turbo trainers with cocktail glass holders?!
About Sophie's blog
Mountain Girl is passionate about the vertical wilderness, backcountry skiing, mountaineering, hiking, trail running, biking, and rock climbing. Oh and Prosecco - she really likes Prosecco.
Select a sport
Find out how to get started, training plans and expert advice.