My new year's resolution is…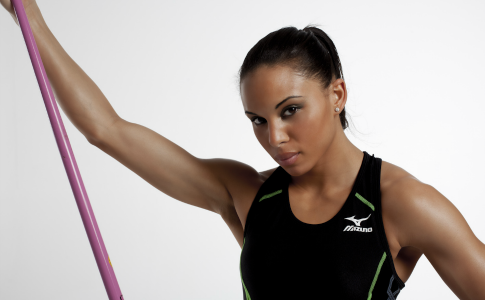 It's the first day of the year and perhaps you're thinking of setting some resolutions for 2013, if you haven't set them already. Most of us have a couple of goals we wish to achieve, whether it's to get that promotion or try out a new sport – and professional athletes are no different!
Setting New Year's resolutions is an old tradition. The Romans began each year by making promises to their god Janus, after whom January is named. It is the process of looking back over the past year, and looking forward to the new one, reflecting upon changes you want to make and resolving to follow through!
To get some inspiration (and to realise they are human too!) we asked some of our top British female athletes what their 2013 resolutions are.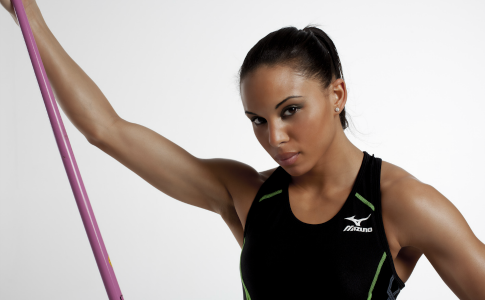 Louise Hazel. 27-year-old Louise (pictured above) is an English athlete in the multi-event heptathlon and a graduate of French studies from the University of Birmingham. At the 2010 Commonwealth Games she won a gold medal for the England team, achieving her personal best of 6156 points. Her 2013 resolutions are 'to follow through to the best of my abilities all the bright ideas, visions and plans I have for the future… and to take singing and acting lessons!'
Hannah Cockroft, aka Hurricane Hannah, is a British wheelchair athlete specialising in sprint distances in the T34 classification. She holds the Paralympic and world records for both the 100m T34 and 200m T34 and won two gold medals for GB at the 2012 Paralympic Games. Her goals for 2013 are to retain her double world champion title in the 2013 IPC world championships, and to learn how to cook!
Captain of the England women's national football team, and captain of Team GB at the Olympics, Casey Stoney is a top female footballer, known for her tenacious defending. Her 2013 resolutions include to keep in contact with friends, especially as her football career means she is often away from home and to socialise a bit more. Also, importantly, to focus on the UEFA Women's Championship taking place in 2013 in Sweden!
Pamela Cookey (pictured above) is Captain of the England Netball team and plays for TeamBath in the Netball Superleague. She has over 70 international caps and has been named the Superleague Player of the Season in 2008, 2009 and 2010. Often playing in the Goal Attack position her resolutions this year are "to put out solid and inspirational performances in all test matches over the coming year and to lead my team in achieving our set goals." She also would like to slow down a little and not feel she has to do everything at 100mph!
Chrissie Wellington MBE is no stranger to goals, and importantly, achieving them! She is a British triathlete and four-time Ironman triathlon world champion. She currently holds all three world championship records relating to Ironman-distance triathlon races, and she won the world championship less than one year after turning professional. She says: "My New Year's resolution is to spend time learning how to stay in the moment, and to be in the 'now', and to always remain positive and live life with a smile, in and out!"
Top British Olympic snow sports athlete, Zoe Gillings (pictured above), is a professional snowboarder participating in Snowboard Cross. She has three very clear resolutions for 2013: "To remember to pack a recovery snack in my gym bag for after my session. To learn some essential phrases in Russian as the next winter Olympics are in Sochi, Russia. We have a test event there in February 2013 and if all goes well I will be competing there at the games in 2014. All I can say so far is 'Spasiba' which means thank you. And to finish the winter season ranked in the top 5 in the world (I'm currently 7th)."
Accomplished Welsh netball player, Suzy Drane, and co-captain of the Celtic Dragons, tries not to set too many resolutions as it makes it harder to remember them and stick to them all! "My first personal resolution is to be proactive, explore and try new things, be different! Sports wise I have just bought a new t-shirt out in the States which will form my resolution this year: 'This year I will… Get stronger… Run faster… Jump higher… Train harder!'"
While beach volleyball player Denise Johns told Sportsister her goal relates to the fact that she is away for so much of the year training, "My resolution is to communicate with a friend or family member each day. It's so easy losing touch with people while travelling."
And the best advice from these top sportswomen on sticking to your resolutions?
Well, it is all about goal-setting! Louise Hazel recommends setting short, mid and long term goals for your resolutions, and Pamela Cookey's tip is to set a reminder in your phone to remind you of the goal!
This is what Zoe Gillings had to say: "I think making a goal is the first step, it's always easier to achieve something if you know clearly in your head what exactly you are aiming at, be as specific as you can and write it down too, depending on what it is, you could then stick it on the wall somewhere obvious to remind you. If you don't stick it up it's still useful to have a written copy of what you set out to do for reference."
And as a final piece of advice, Suzy Drane recommends that "if you want to do something, seek out the opportunities and do it now!"
Wishing our female athletes as well as our loyal readers a successful 2013 whatever your resolutions may be!
Bianca Fermi, Sportsister
The Women's Sports Magazine
Select a sport
Find out how to get started, training plans and expert advice.