Climbing blog: Climbing Kilimanjaro tips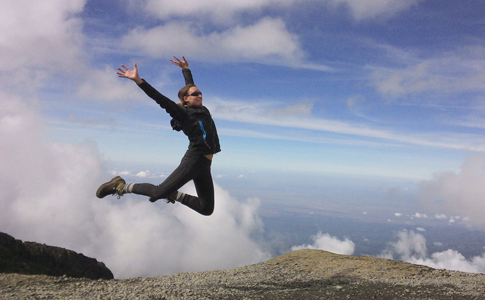 Climbing Kilimanjaro definitely seems to be on many a 'bucket list' these days. I have climbed it twice with lots of different people from all kinds of backgrounds, and would say that all of them agreed it was a once in a lifetime experience- for some, a life changing experience.
Along with running a half marathon and taking on Mo'vember, it seems that Kilimanjaro is becoming a popular way for people to test their limits and raise money for charity. Personally- I love the mountain, the characters, how the terrain changes every day, and how on summit night the stars are the most dazzling and brilliant I've ever seen. Whatever the reason for attempting it, the main things to bear in mind are that being safe comes first, having fun second, and making the summit just a bonus.
So, if you are thinking of taking on the challenge, here are my top pieces of advice:
1. Aim to attempt the peak in the dry seasons. Kili is near the equator so can be climbed all year around- but some months are better than others. Expect rain- invest in good waterproofs. I recommend the Karrimor Alpiniste jacket. I also recommend taking waterproof wax or spray to re-enforce your kit.
2. When choosing your route – there are too many to name – bear in mind what is most important for you. For instance, do you have only a very short amount of time off work? In which case, a 5 or 6 day trek would be ideal. If you are worried about fitness, a longer 7 or 8 day trek would be your priority. Don't just go for the first trek you see – research the Machame, Lemosho and Wrongai routes and see which best suits what you want to get out of your trek.
3. On the moral side of things, it's important if you are doing the trek for charity to ask exactly how much of what the charity is charging goes on the cost of the trek. Once you know this figure, it's up to you to make clear to sponsors what percentage of their donation goes to charity, and what is funding your holiday. A lot of trekkers now pay for their trip costs outright, and give all donations to their charity. It's a personal decision.
4. Training should be taken seriously – get yourself toNorth Wales 3 or 4 times before your trek – go in all weather (but be properly prepared). It may not sound much to go up and down Snowdon for a few weekends- but it makes a huge difference. Compared to those that don't get the vital experience of long days on mountain terrain the difference is very apparent. Those that train appropriately simply enjoy Kilimanjaro more – simply because they have more experience. Every little helps.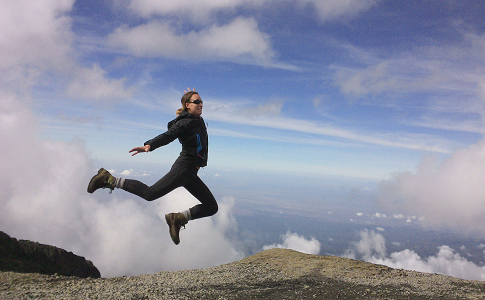 5. On the mountain itself, one of the main reasons people don't summit is because they don't stay on top of "personal admin". This means drinking 4 litres of water a day, forcing down food even when you lose your appetite, looking after your feet and keeping your kit in good check, ie dry. Often this is the biggest challenge because it's these little things that add up without you realising. Stay on top of them and you've got a very high chance of reaching the summit.
6. Don't freak yourself out, but do research altitude sickness and symptoms so you are familiar with them on the hill. The more you understand HOW altitude affects your body, they more you'll appreciate the importance of hydration, conserving energy and how to react to headaches and other mild symptoms. People that haven't done their research often make very normal symptoms such as headaches much worse through anxiety and worry – they think that they are much more ill than they actually are. It's no fun for you or your team.
7. Be prepared to get quite attached to your porter team. Make an effort to learn names on day one, and learn please and thank you in Swahili. They will appreciate this. Think before you leave if there's anything you can give them at the end of the trek. I always take out jackets, socks and head torches. Some people end up giving away their entire kit! Bear this in mind as you'll feel an overwhelming desire to give them something once you've seen how hard they work.
8. When you have down time in camps, make an effort to bond with your team mates as opposed to all retreating to tents to read and listen to music. Charades and card games are brilliant and the hours fly by. Ask for extra tea and coffee from the kitchen tent and you'll find that you stay more hydrated, have more fun, and don't find yourself dozing in your tent and then not able to sleep at night.
9. Take a disposable camera as cameras tend to freeze on summit day and you'll hate yourself forever if you don't get a decent summit shot. My Everest summit photo was taken on a disposable and it couldn't have come out better, sleep with electricals and batteries at night as if they get too cold they will be useless.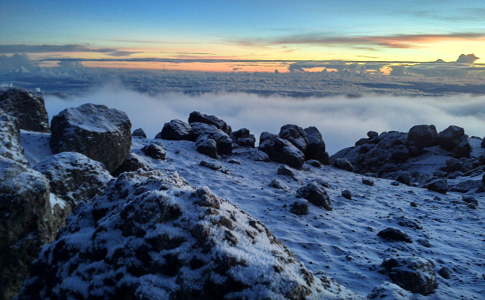 10. The human body is an amazing thing- if you've never been to altitude before, never had 12 hours straight through the night on your feet, never felt so exhausted and ill, you'll be amazed how you can still find the energy to keep going. This is why climbing Kili is a life changing experience. Some of the people I've been up there with had no idea just how capable they were, or how much mental and physical exhaustion they could take. It can be the definition of testing your limits. So my last piece of advice – welcome the hardship and revel in those few hours on summit day, perhaps the toughest hours in your entire life, where you will see exactly what you are capable of.
Bonita Norris is an ambassador for Karrimor. You can follow her updates at www.karrimor.com/bonitanorris
Select a sport
Find out how to get started, training plans and expert advice.