Olympics for beginners: Archery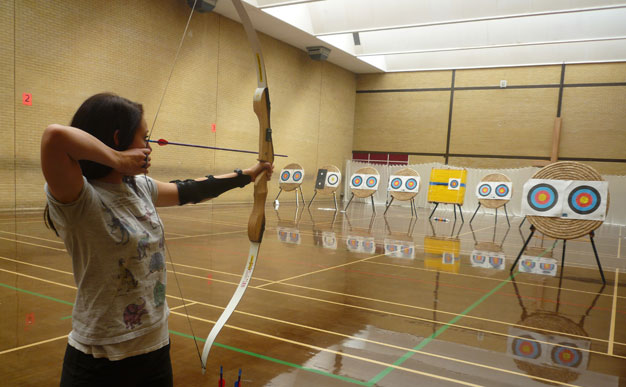 I was nervous-excited as I made my way down to my first have-a-go session at my local archery club, Hampstead Bowmen. Conscious of their need for steely concentration at all times, I made a mental note to try not to flap about behind the archers, like an over-excited blue peter presenter OD-ing on Haribo. So I missed my morning coffee and channelled my inner Clare Balding. I was ready.
So what's it like?
I needn't have been nervous; the coach at Hampstead Bowmen, Cliff, was super helpful and friendly and I really can't thank him enough. He patiently talked me through the dynamics of the sport, from the types of equipment, various classifications, who can play, and so on. And then I got to have a go! *suppressed squeal of excitement!*
It was amazing! I totally loved it! I managed to get a bulls-eye after only a few goes (they may have moved the target quite close for my go, but hey, it definitely still counts!)
It's a lot more complicated than Kevin Costner would have you think; there's a lot to remember – your positioning, overall posture, which muscles to engage, how to hold the bow, how to pull it back – and all this before you even look up to the target. But while your mind is busy trying to figure it all out, the overall effect is quite calming.
I looked around at the other archers and they all seemed to have this inner stillness thing going on. I have always struggled with inner-stillness activities, like yoga and pilates, and until now, have only been able to achieve a near-zen state while watching Family Guy reruns, long past bedtime. But archery is well zen. Archery is fun zen.
Who can take up archery?
Archery is hugely inclusive. Although there are various classifications at competition level, dictated by the weight and type of bows and arrows the archers use, everyone can train together. From eight years old to 80, everyone lines up next to each other on the same line and shoots at their target, with their own type of equipment. There isn't a 'good' group at one end and an 'improvers' group at the other. This may not be the case at all clubs but it was at Hampstead Bowmen, and I loved it.
There are various kinds of bows – barebow, compound, longbow (think Robin Hood!) and traditional Mongolian. There are also various weight categories, with the men's arrows being very slightly heavier at national competition level.
But women of all ages can take up archery and indeed, often seem to pick it up quicker than men. Although men tend to be stronger, in their arm and shoulder muscles, this isn't necessarily a good thing in this context as they will naturally engage those muscles when they pull the string back. However, you actually have to make sure you're stood up straight, and use the muscles in between your shoulder blades to pull it back, because this will make you sturdier and allows you to be more composed to make your aim. Good core strength seems important.
Archery is also safe (the coach had only come across one minor injury in his ten years of involvement) and relatively affordable to start. Annual membership at this club is £60 (£40 of which goes to Archery GB for insurance etc) and beginners courses at this club are around £100. However, this is the most central club in London, so I imagine it carries a bit of a premium to say, Gloucester, where a quick scan on the internet finds some in the region of £35. A starter bow and set of arrows are also pretty reasonable from £65 – much cheaper than a bike or a horse! And many people will continue to use this set for years after.
I now have a massive crush on archery and have already signed up for their next beginners course! You can find out more about how to get involved in your local area by using the Archery GB website, which has really good club finder –
www.archerygb.org
Let me know how you get on!
Select a sport
Find out how to get started, training plans and expert advice.