Mountain girl blog: Legends and loss – reaction to the Mount Manaslu avalanche in Nepal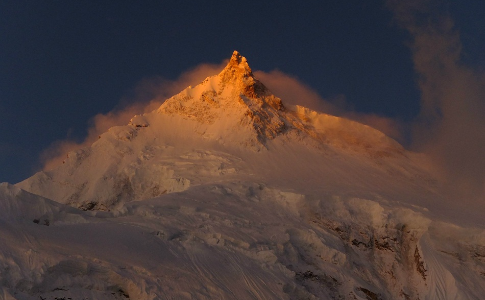 Growing up in our ski-obsessed household in Scotland, we had slightly different heroes to the other families in the area.
We were vaguely interested in footballers and popstars but to be honest, our real idols were skiers and mountaineers and two names that constantly punctuated my childhood were Glen Plake and Rémy Lécluse.
Glen was mine and my sister's hero, Rémy was my Dad's. I can't tell you how many times we sat open mouthed watching Glen and his mohawk launching off impossibly huge cliff drops in various ski films but it was probably equal to the amount of times we sat listening to my Dad's tales of skiing with Rémy in far off high places.
Last weekend's devastating avalanche on Mt Manaslu in Nepal took Rémy from us and spared Glen. Together with Greg Costa, the trio were part of an expedition bidding to be the first team to ski from the summit of Mt Manaslu without oxygen. Along with around ten others, Rémy and Greg lost their lives in the avalanche yet Glen miraculously survived.
News of the tragedy has struck intensely here in Chamonix where Rémy and Glen were based and while I have met both, I did not know them personally. As a result, it feels more appropriate to share the thoughts of those who experienced the mountains with them first hand and one such person is fellow Scot, local ski instructor and owner of Chamonix based 'Off Piste Performance', Alison Culshaw. Alison skied with Rémy and her tribute to him is real, honest, and vivid and goes a long way to describing why Rémy Lécluse will forever remain a legend in many people's lives…
Rémy Lécluse
I have a picture on my kitchen wall of a beautiful snowy line on the Aiguille du Chardonnet. People often ask what the picture is of. I smile, think back to that memorable day, and tell the story.
I had a few days off in January 2010 so what did I do with them? I had some ski lessons; steep skiing with Rémy Lécluse, lessons that were so valuable at the time but little did I know then how precious they would be to me now.
When I first met Rémy for a coffee he made it very clear that if he was going to guide me on steep slopes I had to be prepared to ski his way or we weren't doing it. I was happy to buy into that. I told him that I didn't really have any specific objectives. I'd rather go and ski something I'd hadn't heard of to make the most of the time with him. I wanted an adventure and to learn along the way. I knew he understood exactly what I wanted to get from my couple of days skiing with him and could see ideas brewing.
Our first ski together was to be a "warm up" day to practice his techniques. A quick non-stop lap off the top bin at Les Grands Montets and he had enough time to make an assessment of me. Whilst he was checking out conditions through his binoculars, I was catching my breath. He asked me if I used to race, "yes" I replied proudly, pleased that he had observed that in my skiing so quickly. "And how many times did you crash in races?" I replied it was probably about 1 in 7. "When you ski these types of slopes with me you can never crash. It's not an option." The message was very clear.
Then off he went breaking trail up the Petite Aiguille Verte with me hanging in behind trying to pretend I was finding it easy. He taught me how to "crawl" up through the powder to make the uphill easier! We stood at the top of the face and he said "Right I want to see you do five turns between here and there without jump turning". I looked at him blankly, "without jumping?" "Yes" he replied, "You need to keep your skis on the snow". And so the learning began.
He spoke to me sternly when I forgot to stop above him. Sternly in a reassuring way; reassured that he was giving me 100% of his attention and that my safety was his main focus. After the Chevalier couloir and a warm down in the Chapeau couloir, I was following him back through the forest. He was doing hundreds of quick turns on a six pence down the track and I was cruising behind. He stopped and shouted "Do you think I'm doing all these turns for my benefit?" I guess not. I followed behind trying to copy. He worked me hard and he got results. When you got a compliment you had really earned it.
With the warm up day over I was delighted with what we achieved and what I had learnt but we still had the "adventure" day to come. Rémy had some ideas of where we might go but nothing was set in stone. His flexible approach reassured me that he was responding to the conditions in front of him. Bring everything, be prepared to go anywhere. It wasn't until we skied down onto the Argentiere Glacier that he made a firm decision. "Let's go for the South East Couloir on the Chardonnet". "Where?" He explained. I looked at my watch. So we are going to go from here to the top of the Chardonnet today? I'm glad he's breaking trail. The conditions were perfect for skiing downhill; fresh untracked powder everywhere with little effect from the wind or sun. But it certainly made it hard work to go uphill; again I was crawling uphill behind him.
I didn't take a camera. I tend not to when I need to focus in the mountains. It's just another distraction. But the memories of the descent are still vivid in my mind. There was beautiful fresh powder all the way through the couloirs that twist between the huge red granite towers. Rémy danced down effortlessly demonstrating exactly how he wanted me to ski. I tried to replicate it and I would hear him voice reminders when I didn't "don't jump" "double pole plant". He could fit turns in where I aspired to.
Eventually we skied out the bottom of the couloir. I don't remember many stops between there and the Pierre a Ric Piste. We skied down the piste amongst the skiers that we had begun the day with. Glancing back up at the Chardonnet, I felt quietly privileged that our day had probably been quite different to theirs. All thanks to Rémy.
Rémy is renowned for his own personal achievements, but he also had a unique skill in guiding people in this environment too, teaching them and helping people to accomplish their goals. He was "the Godfather" of steep skiing in every way, but he was also just a really nice bloke to be around. It was always a pleasure to bump into him in the street or on the hill. He had time for everybody. I'll continue to aspire to dance down ski slopes with the fluidity that he did, and to coach my clients to do the same. Rémy Lécluse is the greatest loss to skiing I have ever known.
About Sophie's blog
Mountain Girl is passionate about the vertical wilderness, backcountry skiing, mountaineering, hiking, trail running, biking, and rock climbing. Oh and Prosecco - she really likes Prosecco.
Select a sport
Find out how to get started, training plans and expert advice.