Mountain girl blog: Going back to school (Part 2)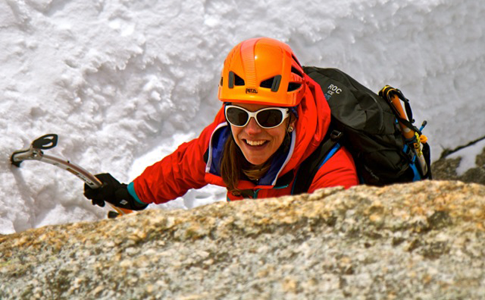 After an action packed first day at the Arc'teryx high altitude Alpine ARC'ademy, I was expecting to crawl into my bed, sleep like the proverbial log and bank 12 hours of uninterrupted zzzz's. It was not to be.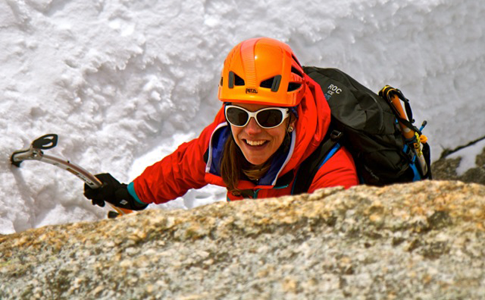 Rather than passing out cold, I found myself waking sporadically throughout the night, checking my alarm and cursing my inability to submit to the physical fatigue. Attempts to sleep were futile and the sole reason for this restlessness was that I was excited. Like a kid the night before Sports Day, I was so looking forward to what was on the agenda that morning couldn't have come soon enough.
When it did of course, I was knackered. Today was going to be sponsored by caffeine so I gathered my kit together, necked three strong coffees, then made my way to the bottom of the Midi cable car to join up with other similarly Arc'teryx clad mountain lovers. Day one had been about education, but day two was about the second part of the ARC'ademy motto: inspiration.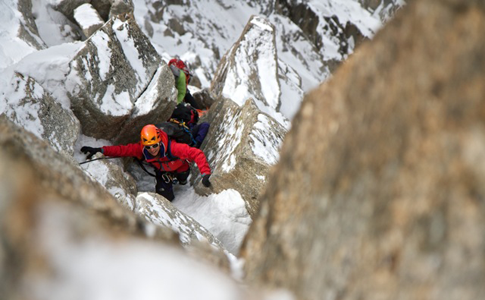 I had signed up for the Alpine Climbing Level III/IV clinic in the hope of getting some more miles under my crampons and experiencing a few of those precious life punctuating moments that are so often the result of the heady combination of physical effort and fear! When our guide for the day Patrick announced that we were going to do the Arete des Cosmiques I was close to breakdancing on the spot with excitement. The Cosmiques is one of the most popular routes in the Mont Blanc Massif and I had been wanting to get my little mountain girl trotters on it for quite some time but the opportunity had not yet come my way. Until now…
We set off down the ridge of doom (described in more detail in previous post), wound our way round the back of the Aiguille du Midi and barely 30 minutes later we were at the base of the route. Whilst the accessibility of the Cosmiques makes it a good option for a short day out, it is the variety and quality of the route itself that sets it apart as a 'must-do' for even the most experienced of alpinists. It really is not often that an 'intro' level challenge in any sport receives such high praise from the professionals but practically every mountain guide I have ever come across really rates the Cosmiques and the general consensus is that it is a really fun way to spend a morning. As long as you like rock, ice, adrenaline, and vertical challenges that is.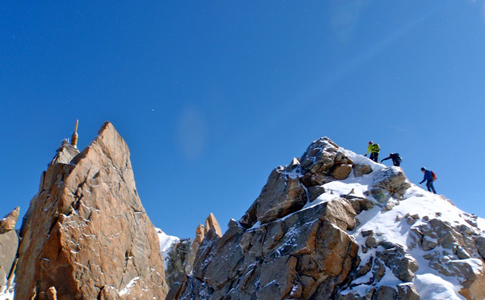 After the initial ascent to a small summit over some easy mixed terrain, things really began to crank up a notch. What followed included engaging down climbing where crampons and ice axes were really put to work, tricky steep sections where previous rock climbing experience was hugely appreciated, and an abseil where nerves were tested and deep breaths frequently deployed! And all of this was set against the most fabulous of backdrops: awesome mountain peaks towered above us, spectacular glaciers were all around, and way, way below us was the Chamonix valley floor. At some points the exposure on this route is really outrageous so a head for heights on the Cosmiques is probably more important than a significant level of climbing ability. Of course you will need to know an ice axe from a ice lolly, but you will definitely need to make sure that airy steep stuff doesn't freak you out too much as once you're up there, you're kind of committed.
Before we had even left the valley floor Patrick had told us that we were going to need to move quickly – a storm was due at lunchtime and we had a weather window to get around the Arete as long as we functioned as alpinists. He impressed upon us that this meant moving together as a team – he would lead the pitch and then we would follow, roped together, constantly communicating to ensure that we stayed a safe distance apart without pulling each other off the side of the mountain. The lesson of the day really was about teamwork and how vital this is in the world and sport of Alpinism. At any level it is of paramount importance that the team function as a cohesive unit that moves swiftly and safely towards the goal.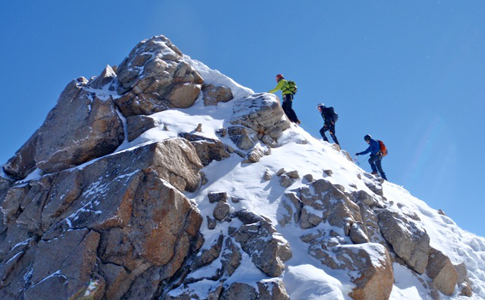 The notion of working as a team extends beyond just how you move together through the mountains, it is also about how you communicate within the group. It is integral to regularly check in with yourself and if you need to stop to put on another layer or have a sip of water, to make sure that you express this to the rest of your party so you can find a mutually safe place to sort yourself out.
Likewise, it is hugely important to remain alert to the needs of those around you: is anyone in the group struggling? Do they look like they could do with some reassurance? Are their crampons still tightly attached? Would it be a good idea to take a quick break and have a bite to eat before the next challenge? Although I have spent a fair amount of time in the mountains myself, I am constantly reminded of just how important this is when doing anything as a group in a challenging environment. You may have all the alpine skills of a mountain goat but if the person at the back of the group freaks out or their hands are too cold and they drop their ice axe, you're going nowhere fast…..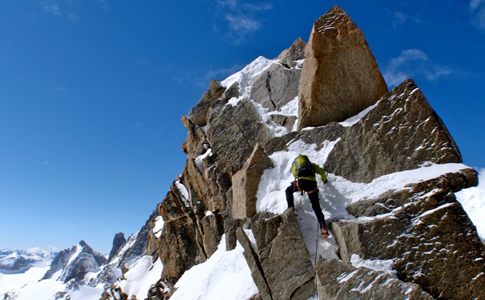 A dropped belay device aside, we luckily experienced no major challenges on our way round the Cosmiques and after a couple of hours we had made it to the end of the route. All that remained was to climb the rickety old ladder up to the observation deck at the Midi station, hop over the guard rail and laugh at the wide-eyed somewhat misguided tourists who obviously thought we'd just been up Everest or something as they seemed quite keen on taking photos of us! Never one to shy away from the limelight, I indulged them with a bit of mountain girl blue steel before boarding the cable car back down to the valley floor. Brilliantly, just as we took our first sip of beer in the café at the bottom of the Midi, the rain started to fall and we smiled smugly to ourselves: mission accomplished.
As I drove away from Chamonix that afternoon I reflected on what was the most fantastic weekend at the Arc'teryx Alpine ARC'ademy. The past 48 hours really had been just immense, the ultimate educational experience high up amongst some of the world's most dramatic mountain peaks. Arc'teryx had put their energy behind their passion and in so doing created an event that combined learning and fun, friendships made and memories shared. And the goodie bags? Well you'll just have to sign up for next year's event to find out!
Image credit: Jacob Slot
About Sophie's blog
Mountain Girl is passionate about the vertical wilderness, backcountry skiing, mountaineering, hiking, trail running, biking, and rock climbing. Oh and Prosecco - she really likes Prosecco.
Select a sport
Find out how to get started, training plans and expert advice.