Mountain Girl blog: Going back to school (part 1)
Last weekend I went back to school but thankfully it was one that bore absolutely no resemblance to any education establishment I've ever attended in the past!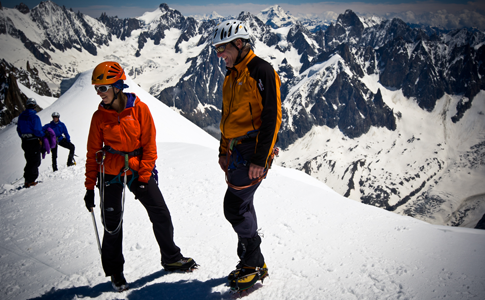 At this school the classes took place high up amongst magnificent Alpine peaks and at this school the uniform was less dull, grey nylon and more a myriad of brightly coloured jackets, harnesses and sunglasses.
Instead of pencil cases, we carried lightweight alpine backpacks and our tools for the job were crampons, ice axes, karabiners and energy bars. This school was the three day Arc'teryx Alpine ARC'ademy in Chamonix, France and its pupils came from around the globe to play with, and learn from, some of the world's best alpinists and mountain guides.
This was a coming together of those with a shared passion for the mountains who were motivated to make the journey by the ARC'ademy motto: 'to educate and inspire'…..
After a ridiculously rainy week in the Alps, I arrived in Chamonix last Friday night and was immediately welcomed by the Arc'teryx on-event crew with open arms and open bottles of wine and beer!
The first evening was super relaxed and was spent having a few beverages, meeting new faces and listening to lectures on a variety of topics ranging from layering systems to climate change.
It was all very easy and chilled for me but perhaps slightly less so for those who were already out on the mountain – clinics had started on Friday and 12 brave souls had signed up for an overnight bivvy course with professional ice climber Ines Papert. The weather was pretty shocking and from all accounts they had a pretty challenging night spent up on the glacier at 3,365m.
Thankfully Hilleberg and Primus had made their top of the range tents and stoves available for the event so any potential trauma was kept to a minimum!
I had signed up for Saturday's crevasse and mountain rescue clinic and was really looking forward to it. As regular readers of this blog will know, I have been driven by a desire to acquire as much knowledge as possible to become more self sufficient in the mountain environment so this course was an obvious choice for me.
Five others had also signed up for this clinic and together with our two mountain guides, we boarded the Aiguille du Midi cable car and 20 minutes later found ourselves 2,800m up, above the clouds, strapping on helmets and crampons and applying huge amounts of sunscreen to protect us from the intense sun and glacial glare.
If you've ever been to the top of the Aiguille du Midi you will know that the descent onto the glacier is always a tad spicy: at 3,800m, ridiculous exposure and vertical drops on both sides, it's a pretty airy ridge to say the least and the combination of adrenaline and altitude works pretty well as a wake up call that's for sure!
Unlike the days leading up to the event, Saturday was a bluebird, calm and spectacular day and the backdrop for our learning was one hell of a classroom with panoramic views of Alpine peaks including the Matterhorn, the Grands Jorasses, the Aiguille Verte, Dent du Geant, and Mont Blanc herself.
We were surrounded by legends and learning from a couple too – our guides for the day Philippe and Didier were class in every way; enthusiastic, calm, patient, encouraging, massively experienced, and really quite cool in the way that older French mountain guides just are!
I trusted Philippe implicitly as soon as I met him so when he told me to throw myself off the side of the slope with only a rope attached to my harness, I did it with pleasure. On reflection, a triple salchow with crampons was perhaps not the best idea but I've certainly put myself in contention for this summer's Olympic high diving squad should any last minute places suddenly become available…
Unnecessarily dramatic dives aside, the whole day was spent getting the processes involved in rescuing someone from a crevasse permanently tattooed in our minds.
As with all emergency situations, the most important thing is to be calm, think logically, minimise any further danger and then go about solving the current situation.
My understanding of the whole system and process is as follows:
La-di-da, having a lovely time in the sun in the mountains.
Holy sheissen – Person attached to the same rope as you has just fallen into a crevasse
Dive to the ground to prevent being dragged in yourself
With person still attached, try to dig a t-shaped deep hole (ominously called a 'dead man') in the hard snow with your ice axe.
Puff and pant.
Try not to be dragged in.
Place ice axe in horizontal part of T, bury it to prevent it popping out then attach sling to it that lies down the vertical part of the T
Puff and pant.
Try not to be dragged in.
Remove traction device from harness (try not to be dragged in, puff, pant etc) and attach to sling and rope leading to person in crevasse
Using another sling, attach self onto rope front of traction device to enable you to move towards edge of crevasse to check on dangly victim (no longer need to try not to be dragged in)
Move up towards lip of crevasse, shout to el danglio, then attach Tblock and pully system to rope
Move back towards dead man and traction device then proceed to pull like you're in Bojangles nightclub on a Saturday night
Make sure that don't get own sling trapped in traction device so keep moving it down the rope
Hopefully haul annoying person out of crevasse then proceed immediately to hugging and beers. In no particular order.
I am pretty sure this covers the basics of the situation but my female brain finds stuff like this really hard to absorb so I am going to make a deal with myself to revisit the process on a regular basis.
I know that I learn best by repetition so don't be surprised if you pop round for a glass of wine and suddenly find yourself promptly being tied on to a rope and then lowered off the balcony.
After figuring out how to rescue someone else, we also covered the basics of self-rescue which is arguably even more important. What was abundantly clear from the previous scenario was that it is incredibly difficult to do all of the required processes when you have the entire weight of a person attached to your body and gravity is doing its thing.
So if you know the basics of self rescue (which basically involves more slings, traction devices, and T Blocks) then you're going to do everyone around you a pretty big favour. Of course perhaps the best thing to do would be to not have fallen into the crevasse in the first place but hey…….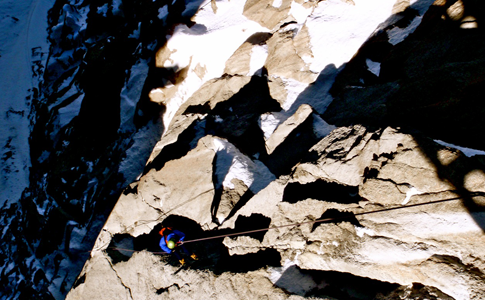 With a mind full of information, some new pals, and a nose sunburned to Rudolf proportions, we descended back down to the valley and immediately towards some amber coloured refreshment.
After showers and a wee doze, we reconvened a couple of hours later at the café at the bottom of the Midi cable car to get some tasty grub in our weary bodies and spend the evening watching some fab mountaineering/climbing/skiing videos that allowed our tired minds a bit of a rest.
Day one had been truly immense, surely day two couldn't be as good… could it?
About Sophie's blog
Mountain Girl is passionate about the vertical wilderness, backcountry skiing, mountaineering, hiking, trail running, biking, and rock climbing. Oh and Prosecco - she really likes Prosecco.
Select a sport
Find out how to get started, training plans and expert advice.