Mountain Girl blog: Powder, Guns and Yoga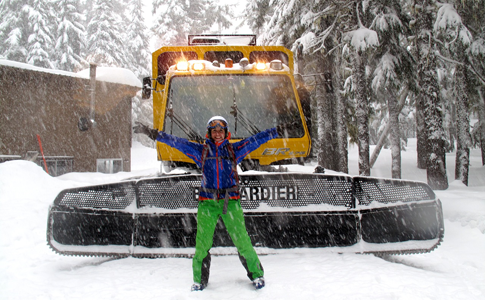 So the last time I wrote I told you that I'd been enjoying a little Stars and Stripes action during a bit of a ski road trip around Oregon. Well now that I've had a bit of time to unpack my baselayers and started to work a bit off the old bagel belly, I thought that it might be worth sharing a few stories from the trip that will give you a taste of the place and hopefully a bit of a laugh too…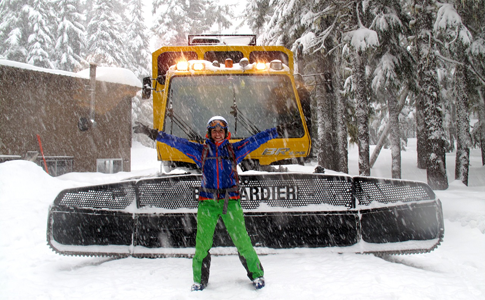 I touched on the wonderful diversity of Oregon in my last post and I have to say that this was truly encapsulated by our day cat-skiing at Mt Bailey and the group that we shared the cab with. It was obvious from the moment that we woke up that we were in for something memorable: after days of calm and temperate conditions we were right in the middle of a huge storm and it was blowing dogs off chains to say the least.
As we all sat having breakfast, the glint in the guides' eyes suggested that they were expecting a bomber day out in the powder. You could smell the anticipation in the air, or actually maybe it was it the huge plates of eggs, pancakes, bacon, waffles and sausage… whatever it was, it was good stuff.
The stage was set and it became pretty clear from the off that we were with an 'eclectic' group. Two guys, one girl and a girl that looked like a guy. The first girl it turned out was a mother of two, yoga fanatic and closet Metallica fan whose classic comment after the first run was 'I think of myself as a snowboarder first, and a human being second'. Really?!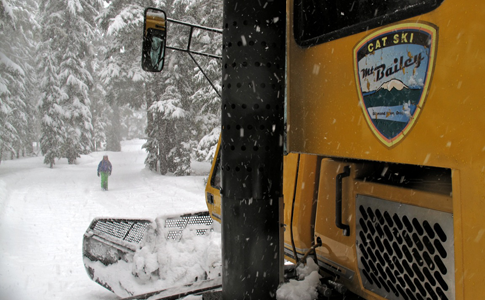 The first guy was an ex-Special Forces soldier with biceps the size of his ego who now ran a gym in Portland and described himself as 'about to become very famous' due to some innovative fitness fad he has invented with kettlebells. At this point my bloke asked him what kind of music he played on his kettlebells – let's just say, different worlds.
The other 'guy/girl' as it turned out was one of his fitness instructors at the gym who also just happened to be having an extra-marital affair with him. When she found out that we were journalists she made us promise not to mention her by name because yes love, that's right, we've come all the way from the Alps to write about you. So let's just call her Kimberley. Cos that was her name – only kidding.
The last guy to make up this fantastic four was perhaps the most random of the lot. Describing himself as 'a big mountain rider' (as it turned out later he had never boarded anywhere other than on the pistes of Mount Hood), his most endearing quality was his love of semi-automatic weapons – and using them. With an international arms dealer for a father, he probably didn't have much of a chance so he fulfilled his genetic destiny and now runs a Blackwater-esque operation in Afghanistan and had just returned from a holiday to the Amazon where he had been hunting jaguars.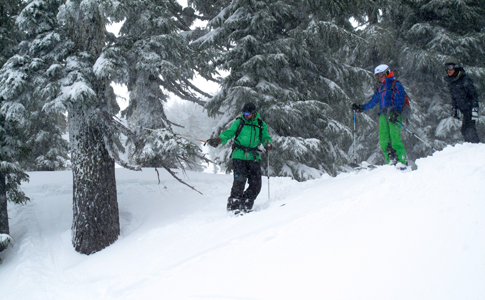 At this point one of the ski guides piped up that he had also recently been in the Amazon. The difference being that he had been there visiting a jaguar reserve… oh the hilarity. But by far the most simultaneously amusing and disturbing revelation of the day however was what Blackwater boy was packing in his backpack: water – check, snacks – check, spare gloves – check, handgun, check. HANDGUN?! Yes apparently so. One can only presume that should a snowflake have turned bad-ass, I'd have been thankful to have him onboard. As it was, I wasn't sure how I felt – so I just laughed, skied waist deep powder then drank beer.
Oh America, God bless you for all your wonderful weirdness. And Oregon bless you for encapsulating this all in one State so that I didn't have to murder thousands of polar bears by flying all over the place to experience the diversity. And to all of those who rode the cat on the 11th of March 2012, thank you for being the most bizarre, fun, and hilarious group to share what was the best snow I have ever skied.
About Sophie's blog
Mountain Girl is passionate about the vertical wilderness, backcountry skiing, mountaineering, hiking, trail running, biking, and rock climbing. Oh and Prosecco - she really likes Prosecco.
Select a sport
Find out how to get started, training plans and expert advice.