Mountain girl blog: Life and death in the mountains
Over the past couple of years pretty much everything that has punctuated my life has been in some way connected to the mountains. Solace, healing, inspiration, travel, laughter, adventure, friendships, work, and even love have all exploded as a result of my decision to pursue a life less horizontal. This world has given me so much and I feel utterly blessed to have had so many wonderful experiences in such a short period of time.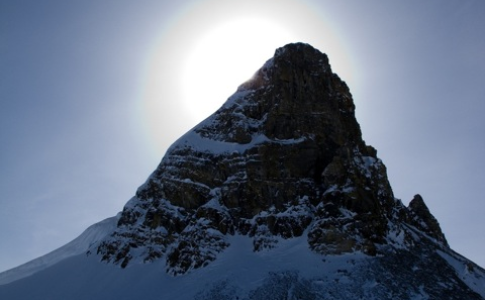 But the mountain environment is not all about sunshine and summits. It is also a risky, demanding, challenging and frightening place where things often go wrong and when they do, they can have very real and serious consequences.
I know all of this, of course, have read the books, seen the films, heard the stories but this week was the first time that I experienced first hand the devastating effect that the mountains can have on those we know and love.
On Valentine's Day I learned about the passing of Carlyle Norman – one of Canada's best alpinists who endured a painful and prolonged passing as the result of rockfall on the Patagonian peak of Aguja Saint-Exupery. She died doing what she loved of course, but the mountains took her in the most brutal and violent of fashions that I have felt somewhat haunted ever since I read the details of what happened to her last month.
I met Carlyle in 2010 in Canmore where she worked as a yoga teacher and I had come to explore the mountains and a bit of myself. Our paths crossed briefly but for me the meeting was poignant and lasting. We spent a late night together, along with some other good friends, and it was an evening of enormous amounts of laughter and even more insane amounts of whisky. Carlyle was off to Patagonia to climb the following day, I was shortly leaving for Mexico, and the two others in the small group were mountain guides back home in Canmore for a brief laundry stop before heading back up into the high Alpine for more adventures. Whilst our connection was short it felt extremely special – much like Carlyle's time on this earth.
Very often when we lose someone we try to find a lesson learned, a meaning or a degree of inspiration. We seek to find any way that helps us make sense and come to peace with what we have loved and lost.  As the week draws to a close, and I have had a little time to reflect on Carlyle's devastating passing, I am struggling to find any positive in what happened. Right now all I feel is an enormous sense of sadness at the loss of such a beautiful, fun, talented and young woman and an overwhelming amount of sorrow for what those close to her must be going through.
I also recognize within myself a considerable degree of resignation that these are the realities of a life pursued in the outdoors and that where we play is also likely to be where we may suffer. It is scary and humbling and you cannot separate the two. It will happen again but the adventure must continue.
My heart goes out to all of Carlyle's loved ones and to the lady herself who now rests forever in the mountains.
About Sophie's blog
Mountain Girl is passionate about the vertical wilderness, backcountry skiing, mountaineering, hiking, trail running, biking, and rock climbing. Oh and Prosecco - she really likes Prosecco.
Select a sport
Find out how to get started, training plans and expert advice.