Autumn glow part 1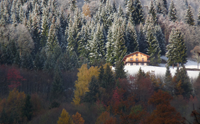 It's been the most glorious of weeks in the Alps. The tourists have long gone, the locals are resting in between seasons, and a sense of peaceful calm has descended upon the valley.
For those of us who live and play here on a permanent basis, it is the perfect time of the year. This is particularly the case for the climbers: no more scorching, energy sapping heat, no more school parties at the local crags, and no more fighting for tables at the cafes. We've got our valley back and we're going to make damn sure we make the most of it before winter and the inevitable swapping of rock shoes for crampons and chalk bags for ice axes.
With manfriend back in Scotland doing some TV work and the Alps bathing in glorious autumnal sunshine, it was time for me to find some new climbing partners if I was going to make the most of this wonderful time of year. It didn't take long to find willing companions, the only problem was that they were a slightly different breed of rock lizard to myself. Let's just say if it was football they'd be the Barcelona and I'd be more like… well, Brechin City…
Ladies and gentlemen I give you…
Last week's potential climbing partner number 1:
Agnieska Warszawska – the Vallee du Giffre's most ripped and accomplished female climber and canyoning/hiking instructor. Climbing and Agnieska go together like me and Creme Eggs and she regularly climbs around the 6c mark. I climb the stairs and regularly open bottles of wine.
And next up we have potential climbing partner number 2:
John Falkiner –  a Verbier based legendary mountain guide and Scarpa/Marmot sponsored athlete. John is beyond an expert in the vertical world having spent most of his life skiing, climbing and mountaineering all over the globe. He was the mountain guide and safety guy for the film Touching the Void. My contribution to this film was to sit on my sofa, and watch it whilst eating Creme Eggs. Cripes. I detected a slight mismatch.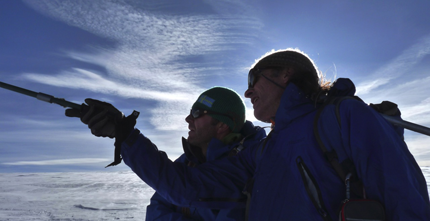 As you can imagine for a relative novice like myself, the concept of climbing with such experts was beyond intimidating but it was also simultaneously fantastically exciting. And in my experience, these two factors make for a brilliant combination. Butterflies in your belly generally mean that something big is about to happen and how you choose to view this is really up to you.
Option 1 would be to shrink from the opportunity, politely decline the offer, and stay at home and eat Creme Eggs. This decision would be understandable as you'd ensure your ego stayed intact but deep down it would be a deeply unsatisfactory choice to have made. The other option would be to brush the ego aside, be open to the opportunity, push beyond the comfort zone and rise to the challenge.
I admit that on both occasions, I briefly toyed with the former option. This lasted for all of about five seconds before I got my head straight, 'manned up', picked up the phone to both mountain goats and started to make the plan…
About Sophie's blog
Mountain Girl is passionate about the vertical wilderness, backcountry skiing, mountaineering, hiking, trail running, biking, and rock climbing. Oh and Prosecco - she really likes Prosecco.
Select a sport
Find out how to get started, training plans and expert advice.