Getting started – Football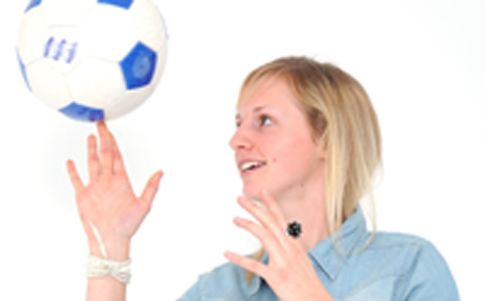 Participation levels for women's football are at an all time high, with 1.1 million girls currently playing the sport in England. Not only that, but with the new FA Women's Super League (WSL) having kicked off, the future is looking bright for female footballers in England.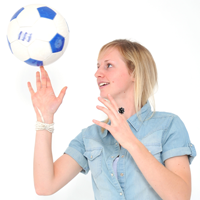 So what better time than now to get involved with an ever-growing, competitive and fun sport? Take a look at our getting started guide for the basics, along with suggestions as to how you can put your best foot forward and become a part of the team.
What's it all about?
Essentially, the more traditional game of eleven-a-side football is a team sport in which players attempt to score goals by kicking a ball with the foot through two goalposts. The team with the highest number of goals at the end of the game wins – simple!
Two teams of 11 players will compete in a game lasting 90 minutes, split into two 45-minute halves. One of the eleven players is the goalkeeper, the only player permitted to handle the ball on the pitch, in her team's penalty area.
Alongside the goalkeeper, the team will be made up of forwards, midfielders and defenders. Also on the pitch will be a referee who will adjudicate the game along with two assistants and a fourth official. The referee will judge play, ensuring the match adheres to the game's rules and runs to time. They can award free kicks and penalties if either team demonstrates foul play.
A referee can also decide whether to take further action against individual players – a yellow card is a caution, but if two yellow cards are awarded to the same player during the game they will receive a red card, expelling them from the match. Red cards can also be given without the player having already received a yellow, if the offence is severe enough.
So what's this offside rule women are not supposed to understand?
The offside rule is important as it states a player may not become actively involved in play if she is in an offside position when the ball is touched/played by a team-mate. To be in an offside position the player must be in front of the ball on the opposing team's half of the pitch with no opposing players between her and the opposing goal-line, with the exception of the goal keeper. An offside offence is then only committed if the player becomes actively involved in play by interfering or gaining an advantage because of it. Easy!
Where do I start?
Starting out couldn't be easier, ladies teams can be found all over the country so you won't be short of choices of where to join. The FA has a dedicated women's and girls' section and a handy team finder which locates your nearest clubs from your postcode.
Many clubs and county Football Associations also hold various initiatives to encourage people to get involved – details of planned events will be available via their website or The FA, so it's easy to find out what's coming up in your area.

What position do I play?
Tall? Opt for a defensive position, heading the ball is a key part of any defenders job and height is always a great advantage.
Small? There are no disadvantages from being short when you're a striker, a low sense of gravity is a plus when skipping around big clumsy defenders and getting into the penalty area looking for bobbling balls to tap in.
Average? A perfect fit for a role in midfield. Helping the defence and feeding the strikers, this person needs to be strong on their feet and able to stand their ground.
And if none of these seems to suit you, why not try goalkeeping? If you live without fear and have quick reflexes then goalkeeping is ideal. A shot stopper, ball kicker, rallying up team-mates – the goalkeeper serves a vital purpose and if you have only ever dreamed of being a boss, now is your chance. The goalkeeper commands all that's in front of her, defenders, midfielders, even strikers.
Is it for me?
Football might not be for everyone as it does require a certain level of motivation and dedication. However, if you are keen, taking up the sport in spring often makes it a little easier as the days get longer and the weather improves. Plus, the new WSL is a summer league, so you'll be joining some of the country's top stars when playing in the warmer months!
Football is a friendly and sociable sport but if keeping fit is the main criteria then it's a great choice as it works your whole body including the heart – combining anaerobic as well as aerobic exercise. Light jogging followed by short bursts of pace are a combination of these two types of exercise.
If you still aren't convinced whether football is right for you then go along to a training session and see for yourself – just imagine the sheer horror on your male friends' faces when you are explaining the off-side rule to them!
Is it easy to get involved?
Over to the pros for this bit! We asked Birmingham City's Kerys Harrop to give us her getting started tips: "There's lots of opportunities now for girls to get involved so just research it and find a club. It's good for socialising, you can have loads of fun and keep fit as well.
"I joined Birmingham when I was about 10 years old and I've been here since, developing through the Centre of Excellence and the different age groups. If you put the hard work in you'll get somewhere!"
Is it expensive? What kit will I need?
Membership fees for joining a club are standard, however, costs will vary depending on the size and facilities of the club. When starting out football boots aren't a necessity but astro-turfs are. These have the versatility to be used on grass and astro-turf pitches and can range from £30+.
Shin-pads are also a must along with a pair of long socks to keep them in place. In the colder months a long sleeved top and gloves are recommended while in the summer just a t-shirt and shorts will fit the bill.
Watching football
The launch of the WSL means that even if you don't want to play, you can still watch and be involved with an exciting top flight domestic league in England. The League comprises eight teams (Arsenal Ladies, Birmingham City Ladies, Bristol Academy, Chelsea Ladies, Doncaster Rovers Belles, Everton Ladies, Lincoln Ladies and Liverpool Ladies) and promises to showcase some of football's top female talent.
As well as the WSL, there is also a pyramid structure for the remaining leagues. All will have events taking place as well as matches for you to go and watch, so why not find your local club and show your support?
Helpful links
Jessica Whittington, Sportsister
The Women's Sports Magazine
Action shot image credit: Ville Vuorinen
Select a sport
Find out how to get started, training plans and expert advice.