Getting started – rugby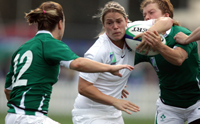 Inspired by the Women's Rugby World Cup? Thinking of taking up the sport yourself? Here's our beginner's guide to life in the scrum.
What is it all about?
Rugby Union has seen global popularity since its infamous beginning at a school football match in 1823 when a player picked up the ball and ran for goal. The traditional 15-a-side game is territorial and full-contact, based on running with the ball in hand. The aim of the 80 minute match is to outscore the other side, using four different techniques.
The popularity of rugby comes largely from its accessibility. Variety is the key to a great team, so the sport can be played by people of all shapes and sizes, and has grown in popularity with female athletes with the game developing initially from university sports clubs. By joining a local club you can keep fit and active, as well as enjoy the social scene of this booming women's sport.
How to score:
A try – worth five points, a try is scored when a ball carrier grounds the ball over the try line. The team gets the opportunity to kick a conversion after scoring a try.
A conversion – is a free kick at goal from a point directly in line with where the try was scored. If the ball goes over the bar and between the posts, it is a conversion and the team is awarded two points.
A drop kick – worth three points, a successful drop kick can occur at any time during open play, when a player can attempt to kick the ball between the posts and over the bar.
A penalty kick – awarded by the referee, a successful penalty kick at goal is worth three points.
What position do I play?
A rugby union team is made up of 15 players, divided into eight forwards and seven backs. Whatever your size or shape, there will be a position for you on a team.
Tall? Opt for a forward position. The main role of a forward is to gain and retain possession of the ball. Generally, forwards are larger and stronger than the backs. A good example of a forward position is a lock. Locks are almost always the tallest players on the team, and are the primary targets at line-outs.
Small? Best to look for a position as a back. The role of the backs is to take the ball won by the forwards and score points. They are usually more agile and faster than forwards, but not as strong. Traditionally wingers are small and fast, and need to be able to side step and avoid opponents in order to score tries.
Average? Centres need to have a strong all-round game, being able to break through opposition lines and pass the ball accurately. Alternatively, opt for a position as a fly-half. Usually, the fly-half is the kicker of the team, a role often shared with the centres or fullback. Don't worry if you don't know what position you will suit, head along to a training session at your local club and you will get to try some out.
How do I get started?
Teams are constantly looking for new members to join, and there is guaranteed to be one near you. To find your nearest club check out the following links for the national associations, all of which have a 'find a club' facility on their website:
England Rugby: www.rfu.com
Scotland Rugby: www.scottishrugby.org
Wales Rugby: www.wru.co.uk
Ireland Rugby: www.irishrugby.ie
Jessica Whittington, Sportsister
The Women's Sports Magazine
Select a sport
Find out how to get started, training plans and expert advice.