Peloton pacer
SADIE ANDERSON
- PELOTON PACER
Sorry I have left this so long! I got back from Paris on the July 22, now known as Super Sunday, and the day that Wiggins drove the Sky team home through the cobbled roads of Paris.
The world seems to have gone Olympic mad! I accompanied the torch up to Putney from Hampton Court rowing, but having been back at work, I have now had some time to reflect on our adventure!
I left you just before the Tourmalet. That day dawned, we got ready, set and started peddling from roughly 6k outside of the town and the base of the Tourmalet.
It was when I saw the first sign, which told me it was 18k to the top, and the percentage for the next kilometre that it dawned on me that the real reason I had taken up cycling (and put myself through the learning process and well, the pain) was for this moment, to complete a HC.
I am not going to lie, I was seriously nervous, butterflies and all.  Having already got quite a few other cats under my belt and having completed the miles that I wanted to, I was ready but tired!
I began very slowly setting a good pace, Gaby was long gone as I dropped my iPod and so after I had stopped to pick it up, I was left alone to trudge up the 'hill'.
I was soon overtaken by some Aussie boys who had all the gear and pace (but I later overtook them as they literally died at the side of the road, with 10k to go).
It was a constant percentage and climb which I just kept weddling away at, before I reached a beautiful ski town that was fab. I kept on going, slowly but surely, meeting some great people on route.
I am not going to lie, 18k is a long old time! It was the hardest part of the whole trip for me, especially before I got to the last 8k which was spectacular and people cheered all the way to the top.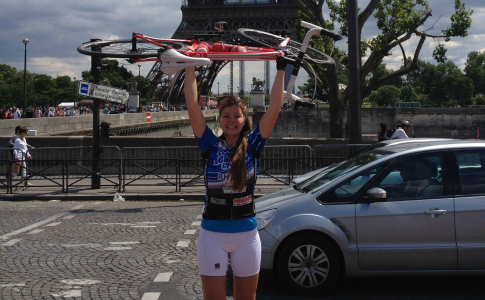 It was about 10k from the top that I began to really feel it but I made a pact with myself that I wouldn't stop… so I didn't!
The views, the people, the atmosphere, the amount the Coke cost… all of it was just priceless!
The last 2k, when the gradient really stepped up and I could see the top, is when I got a little bit overwhelmed with emotion and realised I had almost achieved what I set out to do.
Riding in to Paris was fabulous!
Once the trip was over, fatigue set in big time though and I was back to the grind…
Sadie Anderson, Sportsister
The Women's Sports Magazine
It has started – we are 15 stages in! Check out up to date stage information on our web page: www.onedayahead.co.uk.
I don't think anything can get you quite ready for the mountains, or the length of the days! I joined the team later as I couldn't get the full time off work and was also participating in a sailing event in Devon for the first five days.
Having been flat out with work and training, going to Devon to sail every day and working took it out of me big time. By the time I caught the train to France my muscles were tired and I was mentally shattered – what a perfect time for a holiday…!
But, the days are 12 hours long if you're lucky and the days spent helping the support vehicle means you have to do everything! Washing, refuelling the van, filling up the tanks and three sets of breaks for the boys as well as dinner, washing their bottles, making recovery juices then driving the transfer so that we are at the next start for the following stage.
But then there's the days I am riding! First day it was 30 degrees, beautiful villages and it was literally beautiful 'champagne riding', a bit of a contrast to yesterday…
15 degrees, 35 mile headwinds and a seriously undulating route that included a cat 3 and a couple of cat 4s. By the first rest break at 70k I was done in, but got back on the bike to complete the 156k stage which was marred with bike mechanics and well, rain!
The boys are doing amazingly. They are so fit and healthy at the moment and in good spirits. Hats off to them!
There are three other groups doing the same thing from around the world. A group of American professional females, a Dutch group and a random international group but we are the only British group.
We see them everyday and have been helped by them as well as us helping them. One of the professional ladies got hit by a car and broke her tail bone, but luckily our boys were just passing them so they were on hand until the ambulance arrived.
When a bike got hit and bent the back wheel, the Dutch boys lent him a spare until he could get to our support vehicle. As well as that, the girls gave Gaby and I some supplies when we were running low and about to hit another cat 3 climb. Coca Cola and biscuits, score!
I've also learnt many bike handling skills which I will fill you in on my return!
Today is our rest day and I am very excited about watching the Tour come into Pau. Hopefully I will see Cav who is tipped to win this stage and Wiggins will maintain his yellow jersey.
For once we are in a campsite. I believe it's the first time the boys have been to a campsite so we have showers (other than the camper showers) and wifi! Very strange getting a taste of normality!
Tomorrow is the Col de Tormelat stage which is one of the official etapes and an absolute beast. I will let you know how it goes, but for now I am off to grab a chocolate croissant, as personally I reckon I deserve it!
London to Brighton and back? Why not, it is not as if I haven't been doing lots of training rides.
This tale started with a simple, harmless Facebook message which stated that a good friend of mine (Andy) was doing the London to Brighton. Just to throw it out there I said 'well I tell you what, why don't we do it on a tandem!'
He called back two days later saying 'yeah let's do it!' So the hunt began for a tandem! Thankfully Dave (rower) came to the rescue, not only with a tandem but the skills to mend it and the knowledge on how on earth they work. Without him the story would abruptly end here…
Organising Andy and I for a practice ride was like trying to walk on water! So it turned out the only day either of us could do was Saturday… the day before the London to Brighton. The practice ride (which Dave watched in hysterics) we cycled the tandem from Esher to Clapham Common which took us a very long, uncomfortable and near fatal four hours!
Armed with as many snacks as we could carry, padded bottoms and good humour we set off early doors from Clapham. Thankfully the practice had paid off and we weren't as all over the shop… Me – pilot, maverick or boss, was on the front and Andy – goose, stoker or the legs, was on the back.
The cycle traffic and real traffic was horrendous! You couldn't even wobble without hitting someone, we were not the most stable bicycle.
Once out of London we got into a rhythm (on un- aligned pedals it is actually pretty hard work). Pipping people off all the way we had a couple of wc stops and a burger break at 40miles. There were lots of accidents on route which were pretty disheartening to say the least, there were a few broken legs and lots of mechanical failures. The funniest was definitely a fella with all the gear, cruising along about to be overtaken by a mountain bike tandem weighting about 18stone (not including the passengers), high five-ing a very attractive lady on the side and losing his balance, literally falling at her feet having flown through the air.
Then came Ditchling Beacon. We hadn't stopped on any other hills even though it seemed to be the common practice to  stop. We were in the right mind set and we went past anything in our way even rolling over people if necessary. It is a mean hill and the debris it creates with people falling off stopping the majority of people walking made it feel like 10mins of war zone but we made it up at pace it was a great effort.
Having made it to Brighton to meet up with the team we had a well deserved coke and set off for the journey home. This was naïve as it was mean on the way back, the roads were open, I was navigating (always a flaw) and we were tired.
The food was running low, we were just surviving on sweets. Having managed to sit on a stinging nettle the ride was definitely not comfortable anymore. We were running out of time dramatically as I only had roughly 15mins to be fed before I totally flipped out! I don't do well without a regular feeding time.
Luckily Charles (brother) escorted us along the motorway, the country off road paths, hills and beautiful country towns.
Clambering under fencing and jumping ditches we finally arrived home at 9 o'clock. Having left my house that morning at 7:15 it was one of the longest cycle days I have ever participated in and a massive 115miles on a tandem that I can't even dream of lifting.
Thanks to Sam my Physio (from Physio World) I have had an easy recovery without any pain, oh well that's not including the actually physio session itself! Poor Sam nearly got kicked more than once as it was a painful IT band session.
I was lucky enough to go to Venice last weekend to compete in the Vogalonga endurance race around Venice and its surrounding islands.
It's a 30k rowing race and it was amazing! One of the best ways ever to see a city, especially one with so much water based charm. The atmosphere was electric and the challenge was hard but well worth it! Getting through the grand canal at the end with 1000 other boats was worse than the M25 on any day!
The parties and rowing bravado was brilliant as well and it was a bit of a shame that I decided to discover prosciutto the day before the race. Personally I think it made me faster.
Having got back on the bike for this weekend, the One Day Ahead crew headed to Somerton for the Tour of Wessex… a gruelling three-day event that takes you on over a 100miles every day. Adding up to 330 miles in total.
Gaby and I registered for the first day which took us through the Cheddar Gorge, Glastonbury and Warminster.
It was a mean day but thankfully we made it through and in a good time. We well and truly attacked the feeding area when we got there.
Everyone camping was brilliant as we all got to have some down time together in the rain and Winnebago. This definitely gave us the feeling of how the tour will go! It was a great vibe in very close quarters and good fun comparing sock lines and living on pasta and high five.
The only massive downfall was that Gabs and I noticed the smell of kit and boys and the effect the recovery drink seems to have on them both…
Sunday, instead of competing, we went for a 30 mile ride in the local area, getting involved in the jubilee festivities and the crazy Wessex lifestyle.
Hats off to the boys for completing all the days in great spirits and with a such steady pace!
The training continues… I've decided the time has come to invest in some serious shorts – Rapha might be the only way to go! This will probably be the most expensive item of clothing I have ever brought myself.
SHAMELESS PLUG: We have had 100 per cent Organic Cotton Howies T-shirts designed specifically for One Day Ahead! All the profit is going straight to Leukemia & Lymphona Research and at £20 each they are more than reasonable! Have a ganders: www.onedayahead.co.uk.
This weekend was cleats weekend! I had the shoes, the pedals – all the pieces that are required. I was the pinnacle of 'all the gear and no idea'.

The pedals were attached, the shoes were on – I was poised, having been rowing all morning, on the edge of the road absolutely bricking it! So I did what anyone would do… I launched myself off and found the point that I was meant to be attached to! Feeling immensely proud of myself I sped off up the road feeling great on the bike.
Traffic lights came and went and every time I managed to get myself off and on again very efficiently. I met a bunch of guys at the traffic lights also on route to Richmond Park who found it very entertaining that every time I clipped in successfully I would grin and before that the concentration level on my face was intense with my tongue stuck out until I was clipped.
After the laughter had subsided they did provide some good tips, which included always taking your left foot out first so you don't fall into traffic.
Once in Richmond Park I went off with a new lease of life under my feet, only to have a young girl jump into the road where there was me and a car! Having to emergency stop, which on a road bike is tricky, I realised I couldn't move my feet which must have looked hilarious as I was sitting there desperately wiggling my feet. Only then did it dawn on me I was going down hard and so was my bike.
Thankfully the car managed to stop before the girl and I only hit the front of the car mid-fall. The car owner, poor bloke, was a bit shaken up to say the least, so I gave him one of my power bars as he looked like he needed it.
I have to admit, I walked the next mile to the café to have a rest and get some nerve back again.
So all in all pedals seem brilliant and Chris did a great job of putting them on! My 'crash' course on using them got rid of the fear of falling off, so hopefully I will now get better at releasing my feet!
Another bonus, least now I look like I know what I am doing and am out of normal pedals…
Having been completing spinning classes through the weeks and doing 50+ miles at the weekends as well a trying to maintain my row fitness, the last few weeks have been a whirlwind of pain and training.
All I can say is that thankfully Sam at Physio World Sam is there to massage it better… well at least that's what I used to think until I came out of my first physio session seriously bruised and in a lot of pain and knowing that I couldn't train for at least two days!
But despite this sports massage is fantastic and makes you feel great afterwards. Although I will never make the mistake of saying to a physio again that it's a good way to moisturise, as I think this was a spur on to seriously get those muscles de-knotted!
This bank holiday Gaby and I hit the hills in Dartmoor. We decided that we needed to go 'up' and that a three day weekend was a great opportunity to do it.
First day, full of enthusiasm and very excited about what the day would bring, armed with High 5 snacks and pepperoni, we set the bikes up and threw all our gear on.
We set off with our OS map, got about three miles on the 'rolling' roads as we ended up calling them until we hit it. That really is the only way to explain it! We literally 'hit' the 20 per cent incline with what we thought was pace until it pretty much stopped us dead… setting our gears we pushed up!

Getting about half way up Gabby fell off her bike! Thankfully my clip ons only arrived yesterday so I was still able to get going easily.
I kept going until about ¾ up when I just had to stop to throw up (post chest infection)… not ideal… realising that Gabs was at the top, I digged deeper than I thought possible and made my way to join her.
Later that day a sheep decided to get right in the middle of the road, just sitting in my way looking at me. I didn't know whether I could stop in time but thankfully I just flicked his tail. Personally I reckon he was one extremist sheep and he probably scared me more than I scared him!
This was the way of the whole weekend – it was hardcore and we were absolutely shattered to say the least. But at least we gave it a shot and experienced it. It got to the stage where we hated going downhill because we knew that if you go down you have to go up again!
But there was a saving grace in that there wasn't any rain, and the fact that we were in beautiful Devon.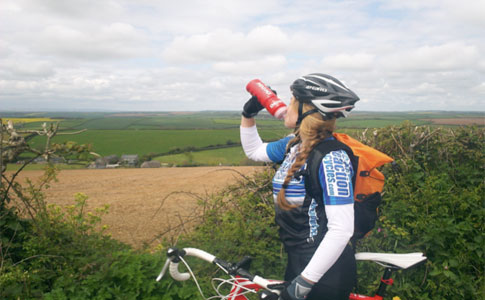 I would like to thank High 5 for the survival snacks and the source of our HIGH FIVE slaps when we conquered a hill. All in all a great weekend that's made me ready for the Hampton hilly next weekend!
P.s I would also like to thank Cranchies for their sweets… without them we would still be on the Moors.

It all started in a pub… I am sure that is how the best adventures start, and end, I must add. This one was between best of friends Jamie (my brother) and Chris.
I'll take you back to last July. Whilst watching the Tour at the pub with a pint and putting the world to rights it was decided between these two that their childhood dream to complete the Tour would be realised.
Well, then the cogs got working and the way to make this a challenge like no other would be to add that extra touch of testosterone. Making sure that it was unique and would be hard to repeat, it was decided that it would be done 24 hours of the champs – the professionals, the Gods on bikes… however you like to word it, the Lance Armstrongs of the world!
So basically, doing all 21 stages, the whole 3,479 kilometers, with the actual Tour de France chasing them down.
Hence the birth of 'One Day Ahead'.


About me: Rower, sailor, marathon runner and skier, yes… cyclist, nope! But the idea of helping the team that got together around this event was irresistible!
That team include my two brothers Jamie and Charles, Chris, Adnan and Mick. They are the main cyclists doing the entire route one day ahead.
Always willing to help other people out with their challenges, I started toying with the idea of taking some leave from work to help with the organisation and logistics. Living with that idea for a while, I realised that alone would never satisfy my appetite and that I would have to get on a bike!
So the process began. Bike hunting was achieved from lurking around Richmond Park, bike perving and looking in many shops. All I really learnt from this was that bikes are seriously expensive and that there are a lot of different makes, brands, styles and types!
Finally, I knew I just had to buy one so that I could get riding. I settled on a Specialised Allez, which I have to add is a lovely red and white bike which definitely helped the decision…
The training began and so did the reading up on cycling!
For more on the challenge head to www.onedayahead.co.uk/