My year of ultimate challenges

MY YEAR OF ULTIMATE CHALLENGES
My Year of Ultimate Challenges: 11 June 2011 – 08 August 2012
It has taken 416 days to complete my year of ultimate challenges. A year of my life seemingly understated in a single line, quantified with a simple dash. That dash represents one hell of a year and firsts in an exercise and sporting sense for me.
My hockey team (Surbiton HC) won the league, got promoted in both indoor (to the National League) and oudoor (to the Premier League) and for the second consecutive year reached a Cup Final. I also put on an England shirt and represented my country for the first time in hockey.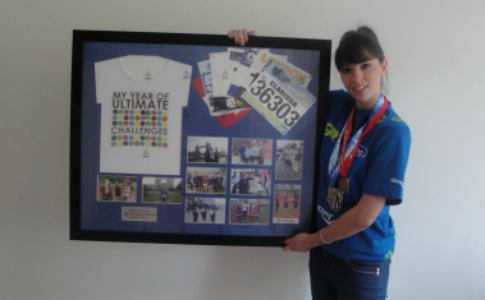 Despite a pretty successful year in my main sport, my biggest achievement by far has been completing 'My Year of Ultimate Challenges' in memory of my father, who inspired me to be the sport fantatic I am, and to encourage others to love sport and embrace an active healthy lifestyle the way I do.
That tiny dash derives a huge amount, and is certainly a small line that is anything but unforgettable. This experience has allowed me to trial new sports, discover new cities and countries, take on challenges I never would have dreamed of and recapture a love for sports I had lost touch with thanks to a busy working lifestyle.
Within those 416 days I have ran the many hills of San Francisco, as well as running and cycling the muddy hills of Surrey. I have discovered my fairly new home town of London by paddle boarding its lakes, abseiling many of its infamous buildings such as Battersea Power Station, the Oval and Lord's Cricket Ground, as well as navigating myself around its streets as a wannabee soldier in the Soldier Challenge. I have not only discovered what this fantastic city has to offer during the hectic daylight hours, but also what it offers under moonlight when I started off my challenges 416 days ago by cycling 100k around our country's capital.
I've done other crazy things like running around Richmond Park in search of 'Fenton' dressed as Santa with hundreds of other crazy festive folk. I've crawled through mud under barbed wire, lept over fire, dived into ice, taken part in an 8 hour adventure duathlon, swam hundreds of lengths (when I can't really swim) as well as literally fight Spartan warriors to cross a finish line.
My year of challenges concluded with me taking on the Yorkshire Three Peak challenge, discovering what our stunning National Parks have to offer as an adventure playground. A particular highlight was making history and being one of the first to cross the finish line in the Olympic Stadium as one of the lucky particpants in the Olympic Park Run.
I have by no means completed this feat alone. I would like to take this opprtunity to thank the many friends, family and team mates that took part in these events, or came along to provide much needed support.
You are what made this experience the memorable and meaningful one it was. I would also like to thank everyone that has followed this blog, as well as those who have sponsored me for the fantastic charity I am doing this all in aid of. I have done all this to raise money for the Guide Dogs for the Blind Association in memory of my father, but also with the intention of showing us ladies that we can take on any event we like, even those sometimes deemed more for men.
I hope that 'My Year of Ultimate Challenges' will inspire fellow Sportsisters to take on a challenge of their own, and more importantly, enjoy every minute of the event and training for it too. Challenges are a fantastic way of discovering a new sport, and have the potential to create the positive outcome of changing your exercise habits for the future, and for the better.
Sadly I was unable to complete my final challenge – The National Three Peaks due to our lovely British Summer.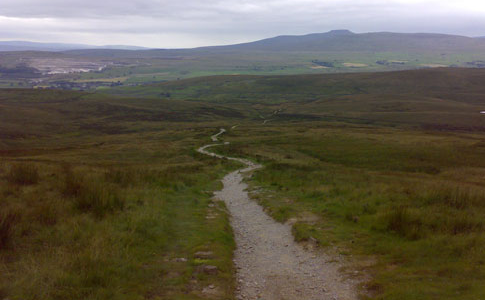 Instead, due to time constraints and my team's availability I am now only able to do a one day challenge. As a result, I will now be completing the Yorkshire Three Peaks to complete My Year of Ultimate Challenges.
The Yorkshire Thee Peaks involves climbing the three highest peaks in the picturesque Yorkshire Dales, Pen-y-Ghent, Whernside and Ingleborough, within 12 hours. The three peaks are arranged in a triangle forming part of the Pennine range, and encirlce the head of the valley of the River Ribble. The total challenge is a total walking distance of 39.2km (24.5 miles) with the climbes being 691 metres (Pen-y-Ghent), 728 metres (Whernside) and 723 metres (Ingelborough).
This seems a perfectly fitting subsitute for the National Three Peaks and still allows me to finish my year of challenges with a climb, the way I originally intended. Now to pray that the weather holds out!
Image credit: www.threepeakschallenge.co.uk
With my last few challenges really pushing me both physically and mentally, I have been purposefully building up to my final challenge of what has proved to be tough, exciting and certainly memorable year. My final challenge has a very 'British' feel, taking place in England, Scotland and Wales – the Three Peaks Challenge. This seemed very fitting as the challenge will be happening in the same month as when the event we have all been waiting for, the London 2012 Olympic Games, will begin.
The National Three Peaks Challenge is a well known phrase amongst the more adventurous. This challenge involves walking the highest mountains in Scotland (Ben Nevis), England (Scafell Pike) and Wales (Snowdon) within 24 hours.
The difficulty of this challenge shouldn't be underestimated. It is very easy to get lost (especially being me), particularly when mountains need to be climbed in the dark or in poor weather. Luckily, I shall be taking part in this challenge with friends who have experience in climbing, as well as some familiarity with one or two of the mountains. I have also selected to do this challenge from 21st – 22nd July in hope of its being good weather (however as we know, our British Summer is never that reliable).
The Three Peaks is something I have always wanted to do and I feel that this would be a great way to round off a year of many 'firsts' and fantastic new experiences. I also wanted to finish on another challenge which allowed friends to be involved to experience this with.  With only a few weeks to go until I take to the mountains, I better get training!
If you wish to sponsor me, any amount big or small, please visit my sponsorship page at www.justgiving.com/clarissa-goodwin
Nearly a year on from when I started my challenges, I find myself taking on my penultimate challenge with five of my dedicated hockey team mates for an event that we were all slightly anxious of to say the least.
This month's challenge was the Columbia Hellrider – an 8 hour off-road adventure duathlon of hellish proportions. My date with devil involved entering a team of myself and 4 other (oh so naive) team mates to tackle the continuous 5km trail run and 8km mountain bike course in West Wycombe's stunning park. Our team had to try and complete as many laps as possible within the 8 hour window, all completing at least one bike loop and one run loop each, from then on we were free to mix it up.
However, the fantastic team mates I had all wanted to compete and contribute evenly, and that is what we did. We sorted out our running order in mind that those who were willing to run more would run first, as it was likely they would have to run more than once. We had heard that the female team of 5 winners from the previous year had completed 15 laps, so we figured we would not match that and estimated that each team member would complete 3 laps each; either two bikes and a run, or two runs and a bike.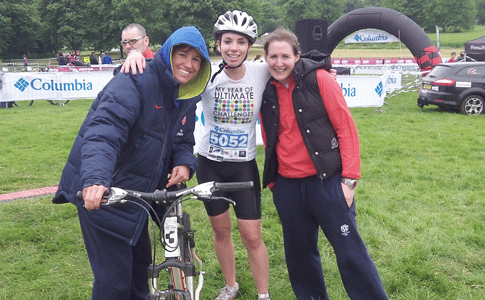 We arrived an hour before the start time and retrieved our hired bike from Cyclexperience, collected our race pack and made base near the transition area so we could see when team mates were coming in with enough time to strip down to our race gear for the next runner to go. We made our way to the start to be greeted by a huge devil who started the race and then occupied the DJ booth for the rest of the day. There was a fairly large crowd to see off the starter runners as all team mates and supporters surrounded the start line. Once the first runner had left our sight we returned to our mini-camp to get water and food on board in preparation for our stints, mine of which was the next run.
I was slightly worried that we would get bored when we weren't in action, however the beautiful setting of this event meant the eyes were never bored with fantastic views in every directions, as well as the all-action transition area and event village with music and all sorts of different trade stands with freebies galore! We also found that your rest time actually went quite quickly as we soon found that we were all averaging around the same time of 28-30 mins on the run and bike loop. This meant we had about 1hr 30 mins to rest and by the time your legs had chance to recover, you were then getting a bit of food on board before you started prepping for your next go!
My first loop was the run loop which included some really testing climbs, one of which I struggled to run completely up each time. The loop took you right to the top of the hills, and once again provided truly breathtaking views of the park's skyline to keep my mind off the lactic acid build up in my legs.  This run was full of genuine multi-terrain elements, with two rivers to cross towards the end of the loop which woke up the legs a bit, but also demanded a lot of them after all those hills! The last 200m of the course weaved through the event village meaning you gained much support crossing that last river and making your way to pass over the race baton to the next team mate for their bike loop.
I then had around an hour and half before my turn on the bike which I wasn't too sure about as one of my team mates had a fairly unpleasant experience on in the last bike loop. She had fallen off the bike twice on the narrower parts of the course as some careless (male) riders had whizzed past her when there was too little space to do so. Once I was on the course myself, I could see how this could easily happen as the shock of someone passing you when you are at such a high speed with so little room made me shake a little, with no warning of when they were coming – boys will be boys.
Even though I was worried about the mountain bike element I actually found I really enjoyed the challenge this course brought. The climbs again were extremely testing, making you feel that at no point of the course you could get your breath fully back. Again, two of the longer climbs I had to dismount my bike and push it up (jogging) for 50 metres or so. But the downhill parts of the course were just fantastic, weaving your way between the tiny tracks, embracing jumps and ducking under low hanging trees and branches. I loved the focus the course demanded and I don't think I ever sat on my saddle for more than 3 seconds at a stretch, so again the legs were full of lovely lactic acid by the end of it.
The bike and run loops nicely intertwined with one another at various stages of the course so you always felt your were part of the event. Marshals were distributed evenly around the course, providing fantastic support. It was clear to see that the event organisers had created a course that was achievable by all, yet really challenged those at the elite level. It was to my utter amazement to watch those who took on the day in the individual category, completing lap upon lap on their own for the 8 hours. I was in awe of those that managed to complete it in teams of three, never mind on their own!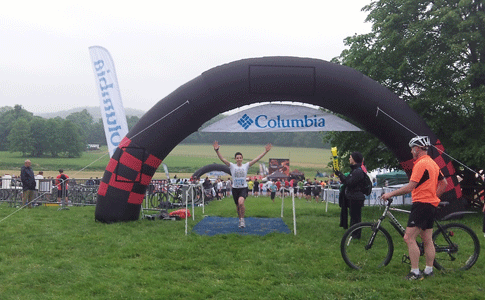 We managed to keep to our 28 minute laps throughout the day, doing between 3-4 laps each and clocking up a fantastic 17 laps in total. To our surprise we won the female team of 5 category and were awarded with some lovely Columbia jackets worth around £70! This challenge was demanding not only physically, but also mentally, and I simply could not have down it if it weren't for my brilliant team mates. They made the day enjoyable and it is definitely an event we would consider doing again next year. However, I did not feel the same way the day after when my body wasn't my best friend! But, the sense of achievement at the end of the day is what made the event worthwhile.
The challenges are certainly getting harder. Details on my FINAL challenge coming very shortly… and it's a biggie!
To find out more about my experience of the Colombia Hellrider, check out Sportsister's features section for the event review coming soon!
I can't believe it. I am nearly a year on from when I started My Year of Ultimate Challenges back on 11th June 2011.
Due to wrist surgery I had to miss a month in January so I am currently running one month behind schedule. However, if you can remember back to my first blog post you will see that I aimed to finish in time for the Olympics, so I could sit back and watch the professionals do things properly. I am still on course to do that with two challenges to go.
I started my challenges last June with the London 100k Nightrider cycle challenge, so it seems fitting to have a similar cycle(ish) challenge for this year's June challenge – The Hellrider.
Now in its second year the Columbia HellRider™ is an 8 hour off road team duathlon relay challenge of devilish proportions.
Alternating 5km run and 8km bike loops, the race is open to individuals, teams of 3 and teams of 5, with the aim to complete as many laps in the 8 hour time frame.
The run and bike loops will both include testing climbs and descents and genuine multi-terrain elements. The mtb loop will have short sections of single track, whilst great effort has been made to provide a superb yet achievable course route for all ability levels.
It's a great day out set in the stunning grounds of West Wycombe Park with an all-action transition area to view and music and trade stands to enjoy in the event village. Entry into the Columbia HellRider™ also includes one free adult entry ticket to the spectacular Hell-Fire Caves, a unique family adventure of over a quarter of a mile of tunnels and caves.
I shall be taking on the challenge once again with my supportive team mates from Surbiton Hockey Club.
If you're interested in entering a team for the event, visit www.hellrider.co.uk
My team joined almost a thousand other competitors to take to the streets of London on Saturday 19 May to take part in the second annual charity fundraising Soldier Challenge run by ABF The Soldiers' Charity and adventure challenge specialists, Rat Race.
The event was a military themed urban adventure, using London as its playground, taking us wannabe soldiers around some of London's most iconic landmarks and experiencing them through challenging ways. The challenge was to try and hit as many of the 35 check points located around London city as possible within a four hour window. Each checkpoint carried a different difficulty rating and therefore was worth different points accordingly.
We arrived at headquarters at 0800 promptly for registration to find London Waterloo's old Eurostar terminal had been taken over by camouflage, cargo netting and soldiers dressed in all their gear. This could easily have been fairly intimidating, had it not been for all the friendly staff on hand which resulted in a very quick and easy registration, followed by an informative but jokey briefing, which also eased the nerves a little!
We then made our way to the start where Josh Lewsey provided us with one last pep talk, reminding us what this event was really about; helping raise awareness and funds which support current and former soldiers and their families throughout their lives.
Once the horn had gone, we made our way to grab a map and started to plot our strategy of attack on which checkpoints to get to according to their difficulty rating and how many points they were worth within the four hours. If you went over the four hour window you would have points quickly deducted for every five minutes you were late – so a plan was in order! We were allowed to use buses and tubes, but no other form of public transport (eg Boris Bikes). The event staff encouraged us to go by foot, not only because it was quicker, but to also get the proper soldier experience.
Challenges located throughout the Capital ranged from marching, drills, applying cammo paint, to abseiling, changing tyres, kayaking, paintballing plus lots more.  During the four-hour window we managed to hit 16 checkpoints all across London. We visited the HMS Belfast, ran ourselves silly in an assault course at the Tower of London, kayaked in the Regent Canal, looked for clues in multiple TA centres and War Museums as well donning a sexy sumo suit to race in! The many checkpoints really were an eclectic mix of physical mental and comedy challenges, providing variety for everyone to enjoy. We only used public transport once, the tube, to make our way back to Waterloo as we had managed to cover a whopping 16k in running between each challenge.
After four hours of completing as many challenges as possible, we returned to headquarters to be welcomed by live bands, a bar, and military hardware such as logistics equipment and weapons on display to whet the appetites of anyone interested in the Army or role of soldiers. We also discovered that we had come second in the female team category, pipped by an actual team of soldiers who beat us by ten points!
All in all this was a fantastic event, and really opened my eyes to a glimpse of life as a soldier, and certainly reinforced respect of what they do and how fit they really have to be. Even putting on their helmet and feeling how heavy that one piece of equipment was for one of the challenges makes you appreciate their sound physicality. An inspiring event that is also a lot of fun and perfect for some team bonding.
However, my overall mission is still not yet complete. Two to go and I am nearly there. But, they're getting tougher. Details on June's challenge coming very soon.
Over and out.
To find out more about my experience of the Soldier Challenge, check out Sportsister's features section for the event review coming soon!
This month's challenge is one that I have been excited about for a long time – the infamous Soldier Challenge. This event is run by the same company that organised my September challenge, the London Urban Rat Race Adventure. If that event is anything to go by, I'm in for a real treat!
The Soldier Challenge is a unique military-styled physical and mental test, combining distance running with 35 military-themed challenges.
Participants competing as a team will be traversing around the city, completing a number of different military themed challenges and locating other special checkpoints en route.
The event gives participants exclusive access to many famous central London venues and the chance to experience them in a completely new and unique way. The venues are be spread far and wide and, using an A-Z map, participants have to navigate their way around, trying to visit as many checkpoints as possible.
Details of the activities at the checkpoints will be released on the day, but participants are forewarned to expect a real mix of physical, mental and entertaining activities, all with a military twist. We'll be facing all sorts of madness, from running to kayaking, singing to rope swinging, assault courses to code-cracking, beer-mat flipping to spy-spotting – it could be anything!
I shall be taking on the challenge with two team mates from my hockey club. Our wave starts at ten hundred hours from headquarters (the event village) based at London Waterloo. We will then have four hours to hit as many checkpoints as we can, and get a true taste of what it takes to be a soldier.
Over and out.
This month I left my comfort zone of the land and dove straight in to take on the 5k Swimathon distance challenge.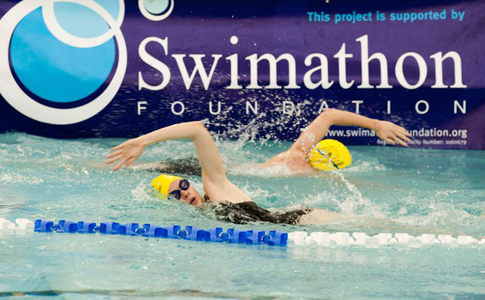 When I first considered taking on this challenge I thought it would be great to include a swimming challenge for variety. Because I am not the world's best swimmer, nor do I favour swimming as part of my routine fitness regime, so I thought it would a be a great personal challenge to see if an event could re-spark an interest in the sport for me.
I thought this would be a great event to get involved in since this year Swimathon joined forces with Sport Relief and BBC's Big Splash, to make the most of this unique sporting year and inspire the nation to whack on their goggles and take to the water.
"I'll take on the 5k" I said with ease, "5k only takes about half an hour to run, shouldn't be too hard should it?" I am an idiot.
Yes, through the multiple running challenges I have done this year I have managed to get my 5k time down to around 23 minutes, however I was stupid to think that running is in anyway comparable to swimming on any level, never mind if you're not the strongest swimmer! This fact soon hit me when I realised that 5k equaled 200 lengths.
It was slightly too late for me to include a lot of swimming training into my hectic work life with only a month to train and my hockey commitments, so I only managed about three sessions where I did a maximum of 80 lengths in one go.
Despite the minimal preparation and trepidation I felt in the run up to the event, this challenge turned out to be the one I am probably most proud of in terms of my result. My Swimathon event was on a Friday evening, which I thought would be one of the quieter sessions with most Swimathoners participating over the Saturday and Sunday sessions of the Swimathon Weekend. To my surprise the whole pool was closed off for the event, and there were plenty of people taking part in the whole variety of challenges on offer, the Sport Relief Mile, the 1.5k, 2.5k, 5k and Team 5k.
The event atmosphere was fantastic with everyone supporting one another, and many spectators filling the gallery cheering not only their loved ones on, but everyone swimming! This inspiring atmosphere really spurred me on for an event I was slightly dreading and certainly intimidated by.
Those spectators, and my fellow Swimathoners, are the reason I managed to complete the 5k, and in an astonishing time (for me) of just under 2 hours (1 hr 59 mins). Not only did I manage to achieve a good time, but I also really enjoyed myself when I was swimming, which is something I have not experienced for a long time. That was the biggest result for me, and has really made me re-think my training schedule by making a concerted effort to incorporate more swimming time into it.
Swimathon was a fantastic challenge for me, and one that had multiple positive outcomes, not only in the time I achieved, but by also influencing and changing my exercise habits for the future. I would like to say a big thank you to Park Road Leisure Centre for putting on such a fantastic event, and to all those in the gallery who cheered us on!
Bring on the next challenge!
After making history and being one of the first to cross the Olympic Stadium's finish line, I have decided to leave my comfort zone of the land and dive into the water to take on my next challenge – Swimathon.
Swimathon is the world's biggest fundraising swim which started back in 1986, and since then more than half a million swimmers have taken part and raised over £36 million for charity. This year Swimathon is set to be even bigger by joining forces with British Swimming, BBC's Big Splash and Sport Relief to deliver what is hoped to be the biggest Swimathon Weekend yet.  The event hits 645 pools nationwide between 27-29 April, and will give thousands of swimmers the opportunity to raise money for Marie Curie Cancer Care through Swimathon's established Distance Challenges (1.5k, 2.5k, 5k or Team 5k) and for Sport Relief with the new 'Big Splash Mile'.
I am not a strong swimmer, so lucky for me that there are plenty of experts at hand to help me with my training; world 10k champion Keri-Anne Payne has designed some handy tips and a training plan for those taking on the 5k, Swimathon President Duncan Goodhew the 2.5k and presenter, model and keen swimmer Jodie Kidd for the Milers.  I shall be taking on the 5k challenge which equates to 200 lengths! For someone like myself who swims very little, this shall prove a tough challenge to tackle.
With the already apparent success of the GB swimmers inciting interest and inspiration across the nation for swimming, it seems a perfect time to get over my barriers to swimming and take part in another event that makes everyone feel part of this unique sporting year. Double Gold Medallist Becky Adlington (pictured above), being one of many athletes supporting Swimathon reinforces this saying "The Big Splash Mile for Sport Relief is not only a great way to raise money, it also is a good way to encourage people to get into swimming. Doing the Mile will help you feel part of a nationwide sporting event".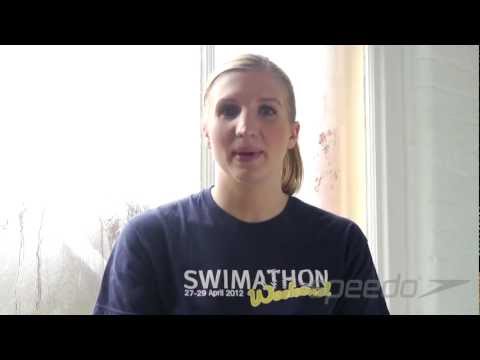 If you want to take part in the world's biggest swim, find a pool near you at www.swimathon.org 
This was the first Olympic five mile race since the London 1908 Olympics, with the winner of this year's race missing out on breaking the record by only three seconds. The event was full to the brim with celebrities wanting in on being one of the first to cross the finish line in the iconic Olympic Stadium. Many of whom were previous Olympians themselves, such as a certain Roger Black who gave us all an inspiring talk before our wave was ready to explore what the Olympic Park had to offer – "enjoy it, put a bit of fire in your belly but savour every step of your 300m in the Olympic Stadium because it's very special."
Marathoning royal, Princess Beatrice, started the race which saw wave after wave leave the start line shadowed by London's newest landmark, the spiralling red Orbit, and begin to snake their way through the Olympic Park. The early stages of the course took participants through the Park's common area and the recently landscaped City Mill River.
After crossing the River Lea, we passed the athlete's village and got our first view of the Basketball Arena, one of the largest temporary venues ever built for any Games, and the graceful arc of the Velodrome.  This was a particularly up close and personal part of the course as the route took us up onto the Velodrome's concourse within touching distance of the iconic venue that will see the likes of Sir Chris Hoy, Victoria Pendleton and Sarah Storey showcase their cycling talent.
We passed the Main Press and International Broadcast Centres, to then sneak a glimpse of the bright blue and pink hockey pitches through the yet-to-be-completed stands. It was here that only a fortnight ago the Duchess of Cambridge showed her Malborough School-honed hockey skills when visiting the GB hockey squads in her role as an official Team GB Ambassador.
Next up was the Copper Box, home to Handball, Goalball and the Fencing discipline of Modern Pentathlon, which was sadly giving off a dulled effect thanks to the typically cloudy British weather. This area of the park still looked like it needed a lot of work, however was still in keeping with the location's industrial past.
It is clear that there is still plenty of work to do to the park, especially the public areas, which was evident by the construction workers that were scattered around the park working away. Despite their workload, many of them did stop to give us a cheer as we passed which was great on the hillier parts of the course where I needed that extra boost.
Then the wide eyed, goose-bump moment came. Just as the sun came out, the centre piece of the park, the Olympic Stadium, came into view. Instead of entering through the public entrance, we descended into the athlete's tunnel where the acoustics echoed and we began to hear a faint noise that became clearer as we headed towards the end of the tunnel. It wasn't just the expected noise of the 10,000 strong crowd in the stadium, but the organisers had put the iconic Chariots of Fire song on for runners to hear as they turned the corner and entered the stadium of the Olympic track for their final 300m.
Each runner was offered two spectator passes to share the experience with friends and family and provide a supportive crowd. This made running around the track that extra bit more special as everyone was searching the crowd for their loved ones, sharing the moment where they made history and became one of the first people to officially cross the Olympic finish line. I have to admit, the moment I hit that last 100m straight, I had a lump in my throat and even though my legs were tired, I managed to sprint my way down it, surprised to see a role reversal of GB athletes on the side cheering the public on to finish their Olympic race.
The day gave a fantastic glimpse at what London 2012 is going to feel like, both for a moment's glimpse of what the athletes will see and experience from a track view, as well as for the rest of us, a spectator's experience taking our seats in all these exciting venues.
I'd like to use this opportunity to say a big thank you to my friends Eliza Barrett and Hannah Oakes, who I shared this fantastic experience with and helped get me around the course. To find out more about my experience of the National Lottery Olympic Park Run, check out Sportsister's features section for the event review coming soon!