Mountain girl – A life of vertical adventures
MOUNTAIN GIRL –
a life of vertical adventures
After weeks of winter clinging on like a needy neurotic stalker, spring finally came to us in the Alps this week. The sun came out, temperatures soared, avalanches came down and the lycra went on. There was no postponing it anymore, it was time to get on the road bike and officially start my training for the Etape in Annecy in July.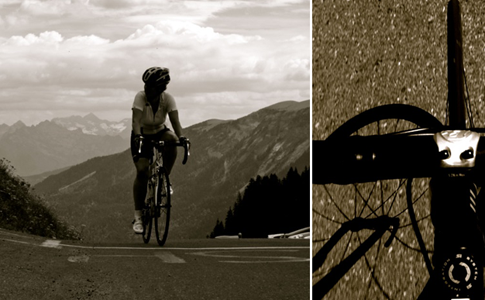 Over the past 5 months my life and work have been dominated by snow – getting up early for powder days, digging the car out to get to work, managing a team of 30 snow reporters around the Alps, and basically reacting to every snow crystal that has fallen across France this winter! Don't get me wrong, I love winter, skiing and après as much as the next snowflake but I really have no problem with the transition of seasons, in fact I welcome the change. This is the time of year when we replace skis with bikes, dig out the climbing harnesses and whack the rosé in the fridge…..spring in the mountains – you've got to love it!
So the biking began last week as predicted but what it brought with it, no one could have seen coming. In the past seven days there's not only been a total transition in the weather here in the Alps but also a rather less predictable one within me! The sun has shown itself and so too has a fierce competitor who until now has laid buried deep within. I have quite honestly shocked myself with how swiftly and easily this monster has been unleashed and can hardly believe the person that I have now become. From happy go-lucky chilled powder hunter to determined, focused and cycling geek in just one week. I kid you not, I have registered with Strava, ordered a host of sports nutrition products, spoken about distance mostly in terms of elevation gain, and swapped my hour long commute in the car for a rather arduous 50km bike ride home with a fair bit of uphill! Well I've done it once….. Anyway, I also appear to have signed up for 3 more big cycling events this summer. You'd have thought that taking on the toughest stage of this year's Tour de France would have been enough wouldn't you? Well so would I – but that was last week…..
So change is afoot and I'm delighted that my new 'focus' (not obsession my friends, I refuse to be obsessed with anything other than Prosecco) has coincided beautifully with the end of my stint in full time employment. 9 hours at a desk with a 2 hour commute do not maketh a potential Sir Bradley of Wiggins or a happy Mountain Girl so I'm heading out to do my own thing and launching Yodel Communications – my own communications agency designed for the action sports and outdoor adventure sector. I'll keep you updated with all the exciting projects I'll be working on but before all of that, it's time for manfriend and I to place our bikes carefully in the truck, chuck in some climbing and camping stuff and  head south to Italy in search of sunshine, windy roads and warm rock. And Prosecco.
There are many hills ahead but as always, I'm excited to take them on.
Bring on the summer of 2013….
On Saturday the 23rd of March, I jumped in my truck with every piece of ski and mountaineering kit I own and a whole load of butterflies in my stomach. My destination was the off piste and steep skiing mecca of La Grave where I would join up with a group of women from all over Europe taking part in the K2 Womens Freeride and Backside Adventure Week.

Left:The K2 Womens Freeride and Backside Adventure Week. Right: Smiling on the steeps.
Ranging in age, ability, and nationality, we skier girls arrived in the small Alpine village and congregated on The Skiers Lodge with one goal in mind – to experience, immerse and test ourselves in this legendary freeride destination and to have a whole lot of fun!
It became obvious straight away that we wouldn't be messing about this week and after just a couple of quick laps of the gondola on Day 1 to get our legs warmed up on our K2 test skis, we took advantage of the recent snowfall to tackle one of La Grave's infamous steep couloirs – Trifides 1 (www.skierslodge.com/legend).
This set the tone for a week dominated by colourful characters, thigh burning descents and life affirming moments in a spectacularly humbling mountain landscape. Over the course of 6 days we donned our harnesses daily to lay down symmetrical powder tracks on the glacier under impossibly blue skies, rappel into steep rocky couloirs with our hearts in our mouths, hike in the pursuit of fresh lines, and laugh, eat, and drink with great new friends.


Above: Picking out the lines
La Grave is ever changing, ever challenging and so it was over the course of this K2 Women's week:  we really did experience the whole spectrum of conditions out there from bluebird, scorching sunshine  to mind bending zero visibility, from fluffy, forgiving powder to icy moguls and wet, heavy cement-like snow….in fact, there were even a few rocks and tree stumps in there to leave your skis with a permanent souvenir of this most challenging of ski destinations! No matter what conditions we encountered, we grew from the experiences and I for one choose to see any scars on either my skis or my pride as a true badge of honour!
Each evening we would all congregate in the K2 bar in the Skiers Lodge to swap stories and photos and compare the extent of our leg wobble over several early evening beers. Our nightly routines of après beers , quick showers and 4 course dinners kept us grounded – no matter how the day had gone, we knew that the evenings would be full of laughter and growing friendships. As the days drew to an end, our nights in the bar grew later and later – a true sign that there was an enormous amount of fun being had!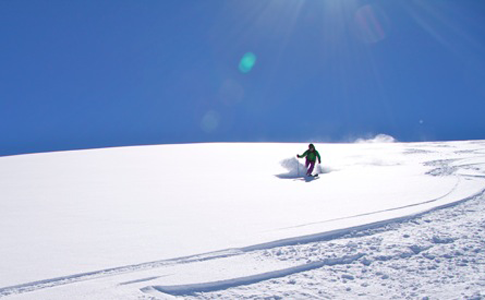 Above: Hero powder on the glacier
My personal highlights of the week were threefold:
a day's ski tour from Serre Chevalier involving a 3 hour, 950m skin and bootpack with crampons on to a col which was then rewarded with a leg shakingly steep and exposed 45 degree, 1,300m couloir! (Petit Davin, Breche Du Casset – www.skitour.fr/topos).
The second was probably the last run of the week – the 900m, 40-45 degree Couloirs des Freaux in minimal visibility but thankfully, some wonderfully forgiving fresh snow! (www.skierslodge.com/legend).
Awesome skiing aside, perhaps the most significant highlight of the week was the people that I met this week – the other K2 women, the guys at the Skiers Lodge, the mountain guides and the legendary characters of La Grave.
The K2 week may have been an humbling adventure into the unknown but we came out the other side safe in the knowledge that we were not only bigger and better skiers but that we had experienced something really special. Not only was this trip the highlight of my winter season, it was quite possibly my biggest skiing adventure yet.
It goes without saying that you have to stick your neck out to come to La Grave but if you do, you will be rewarded in in ways you can't even begin to imagine.
Long live K2 Womens Week and long live La Grave….. see you next year!
A couple of weeks ago I got the girls out…..stop sniggering…..not those kind of girls. I mean REAL life ladies….sisters who like to ski, backcountry babes, rad bettys, whatever you like to call them….a few weekends back I was lucky enough to have a day's ski touring in the Chablais with some pretty cool chicks.


This winter I have been trying to get used to spending 5 days a week sitting at a desk and was truly concerned that the ski season of 2012/2013 was going to pass me by in one epic powder cloud. As a ski website editor, every day and all day I find myself writing about the amazing conditions that we've been experiencing out in the Alps this winter, uploading videos of outrageous powder skiing and scrolling through countless images of people having the time of their life in the light fluffy white stuff.
Enough was enough and a date was put in the diary over a month ago to get out for a ski tour with some local ladies. When it comes to ski touring here in the Haute Savoie, I have barely scratched the surface and this was also becoming a source of increasing frustration (sense a theme in the past couple of blog posts?!!). Thankfully however I know of a group of girls who live 45 minutes away, are hugely active and experienced in the mountains and seem to be up for frequent adventures so I sent out an email a few weeks back and a plan of sorts was made…
After what seems like relentless snowfall practically all season, we were incredibly lucky to wake up on the day to bluebird skies, no wind and reasonably benign temperatures. After coffees, croissants and chat at my place in Samoens, we decided on a goal – the Pointe de Chalune – a 2,116m peak that I've been wanting to ski for quite some time. With all the snow that had been falling over the past week, we were keen to try and find some fresh lines but were also pretty aware that we needed to try and find a slope that had as safe as possible an aspect as the avalanche risk on the day was level 3 – 'considerable'.
The ascent was great. It started with a mellow skin along a really pretty track with trees laden with snow on either side. We then rounded a corner and could see the summit in front of us and anticipation built as we watched others descending in what looked like hero powder! The journey to the top of the Chalune was reasonably quick and whilst it was steep at times and extremely windy at the top, the views were amazing and the banter even better. When we arrived at the summit, it really was pretty cold so our transition from uphill to downhill mode was definitely a quick one – especially for me as two white spots on the end of my nose meant I had the beginnings of frostnip. Time to get out of the wind and enjoy the powder!
We found some excellent snow on the descent. Admittedly the top section was a bit sun affected as our earlier coffee and croissants meant our 10:40 start was hardly going to earn us perfect powder all the way, but lower down we had plenty of untracked, velvety powder and practically the whole mountain to ourselves. We were back down at the car before 15:00 and had definitely earned our tea, cake and later on countless glasses of wine and peanut m&m's! Hardly an Olympian's recovery food of choice but it certainly worked for us…:)
We really had an amazing day and even the presence of an honorary bloke on the girls day out didn't put a damper on our fun: quite the opposite in fact as he was more than happy to fulfil the role of photographer for the event. Bonus – it's always good to have staff!!
Thanks to all the ladies (Chrissie Barnes, Kate Scott of Alpine Footprints www.alpinefootprints.com, and Jane Williams) for a fantastic day out – here's to round 2 as soon as possible!
And thanks also must go to Mr Bruce Goodlad of Mountain Adventure Company  – the Technical Director of the British Mountain Guides and IFMGA/UIAGM Mountain Guide – a reasonably qualified photographer!!
Photo credits: Bruce Goodlad, The Mountain Adventure Company
First and foremost, yup…I know. It's been ages. I can only apologise that such a long period of time has passed since my last blog post. So much has happened since I last communicated with you all that I barely know where to begin…
There's been a back injury which turned my autumn climbing holiday in Sicily into more of a vino and gelato excursion; there's been epic early snow conditions in the Alps which I've sadly not been able to make the most of due to my new permanent job as Content Editor for 13 ski resort websites in the Alps; and there's been lots of fantastic new ski touring kit arrive on my doorstep as a result of my new role as a European female ambassador for  US freeride apparel company Flylow (www.flylowgear.com), which I've been unable to use due to aforementioned grown up job thingie.
Whilst it's definitely safe to say that the last few months have been about professional progression, this permanent job thing has unfortunately come at a frustrating cost – what this basically means is that I don't get out in the mountains as much as I used to or would like. My tan has long since faded, any muscle tone has been eroded by my desk chair and I now have commuting stories. Woop di woop.
As 2012 drew to a close I knew that something had to change and in order to step forward enthusiastically into the New Year, I needed to know that I would be achieving something outdoors in 2013. So I did something a bit mad and decided to sign up for the Etape du Tour cycling event in France this summer. On reflection, it may have been a slightly over excessive reaction to feeling slightly aggrieved and thwarted in my sporting life, but hey ho, it's done.
Next July I am going to be cycling the toughest stage of the Tour de France in Annecy with 10,000 other nutters who have similar delusions of Wiggins-esque style glory. 130km, over 3,600m+ of elevation gain, and all done wearing lycra… it's an intimidating prospect at best but the promise of a free t-shirt swung it for me. It seems that we Scots will go to extraordinary lengths for a freebie.
Living in a ski resort means that cycling outdoors is going to be somewhat limited by snow/ice over the next few months so I am going to have to toughen up and do the one thing I despise more than anything else – getting on the turbo trainer indoors. In my opinion, there can be nothing more pointless and torturous than cycling on a bike where you don't go anywhere, don't see anything and don't breathe one molecule of fresh air.
So it's going to be an interesting few months but I'm up for it. First thing I'm going to have do is to get a bike that will actually change gear and buy myself some clippy shoes that actually work. And after that it's down hill all the way surely? I wonder if they make turbo trainers with cocktail glass holders?!
Growing up in our ski-obsessed household in Scotland, we had slightly different heroes to the other families in the area.
We were vaguely interested in footballers and popstars but to be honest, our real idols were skiers and mountaineers and two names that constantly punctuated my childhood were Glen Plake and Rémy Lécluse.
Glen was mine and my sister's hero, Rémy was my Dad's. I can't tell you how many times we sat open mouthed watching Glen and his mohawk launching off impossibly huge cliff drops in various ski films but it was probably equal to the amount of times we sat listening to my Dad's tales of skiing with Rémy in far off high places.
Last weekend's devastating avalanche on Mt Manaslu in Nepal took Rémy from us and spared Glen. Together with Greg Costa, the trio were part of an expedition bidding to be the first team to ski from the summit of Mt Manaslu without oxygen. Along with around ten others, Rémy and Greg lost their lives in the avalanche yet Glen miraculously survived.
News of the tragedy has struck intensely here in Chamonix where Rémy and Glen were based and while I have met both, I did not know them personally. As a result, it feels more appropriate to share the thoughts of those who experienced the mountains with them first hand and one such person is fellow Scot, local ski instructor and owner of Chamonix based 'Off Piste Performance', Alison Culshaw. Alison skied with Rémy and her tribute to him is real, honest, and vivid and goes a long way to describing why Rémy Lécluse will forever remain a legend in many people's lives…
Rémy Lécluse
I have a picture on my kitchen wall of a beautiful snowy line on the Aiguille du Chardonnet. People often ask what the picture is of. I smile, think back to that memorable day, and tell the story.
I had a few days off in January 2010 so what did I do with them? I had some ski lessons; steep skiing with Rémy Lécluse, lessons that were so valuable at the time but little did I know then how precious they would be to me now.
When I first met Rémy for a coffee he made it very clear that if he was going to guide me on steep slopes I had to be prepared to ski his way or we weren't doing it. I was happy to buy into that. I told him that I didn't really have any specific objectives. I'd rather go and ski something I'd hadn't heard of to make the most of the time with him. I wanted an adventure and to learn along the way. I knew he understood exactly what I wanted to get from my couple of days skiing with him and could see ideas brewing.
Our first ski together was to be a "warm up" day to practice his techniques. A quick non-stop lap off the top bin at Les Grands Montets and he had enough time to make an assessment of me. Whilst he was checking out conditions through his binoculars, I was catching my breath. He asked me if I used to race, "yes" I replied proudly, pleased that he had observed that in my skiing so quickly. "And how many times did you crash in races?" I replied it was probably about 1 in 7. "When you ski these types of slopes with me you can never crash. It's not an option." The message was very clear.
Then off he went breaking trail up the Petite Aiguille Verte with me hanging in behind trying to pretend I was finding it easy. He taught me how to "crawl" up through the powder to make the uphill easier! We stood at the top of the face and he said "Right I want to see you do five turns between here and there without jump turning". I looked at him blankly, "without jumping?" "Yes" he replied, "You need to keep your skis on the snow". And so the learning began.
He spoke to me sternly when I forgot to stop above him. Sternly in a reassuring way; reassured that he was giving me 100% of his attention and that my safety was his main focus. After the Chevalier couloir and a warm down in the Chapeau couloir, I was following him back through the forest. He was doing hundreds of quick turns on a six pence down the track and I was cruising behind. He stopped and shouted "Do you think I'm doing all these turns for my benefit?" I guess not. I followed behind trying to copy. He worked me hard and he got results. When you got a compliment you had really earned it.
With the warm up day over I was delighted with what we achieved and what I had learnt but we still had the "adventure" day to come. Rémy had some ideas of where we might go but nothing was set in stone. His flexible approach reassured me that he was responding to the conditions in front of him. Bring everything, be prepared to go anywhere. It wasn't until we skied down onto the Argentiere Glacier that he made a firm decision. "Let's go for the South East Couloir on the Chardonnet". "Where?" He explained. I looked at my watch. So we are going to go from here to the top of the Chardonnet today? I'm glad he's breaking trail. The conditions were perfect for skiing downhill; fresh untracked powder everywhere with little effect from the wind or sun. But it certainly made it hard work to go uphill; again I was crawling uphill behind him.
I didn't take a camera. I tend not to when I need to focus in the mountains. It's just another distraction. But the memories of the descent are still vivid in my mind. There was beautiful fresh powder all the way through the couloirs that twist between the huge red granite towers. Rémy danced down effortlessly demonstrating exactly how he wanted me to ski. I tried to replicate it and I would hear him voice reminders when I didn't "don't jump" "double pole plant". He could fit turns in where I aspired to.
Eventually we skied out the bottom of the couloir. I don't remember many stops between there and the Pierre a Ric Piste. We skied down the piste amongst the skiers that we had begun the day with. Glancing back up at the Chardonnet, I felt quietly privileged that our day had probably been quite different to theirs. All thanks to Rémy.
Rémy is renowned for his own personal achievements, but he also had a unique skill in guiding people in this environment too, teaching them and helping people to accomplish their goals. He was "the Godfather" of steep skiing in every way, but he was also just a really nice bloke to be around. It was always a pleasure to bump into him in the street or on the hill. He had time for everybody. I'll continue to aspire to dance down ski slopes with the fluidity that he did, and to coach my clients to do the same. Rémy Lécluse is the greatest loss to skiing I have ever known.
Since I first moved to the Alps 18 months ago, there has only been one mountain that I have wanted to stand on the top of.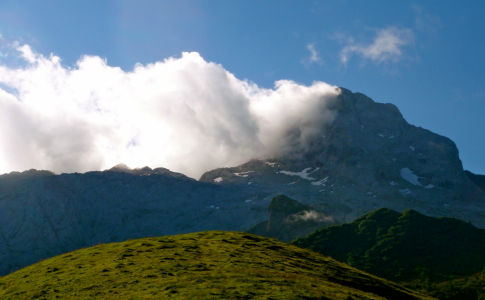 Unlike many others, my focus has not been on Mont Blanc or the Matterhorn, but on a mountain that sits in a quieter valley, far away from the peak obsessed, harness wearing hoards. In a skyline literally exploding with legendary peaks, Pointe Percée may not be the highest or most challenging mountain in the French Alps but she is no less special or spectacular.
Often known as the Matterhorn of the Aravis, Pointe Percée is the most beautiful and highest mountain in the Aravis range and at 2,752m is visible from miles around. When I first laid eyes on her from across the valley on a day out ski touring last winter, I knew immediately that I had to try to stand on top of this pointed peak and breathe in the panoramic Alpine views.
Over the past 18 months life has been a busy combination of work, travel, family and friends and somehow PP has never managed to make it to the top of the priority list. The most frustrating thing about this is that to climb her doesn't even require a large amount of planning or training. Of course it'll be an early start and a late finish if you try and do it all in a day, but it is totally do-able and certainly no big expedition; you just need a willing, experienced and motivated partner who is free when you are and a weather window.
Despite this, opportunities to go for it have been bizarrely scarce and whenever an attempt has looked possible, the weather has always seemed to decide otherwise. So the past 18 months have been spent looking up longingly at her from bike rides, hikes and ski tours in the local area, waiting and hoping and hoping and waiting for the stars to align to render an attempt…
At long last, two weeks ago it finally happened. No restrictions in the form of childcare, the weather looked good, we'd decided on our route, bought our energy bars and made our sandwiches. We were going for it. Our journey to the trailhead was somewhat slower than expected due to a traffic jam of cows, but with a few slaps here and there we made it through and left the car at 8.30am.
It was a bright, fresh morning and everywhere the skies were clear – everywhere that was except for Pointe Percée which was shrouded in mist. Despite this we were not overly concerned – it was still early and with a walk in to the base of the route of at least 2 hours, there was more than enough time for this to burn off and for an indigo blue canvas to appear as the backdrop to our vertical adventure.
As is very often the case in the mountains and in life, what we should expect is the unexpected and as it turned out, the higher we ascended, the thicker the mist actually became. This stuff was going nowhere fast. When we finally found the start of the first pitch, visibility was down to about 3 foot, the wind had seriously picked up and the mist was swirling around our heads like a helter skelter and it was cold, really cold.
Hmm… this was not the plan and as a result, this was now decision time – set off into the mist and we would be committed, decide to come back another day, and we would be equally committed. Either way this was a watershed moment and time to focus entirely on the separation of ego and ambition from reality and responsibility.
And so it was over cheese and hummus sandwiches that we decided to back off and try again another day. This was not the first time that I have made a decision to turn away from something but in the past decisions such as these have been relatively easier to make as they have been about avoiding potential death. Deciding not to ski a slope that looks extremely avalanche prone or abandoning an attempt on an isolated Himalayan peak in rapidly deteriorating weather conditions may not be a comfortable decisions to make but they are clear.
This time we were turning away from a challenge and our decision to do so was purely based on gut feelings. It was not about whether or not we could do it as the route was well within both our climbing abilities, and it was certainly not about being scared or weak in the face of rubbish weather – I am Scottish after all! It was not even about making the 'right' decision, but rather more about making a balanced one based on the information available to us right in front of our noses at that moment. And listening to our instinct, gut and that little voice inside telling you what you need to know even though you may not want to hear it.
We started our descent and within 30 minutes the cloud had cleared, the sun was out and PP was exposed in all her glory, silhouetted majestically against the bright blue sky. We walked back down to the refuge and spent the next hour sitting in the sun, picking out climbers on the route, and tucking into Tarte aux Myrtilles.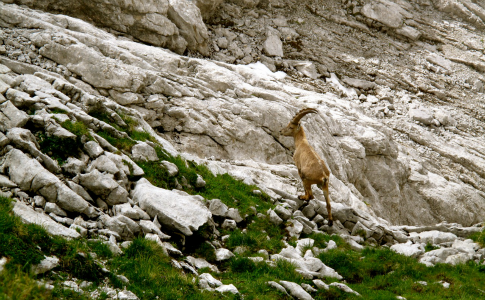 At the time, it seemed as if we had made the wrong decision and we agonised about why we had done so all the way back to the car, turning round every five minutes to see if the mist had come back in, looking for evidence to justify what our guts had told us but there was to be no 'I knew it, told you so' moment. And then the message came through – the Mt Maudit avalanche had happened that morning wreaking devastation onto the mountain and into the worlds of those caught in it's path.
Perspective flooded our beings.
After an action packed first day at the Arc'teryx high altitude Alpine ARC'ademy, I was expecting to crawl into my bed, sleep like the proverbial log and bank 12 hours of uninterrupted zzzz's. It was not to be.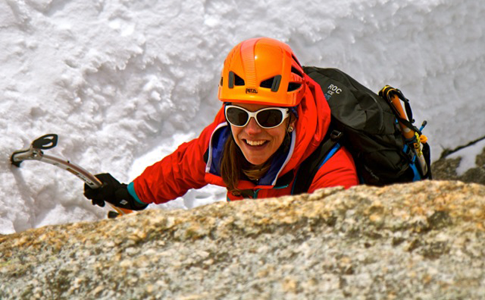 Rather than passing out cold, I found myself waking sporadically throughout the night, checking my alarm and cursing my inability to submit to the physical fatigue. Attempts to sleep were futile and the sole reason for this restlessness was that I was excited. Like a kid the night before Sports Day, I was so looking forward to what was on the agenda that morning couldn't have come soon enough.
When it did of course, I was knackered. Today was going to be sponsored by caffeine so I gathered my kit together, necked three strong coffees, then made my way to the bottom of the Midi cable car to join up with other similarly Arc'teryx clad mountain lovers. Day one had been about education, but day two was about the second part of the ARC'ademy motto: inspiration.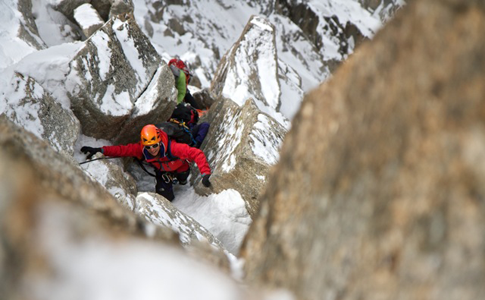 I had signed up for the Alpine Climbing Level III/IV clinic in the hope of getting some more miles under my crampons and experiencing a few of those precious life punctuating moments that are so often the result of the heady combination of physical effort and fear! When our guide for the day Patrick announced that we were going to do the Arete des Cosmiques I was close to breakdancing on the spot with excitement. The Cosmiques is one of the most popular routes in the Mont Blanc Massif and I had been wanting to get my little mountain girl trotters on it for quite some time but the opportunity had not yet come my way. Until now…
We set off down the ridge of doom (described in more detail in previous post), wound our way round the back of the Aiguille du Midi and barely 30 minutes later we were at the base of the route. Whilst the accessibility of the Cosmiques makes it a good option for a short day out, it is the variety and quality of the route itself that sets it apart as a 'must-do' for even the most experienced of alpinists. It really is not often that an 'intro' level challenge in any sport receives such high praise from the professionals but practically every mountain guide I have ever come across really rates the Cosmiques and the general consensus is that it is a really fun way to spend a morning. As long as you like rock, ice, adrenaline, and vertical challenges that is.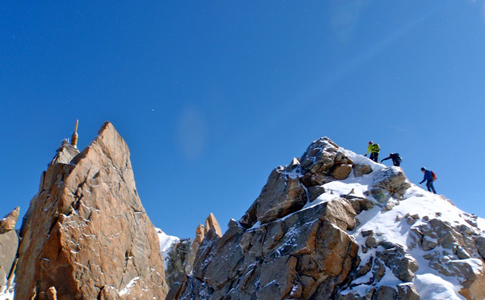 After the initial ascent to a small summit over some easy mixed terrain, things really began to crank up a notch. What followed included engaging down climbing where crampons and ice axes were really put to work, tricky steep sections where previous rock climbing experience was hugely appreciated, and an abseil where nerves were tested and deep breaths frequently deployed! And all of this was set against the most fabulous of backdrops: awesome mountain peaks towered above us, spectacular glaciers were all around, and way, way below us was the Chamonix valley floor. At some points the exposure on this route is really outrageous so a head for heights on the Cosmiques is probably more important than a significant level of climbing ability. Of course you will need to know an ice axe from a ice lolly, but you will definitely need to make sure that airy steep stuff doesn't freak you out too much as once you're up there, you're kind of committed.
Before we had even left the valley floor Patrick had told us that we were going to need to move quickly – a storm was due at lunchtime and we had a weather window to get around the Arete as long as we functioned as alpinists. He impressed upon us that this meant moving together as a team – he would lead the pitch and then we would follow, roped together, constantly communicating to ensure that we stayed a safe distance apart without pulling each other off the side of the mountain. The lesson of the day really was about teamwork and how vital this is in the world and sport of Alpinism. At any level it is of paramount importance that the team function as a cohesive unit that moves swiftly and safely towards the goal.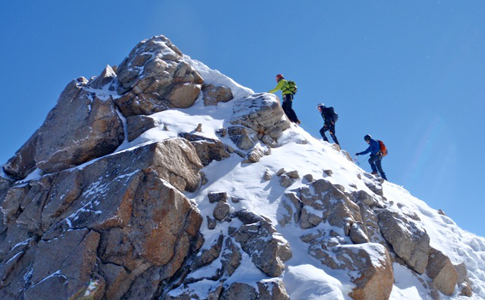 The notion of working as a team extends beyond just how you move together through the mountains, it is also about how you communicate within the group. It is integral to regularly check in with yourself and if you need to stop to put on another layer or have a sip of water, to make sure that you express this to the rest of your party so you can find a mutually safe place to sort yourself out.
Likewise, it is hugely important to remain alert to the needs of those around you: is anyone in the group struggling? Do they look like they could do with some reassurance? Are their crampons still tightly attached? Would it be a good idea to take a quick break and have a bite to eat before the next challenge? Although I have spent a fair amount of time in the mountains myself, I am constantly reminded of just how important this is when doing anything as a group in a challenging environment. You may have all the alpine skills of a mountain goat but if the person at the back of the group freaks out or their hands are too cold and they drop their ice axe, you're going nowhere fast…..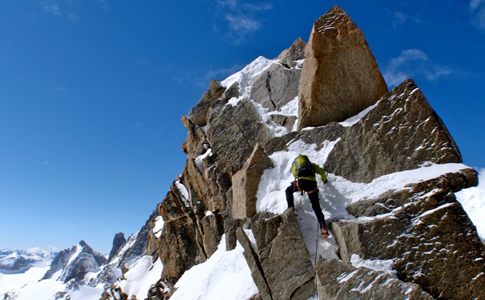 A dropped belay device aside, we luckily experienced no major challenges on our way round the Cosmiques and after a couple of hours we had made it to the end of the route. All that remained was to climb the rickety old ladder up to the observation deck at the Midi station, hop over the guard rail and laugh at the wide-eyed somewhat misguided tourists who obviously thought we'd just been up Everest or something as they seemed quite keen on taking photos of us! Never one to shy away from the limelight, I indulged them with a bit of mountain girl blue steel before boarding the cable car back down to the valley floor. Brilliantly, just as we took our first sip of beer in the café at the bottom of the Midi, the rain started to fall and we smiled smugly to ourselves: mission accomplished.
As I drove away from Chamonix that afternoon I reflected on what was the most fantastic weekend at the Arc'teryx Alpine ARC'ademy. The past 48 hours really had been just immense, the ultimate educational experience high up amongst some of the world's most dramatic mountain peaks. Arc'teryx had put their energy behind their passion and in so doing created an event that combined learning and fun, friendships made and memories shared. And the goodie bags? Well you'll just have to sign up for next year's event to find out!
Image credit: Jacob Slot
Last weekend I went back to school but thankfully it was one that bore absolutely no resemblance to any education establishment I've ever attended in the past!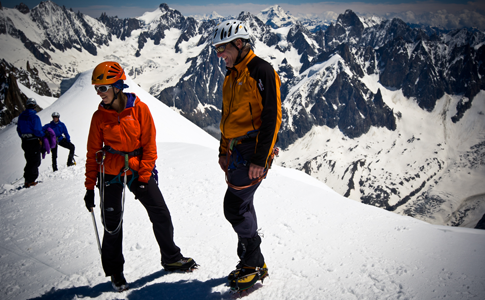 At this school the classes took place high up amongst magnificent Alpine peaks and at this school the uniform was less dull, grey nylon and more a myriad of brightly coloured jackets, harnesses and sunglasses.
Instead of pencil cases, we carried lightweight alpine backpacks and our tools for the job were crampons, ice axes, karabiners and energy bars. This school was the three day Arc'teryx Alpine ARC'ademy in Chamonix, France and its pupils came from around the globe to play with, and learn from, some of the world's best alpinists and mountain guides.
This was a coming together of those with a shared passion for the mountains who were motivated to make the journey by the ARC'ademy motto: 'to educate and inspire'…..
After a ridiculously rainy week in the Alps, I arrived in Chamonix last Friday night and was immediately welcomed by the Arc'teryx on-event crew with open arms and open bottles of wine and beer!
The first evening was super relaxed and was spent having a few beverages, meeting new faces and listening to lectures on a variety of topics ranging from layering systems to climate change.
It was all very easy and chilled for me but perhaps slightly less so for those who were already out on the mountain – clinics had started on Friday and 12 brave souls had signed up for an overnight bivvy course with professional ice climber Ines Papert. The weather was pretty shocking and from all accounts they had a pretty challenging night spent up on the glacier at 3,365m.
Thankfully Hilleberg and Primus had made their top of the range tents and stoves available for the event so any potential trauma was kept to a minimum!
I had signed up for Saturday's crevasse and mountain rescue clinic and was really looking forward to it. As regular readers of this blog will know, I have been driven by a desire to acquire as much knowledge as possible to become more self sufficient in the mountain environment so this course was an obvious choice for me.
Five others had also signed up for this clinic and together with our two mountain guides, we boarded the Aiguille du Midi cable car and 20 minutes later found ourselves 2,800m up, above the clouds, strapping on helmets and crampons and applying huge amounts of sunscreen to protect us from the intense sun and glacial glare.
If you've ever been to the top of the Aiguille du Midi you will know that the descent onto the glacier is always a tad spicy: at 3,800m, ridiculous exposure and vertical drops on both sides, it's a pretty airy ridge to say the least and the combination of adrenaline and altitude works pretty well as a wake up call that's for sure!
Unlike the days leading up to the event, Saturday was a bluebird, calm and spectacular day and the backdrop for our learning was one hell of a classroom with panoramic views of Alpine peaks including the Matterhorn, the Grands Jorasses, the Aiguille Verte, Dent du Geant, and Mont Blanc herself.
We were surrounded by legends and learning from a couple too – our guides for the day Philippe and Didier were class in every way; enthusiastic, calm, patient, encouraging, massively experienced, and really quite cool in the way that older French mountain guides just are!
I trusted Philippe implicitly as soon as I met him so when he told me to throw myself off the side of the slope with only a rope attached to my harness, I did it with pleasure. On reflection, a triple salchow with crampons was perhaps not the best idea but I've certainly put myself in contention for this summer's Olympic high diving squad should any last minute places suddenly become available…
Unnecessarily dramatic dives aside, the whole day was spent getting the processes involved in rescuing someone from a crevasse permanently tattooed in our minds.
As with all emergency situations, the most important thing is to be calm, think logically, minimise any further danger and then go about solving the current situation.
My understanding of the whole system and process is as follows:
La-di-da, having a lovely time in the sun in the mountains.
Holy sheissen - Person attached to the same rope as you has just fallen into a crevasse
Dive to the ground to prevent being dragged in yourself
With person still attached, try to dig a t-shaped deep hole (ominously called a 'dead man') in the hard snow with your ice axe.
Puff and pant.
Try not to be dragged in.
Place ice axe in horizontal part of T, bury it to prevent it popping out then attach sling to it that lies down the vertical part of the T
Puff and pant.
Try not to be dragged in.
Remove traction device from harness (try not to be dragged in, puff, pant etc) and attach to sling and rope leading to person in crevasse
Using another sling, attach self onto rope front of traction device to enable you to move towards edge of crevasse to check on dangly victim (no longer need to try not to be dragged in)
Move up towards lip of crevasse, shout to el danglio, then attach Tblock and pully system to rope
Move back towards dead man and traction device then proceed to pull like you're in Bojangles nightclub on a Saturday night
Make sure that don't get own sling trapped in traction device so keep moving it down the rope
Hopefully haul annoying person out of crevasse then proceed immediately to hugging and beers. In no particular order.
I am pretty sure this covers the basics of the situation but my female brain finds stuff like this really hard to absorb so I am going to make a deal with myself to revisit the process on a regular basis.
I know that I learn best by repetition so don't be surprised if you pop round for a glass of wine and suddenly find yourself promptly being tied on to a rope and then lowered off the balcony.
After figuring out how to rescue someone else, we also covered the basics of self-rescue which is arguably even more important. What was abundantly clear from the previous scenario was that it is incredibly difficult to do all of the required processes when you have the entire weight of a person attached to your body and gravity is doing its thing.
So if you know the basics of self rescue (which basically involves more slings, traction devices, and T Blocks) then you're going to do everyone around you a pretty big favour. Of course perhaps the best thing to do would be to not have fallen into the crevasse in the first place but hey…….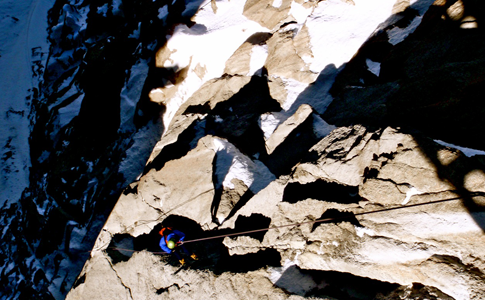 With a mind full of information, some new pals, and a nose sunburned to Rudolf proportions, we descended back down to the valley and immediately towards some amber coloured refreshment.
After showers and a wee doze, we reconvened a couple of hours later at the café at the bottom of the Midi cable car to get some tasty grub in our weary bodies and spend the evening watching some fab mountaineering/climbing/skiing videos that allowed our tired minds a bit of a rest.
Day one had been truly immense, surely day two couldn't be as good… could it?
Unless you've been hiding under an umbrella with a pint of Pimm's in hand this week, it is more than likely that you'll have seen/heard/viewed a bit of the nonsense that has been going on at the top of the highest mountain of the world – Mt Everest.
For the last couple of weeks, Everest has been hitting the headlines for a whole host of reasons including miraculous escapes from avalanches, heroic summit rescues, and unfortunately a number of tragic deaths and disappearances.
Whilst these stories are all fascinating, what has really grabbed my attention this year has been the use of a phrase. Not a record, not a medal, not a miracle – just a phrase. 'Traffic jam'. Two words used by most people on a daily basis. Three syllables that evoke feelings of the mundane, of hopelessness, and of average, uninspiring, existences sponsored by the colour grey. I cannot think of a phrase less likely to spring to mind when describing any experience in a mountain wilderness, let alone an attempt on the highest peak in the world in the remote Himalayan mountain range. Awe inspiring and inaccessible maybe, but traffic jam? Hmm… don't call me Colombo, but I'm beginning to get the feeling that all something is not quite adding up.
If you've seen the photo that went viral this week, then you'll have seen it for yourself – a traffic jam. On Everest. Traffic jams on Everest. The most unlikely of phrases and the most accurate of descriptions. So paradoxical is this that in my opinion the use of this phrase is the stand out tragedy of the Everest climbing season of 2012. 200 people all lined up in single file to… renew their Oyster card? Get their patriotic mitts on some Olympic tickets? Touch Justin Bieber's bum? Nope. 200 people lined up to haul their way up fixed ropes put up by Sherpas and to the summit of the highest mountain on earth.
Please understand that I have no doubt that every one of these 300 people are single minded, determined, positive risk takers and achievers and an asset to this planet and those who come into contact with them. It goes without saying that we need more people with these kind of attributes in this world but being a strong character does not automatically make you a mountaineer.
Will and determination (and a fair amount of cash) should not be enough to get you to the top of any game, profession or mountain. You cannot pay your way to lifting the Wimbledon trophy, and contrary to what your parents may have said when you were young, in top level sport it is not the taking part that counts. Ask the All Blacks if you don't agree. If you engage in the pursuit of greatness and strive for the superfluous it follows that you in turn you must earn your place. It should not be achieved by hanging on the end of a rope that someone else has laid down for you and it most certainly should not be bought.
It should not be possible to climb Everest unless you are the most skilled, the most practiced and the most talented of mountaineers, but somehow it is. And the results of this are as tragic as they are predictable. Each year, we are subjected to a list of tedious and pointless records and an ever increasing list of needless deaths. Each year what should be the greatest hostile wilderness on our planet becomes increasingly more like a very cold and scary circus. I would not expect to be avalanched on the M25, neither would I expect to get frostbite on the Tube or suffer from altitude sickness at Pizza Express on a Friday night. It doesn't make sense and it's confusing, weird, and just plain wrong.
Watch this video below taken from Outside Magazine – www.outsideonline.com
Traffic jams on Everest are more than out of place, they are ominous and sinister and following this year's climbing season has begun to feel a bit like watching a car crash in slow motion. You get the impression that unless someone puts the brakes on very soon, Everest may well end up playing host to the most enormous, tragic and unnecessary pile up in history. I'd like to think that it would not require such a catastrophe to return the mountain to herself and restore her to those who temporarily belong with her, but I have a lingering feeling that this may indeed be the only way. Wannabe summiteers would do well to take heed of the glaringly obvious warnings, back up a bit, assess the current conditions and think long and hard about the road ahead. As the great bastion of mountain wisdom Billy Ocean once said, 'Red light spells danger' which would suggest a fairly insightful disposition. Mind you, he did also say 'When the going gets tough, the tough get going' so who the hell knows…
As the rain pounds down in the Alps putting paid to any hopes of outdoor fun and games, I find myself reflecting on the fantastic winter just gone and the people who helped to make it so.
It's been a season overflowing with memories of peaks and powder but it has also been one where existing connections were taken to deeper and more meaningful levels (see previous post!) and new friendships established.
Over the past six months I have become increasingly aware that being a girl who likes to play in the mountains puts you in a relatively small club. Whilst loving crampons and ice axes is not exactly tantamount to having a tattoo on your face, it is definitely not for everyone and so sometimes you do feel like you stand out.
It can be hard to find like minded souls to play with, even when you live in the Alps. Don't get me wrong, I absolutely love spending casual days on the hill with other girlies followed by coffees and wine and great chat but I also like going a bit harder, steeper and higher and I have noticed that it is at this point, that female companions often seem to fall away. Completely understandable yes, but such a shame as I love going out into the mountains with other girls – it's always about laughter and looking after each other and less about ego and competition.
With girls you can laugh about the merits of having gear that is functional yet extremely pretty and with girls there is a recognition of the integral role that good 'chat' has to play in a good day out!
Stand out experiences for me this winter were trips to Oregon and Icelandand in both places I met some stand out females. In Oregon it was the wild, whacky, utterly memorable Carol Mergenthaler and in Iceland the sweet, hilarious and stupidly talented telemarker Sarah Hopkins.
Both girls were completely different characters and my time with each was spent in totally different ways but what they both had in common was what they had in common with me – a love of mountains, and an easygoing approach to what life in the outdoors is about. We shared a passion and in so doing became kindred spirits and hopefully will remain so. It never fails to surprise me that when you're doing something you love, in a place that you are passionate about, that people and things that you like seem to come easily towards you.
I met Carol on our best night out in Bend, OR with a whole bunch of mountain lovers and some of the guys from Timberline Mountain Guides in the fab 10 Barrel Brewing Company just over the river from downtown. You couldn't fail to notice Carol as soon as she entered the room, yes she was blonde and gorgeous but moreover it was her huge energy that was impossible to ignore. She may have been an artist and a mother – and I'm sure that she is fantastic at both – but it was clear from the off where her real passion lay and it was in the world of backcountry skiing. My busy schedule meant that we didn't even get to ski together but her enthusiasm, attitude and massive personality have made an indelible impact on me.
There are very few people I have met who absolutely prioritise their outdoor passions whilst still doing the real life thing and doing it well. With someone like Carol there would be no excuses, she'd make it happen. It turns out that even if I wanted to I wouldn't be able to forget this wonderful snowball of fun: upon arrival back in the Alps I started leafing through some magazines bought in the States and on the front cover of the winter edition of 1859 there she was in all her glory standing on the seat of a convertible VW Beetle with a pair of skis above her head, beaming like the glorious ray of sun she is. And the numberplate on the completely inappropriate winter vehicle? Ski Mum. Quality…
Sarah and I met in April, the only other girl on a ski touring trip with Bergmenn Mountain Guides to the Troll Peninsula in Northern Iceland. While Carol was as vibrant as an Icelandic geyser, my friendship with Sarah was more like the landscape that we spent the week touring within: quiet and calm yet unforgettable and with a sense of permanence. It is with Sarah that I bootpacked up spectacular sunbathed summits and skied 45 degree powder laden couloirs and it was also with her that I shared a secret enthusiasm for pretty girl skins, big trucks, Nalgenes with stickers, and bearded mountain men.
This was a friendship formed in a far off land and one which looks set to continue on a similar vein: Sarah lives in Colorado, I live in the French Alps and we are currently concocting a plan to meet in Chile to join pro-skier Ingrid Backstrom's female specific freeride clinic this August!
I am incredibly fortunate to have journeyed in these two wonderful places and to have had these experiences made even richer by these two fab girls. So to Carol and Sarah, my women of winter, I thank you and look forward to our next snowy adventures together. In the meantime, if anyone out there fancies a day out on some warm Italian rock followed by an afternoon of creamy gelato and an evening punctuated by huge amounts of Prosecco… you know where to find me. Always happy to be led astray!