CrossFit blog
JESSICA'S
CROSSFIT BLOG
All good things must come to an end. Well, not always, but last week saw me complete my final documented CrossFit WOD for this blog (sob!), so in this case, a good thing has come to an end.
I have loved every (often painful and sweaty) moment of my CrossFit journey. I first took up this 'sport of fitness' over six months ago to see what all the fuss was about. And now I know, and hope you do to. If not, why not?! Play catch up here.
Although joining the CrossFit Bath box has taught me a lot about the sport and fitness in general, I've also learnt that CrossFit is about more than just those two things. Yes, initially you might go to get stronger/faster/fitter, but what you also get from CrossFit is a box-load of friends and a whole lot of fun (plus there's some pretty funky kit out there to work out in too – always have been a sucker for a nice new pair of kicks.)
Anyway, that's enough of me rambling. The question is, I suppose, have I physically benefited from doing CrossFit? That's not an easy question to answer. I certainly feel better about myself and enjoy working out more now, but am I actually fitter? Hmm…
Stopwatch at the ready, we decided the only real way to determine how far I might have come would be for me to repeat the WOD I did on my very first session – run 800m (split into two sets of 400m), plus 45 squats, 45 press ups and 45 body rows (completed in sets of 21-15-9). The time to beat was 7.05 – excuse the dodgy 'presenting' – here's how I got on this time around…
Cross Fit Blog – The final post from Sportsister on Vimeo.
Although I don't intend on giving up CrossFit completely this will be the last time I blog about it. So thank you for joining me on my CrossFit journey, and huge thanks to Reebok and CrossFit Bath for making it possible!
The colder climate of winter can put some people off their training, but as long as you remember the basics (and wrap up right!) there's no reason that your WODs should take a knock this time of year.
Warming up and down, as well as remembering the importance of
S-T-R-E-T-C-H-I-N-G, is key to avoiding injury.
Flexibility can sometimes slip off the radar when it comes to the 10 components of physical fitness, so my trainer at CrossFit Bath, Adam, recommended Mobilitywod.com as a really good resource for advice on resolving pain, preventing injury and optimising performance.
Your warm up should increase your heart rate and body temperature whilst giving you a bit of a stretch all over. A mixture of stretching, flexing, pushing and pulling should do the trick. Bear in mind this is not your workout – you'll be completing a WOD too so don't go all out! The aim is to prepare your body – focus on the movement and aim for perfect form rather than max speed or reps.
A good warm up might include anything from squats or overhead squats with a pipe, kettle bell swings and double unders, to sit ups, push ups and ring dips. As long as it gets your heart pumping and your body moving.
Getting your body to the right temperature is as much down to wearing the correct clobber as it is moving right. We've mentioned in this blog before that you can pretty much wear any of your regular kit to do CrossFit in, which remains true, but respect the conditions – if it's cold outside wear kit that reflects that!
I'd always recommend a good pair of compression leggings as my no 1 cold weather choice. Not only do they keep you warm, but they are supportive, keeping the muscle fibres tight which helps with recovery.
I really like Reebok's new CrossFit Compression Tights (in action above!). They're designed with midway compression fabric which gives you the support you need without hindering any of your WOD movements. Must admit, the new design for SS13 is pretty awesome too!
For more info on stretching and flexibility visit Mobilitywod.com and if you fancy getting your hands on a pair of Reebok compression tights head to Harrods where they're sold exclusively.
I know we don't all have a spare £100 lying around to spend on new kit willy-nilly, but whilst doing some online Christmas shopping (CrossFit kit dreaming) for other people (myself) I came across Reebok's new YourReebok Customise footwear section on their site and thought it worth a quick mention.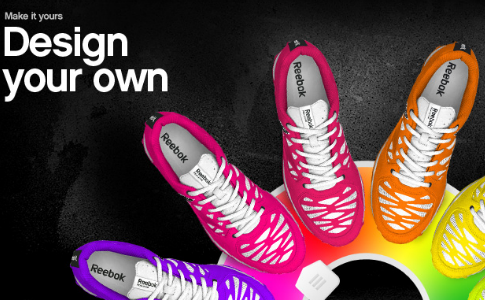 I'll admit, I'm very easily excited when it comes to bright (ok, some might say garish) kit, and could have spent a good few hours designing my own pair of Nano 2.0s thanks to all the beautifully bold colours and graphics available.
Unfortunately at this time of year I just can't justify splurging on gifts for myself, but Santa, if you are reading this, the pair below would be just fabulous. Besides, I train much more effectively in nice new kit, and as well as being beautiful they should do the job pretty well too if they're anything like the original Nanos I tested recently (find my review here).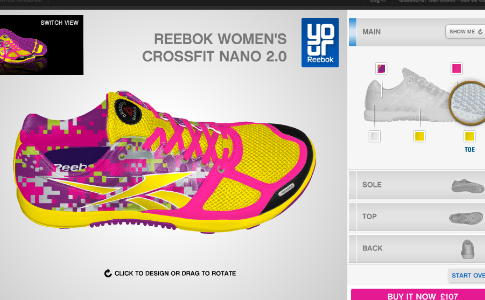 You can find Reebok's 'Design your Own' page here, just in case you fancy getting creative and dropping that special someone a subtle hint (I find leaving the webpage open for them works quite well). Enjoy!
Came across a nice little 'tingles down spine' video of this year's Divided We Fall powered by Reebok and thought it was worth a share.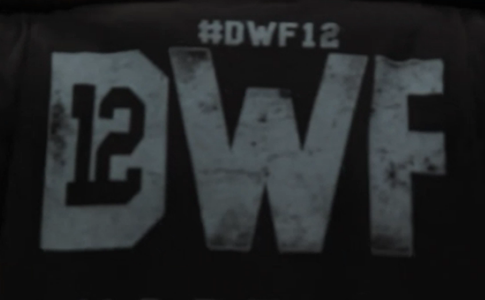 Plus, apparently the box I train at, CrossFit Bath, did pretty well too… (ok, so they got 1st , 6th and 37th… nice!)
It's not bad for motivation either: "It has you, doesn't it? You're addicted. Where chalk is no longer for a blackboard and weights are not just for boys. Where all it takes is all you've got. Where limitations are only there to be defied…"
Testing kit is a large part of the job at Sportsister (it's a hard life sometimes…) and since we launched our CrossFit blog I've been lucky enough to try out some of the latest and reportedly greatest gear to hit the shops.
I put Reebok's CrossFit Nano footwear to the test recently. Here's my review just in case you missed it…
I've been doing CrossFit for three months now and these Reebok CrossFit Nano shoes are the first piece of CrossFit-specific kit I've used whilst working out so I couldn't wait to put them through their paces.
Marketed as 'the world's first shoe designed and developed by and for CrossFitters' I had high hopes. CrossFit athletes have to constantly adapt their training for the Workout of the Day (WOD), therefore kit needs to be just as versatile.
The Nanos didn't disappoint and I love the fact that this one pair of shoes is all I need to see me through my training sessions.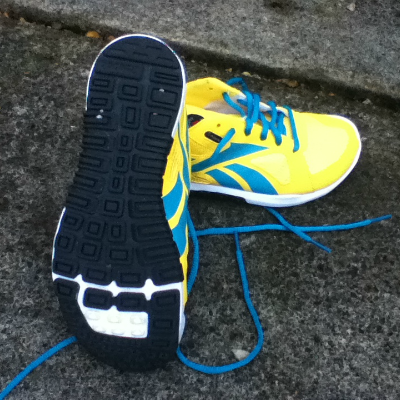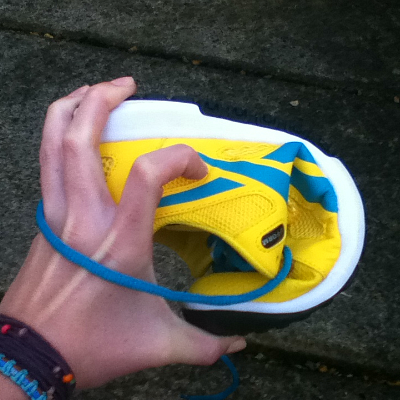 Good points:
- Versatile enough to wear for all elements of a CrossFit workout
- Great colouring and detail
- Well made and stable
Bad points:
- May need to try on before buying as sizes come up slightly large
Rating: 5/5
Price: £90
Sizes: 3.5 – 8
Buy: Find Reebok CrossFit kit exclusively at Harrods – www.harrods.com and Shopreebok.co.uk
Catch a glimpse of the Nanos in action in CrossFit blog: Video evidence.
Ever tried the 'too old' excuse? Try again.
With all those who have ever found themselves muttering a feeble attempt at an excuse (myself very much included) I wanted to share this heartwarming story from CrossFit Community about Jean Stewart, the deadlifting (great, great) grandma.
The moment she began to feel old, Jean didn't use an excuse to do less, she started using CrossFit to do more. She wanted to improve her long-term health so, at the age of 83, she walked into Desert CrossFit in Palm Desert, California and figured she had nothing to lose.
"I see people who are stooped over and old, in their 60s and 70s," Jean told CrossFit Community. "I don't want to be that way. I was losing function for everyday living, stooped over and lifting things improperly. I just wanted to live my life (and be) healthy.
"I've learned to pull myself up on the rope," Jean added. "I can't climb on the rope, but I've learned to pull myself off the floor onto the rope, which is an accomplishment.
"I'm very competitive, trying to excel in everything I do. CrossFit is a matter of seeing what you have inside and maximizing it."
If that hasn't inspired you, then you must be the only person Jean's story hasn't touched. When a photo of her deadlifting 151 lb. was posted on CrossFit's Facebook page at the beginning of this year it received nearly 11,400 likes, almost 1,900 comments and was shared nearly 5,000 times.
"I've eliminated 'I can't' from my vocabulary," she continued to tell CrossFit Community. "I can now and I will. After all, age is just a state of mind."
Today, she is deadlifting 153 lb.
This week I did my first WOD R'xd (as prescribed). Maybe by the time I'm 83 I'll be as strong as Jean. But for now, no more excuses! And if you know anyone more hardcore than Jean, let me know. For they too might deserve a mention in our CrossFit blog…
What would you define as a dangerous sport? BASE jumping and motocross aside, even more mainstream sports such as cycling and rugby have elements of danger to them, but just because there's a risk that you might get hurt, does that make it a 'dangerous' sport?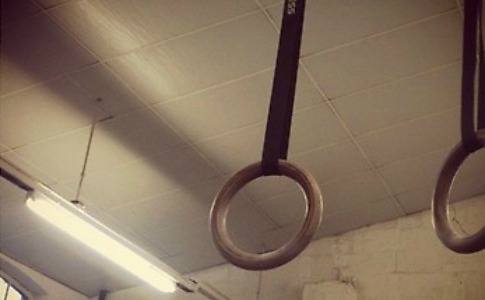 How about CrossFit, is that a dangerous sport? I was sent the link to an article on www.fitness321go.net entitled 'CrossFit: Mother Of All Fitness Programs or Downright Dangerous And Too Demanding?' recently and it got me thinking. I'd never really looked at CrossFit as being 'dangerous'. Intense, demanding and sometimes downright hellish yes, but dangerous?
Ryan Thorr, the author of the above-mentioned piece, quotes Greg Glassman, the founder of CrossFit, as saying: "It can kill you. I've always been completely honest about that."
Fair enough, I'm sure he's not lying. It probably can kill you, but if other sport founders were as honest, maybe they could say something similar about their activity.
I am a long way off CrossFitting at a competitive level, but as I progress my understanding of how hard I can push myself increases – does that make it safer? Perhaps it's all about knowing how your body works and how hard you can push yourself.
Or maybe for some it's a case of 'stranger danger' – Reebok partnered CrossFit in 2010 and it's making its way into the more mainstream market, but if you're not familiar with it I'm sure it could seem a bit terrifying. Take a look at the below and judge for yourself. Hardcore? Yes. Dangerous? You decide.
CrossFit is designed to be inclusive. This 'sport of fitness' centres around universal scalability, meaning that everyone from elite sport stars to your grandparents can get involved.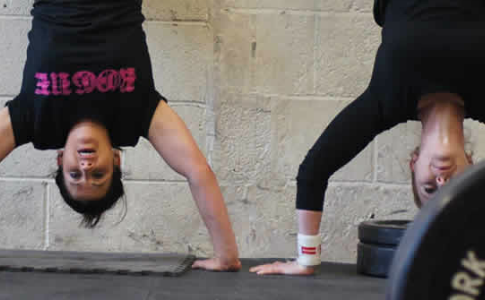 Universal scalability is how I can complete my WOD in roughly the same amount of time as Bath's version of the incredible hulk. Personally I enjoy working out in a mixed box for that very reason; it's mixed. Training alongside a variety of shapes and sizes, with differing levels of experience and ambition, really motivates me. But I can also see that an environment like that could easily be the very thing that puts people off.
So inclusive it may be, but that doesn't mean you can't afford to be picky when it comes to the environment you work out in. CrossFit's popularity has boomed over the past few years. Possibly because word has spread, or perhaps because Reebok have come on to the scene and affiliated a load of gyms, or 'boxes', across the country, I don't know.
But what I do know is that with that rise in popularity a wider audience are being attracted to the sport. Cue women-only classes.
Training at CrossFit Bath, who have introduced even more women-only classes to their programme this month, has prompted me to think about the reasoning behind it – do women really feel more comfortable only working out in front of other women? There's not male-only classes, is that fair?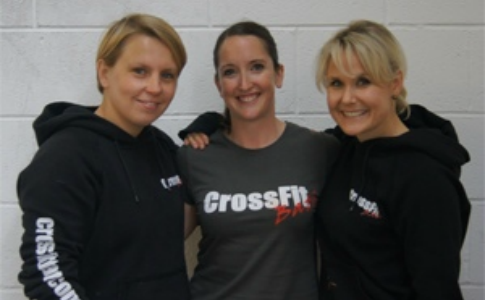 I spoke with Paula (pictured above, right), one of Bath's women-only coaches, who told me, "The beauty of CrossFit to me is that people from all walks of life can be involved, you are not judged on aesthetics or physical ability but more on your guts and determination to push yourself to the limit dependent on your own ability.
"The age range of the ladies in our class varies from early twenties to late fifties, all with different levels of experience in terms of fitness, some returning back to fitness after having children and a lot from partners who were fed up of hearing about it from their other halves and decided if you cant beat 'em join 'em!
"I feel some of the women prefer the ladies only option as they can feel less self-conscious when attempting some of the exercises. However, it doesn't exclude them as members from the box, we still all join together socially and are all still very much part of the CrossFit Bath community."
One of Bath's members, Karen, moved to the women-only classes from the 'mainstream' following injury and told me that building confidence is a large part of the women-only sessions.
"After a recent two month absence I saw the news about the women only classes and thought it would be perfect for me to build my confidence up again and work on a scaled level until I'm fit enough to possibly rejoin the main classes," she said.
"I don't think I have a preference between women-only or mixed, I think it suits your personality rather than your sex. But I do think the women only classes are friendlier, less intimidating for a newbie and as you work in smaller groups with lighter weights you are not pushing yourself further than you feel comfortable with."
She also touched on a point that had been troubling me – for so long women have been fighting for equality in sport, doesn't splitting the sexes feel like taking a step back?
"Whilst I think the women only classes are good for encouraging the less confident to take up CrossFit, the mixed classes are great too, " she agrees, "and it would be great to see the majority enjoying these rather than separating women out and making it seem like we need more attention!"
But if women-only classes are the way to get more females involved, then that can only be a good thing! After all, as Paula says, if you can't beat 'em, join 'em. If you're thinking about taking up CrossFit take a look at our getting started guide to the sport and, whether it's 'women-only' or 'mainstream' you're after, visit www.reebok.com to find your nearest box.
Image credit: CrossFit Bath
It's been almost three months now since I took up CrossFit, so the Sportsister team felt it was about time I revealed what I've been getting up to at the box all this time.
So, armed with my colleague Danielle and an iPhone we hit CrossFit Bath… below is the result and proof that anyone really can become a CrossFitter!
I've also discovered that CrossFit Bath have recently increased the number of women-only sessions they run at the box, which has prompted me to think about the environments people feel most comfortable working out in.
I've been chatting with some of Bath's members, as well as the coaching team, to find out why they think there's the demand for single-sex classes. I'll get back to you with my findings soon.
Feel free to get in touch via @Sportsister and @JmWhittington with your thoughts on both the video (be nice!) and the concept of women-only classes – would you be more inclined to get involved if you knew you'd be in a room full of girls?
I'm also sending Team Europe winning thoughts for this weekend's CrossFit Invitational presented by Reebok. Tune in to Eurosport at 8pm Saturday to see the likes of the UK's Sam Briggs and Reebok CrossFit Games champion Annie Thorisdottir in action.
Until next week..!
Whilst doing a bit of research this week I came across this video. It's a nice little watch – you should give it a view.
It got me thinking about how I might define myself, and also about how my confidence has grown since taking up CrossFit.
I know I've said it before, but camaraderie really is key at CrossFit, and I think that's been a big factor in my increased confidence and self belief.
I feel more comfortable trying new things, and don't feel stupid if I get it wrong. In the past I might have felt a little daunted by the thought of being the only girl working out in a room full of guys, which I know is wrong, particularly as that's one of the viewpoints Sportsister works hard to abolish, but I'm not going to lie.
This week I was the only girl undertaking the WOD, and I didn't even realise until right at the end. Perhaps my awesome new kicks from Reebok (below – aren't they beautiful?!) gave me an extra confidence push, who knows!
What would your definition be? I'm a friend, a journalist, and an increasingly confident CrossFitter. Your turn – tweet us up @Sportsister @ReebokUK. Whilst you're checking out ReebokUK on twitter make sure you enter their fab competition to win some VIP tickets to the CrossFit Invitational presented by Reebok – my entry's in!