Carrie on running

CARRIE ON RUNNING – A BEGINNERS RUNNING BLOG
I shamefully admit I didn't do my 15 miler as planned. I fully intended to and had a vague route sussed out in my head, but I put a spanner in my own works and ended up not being physically capable of doing it.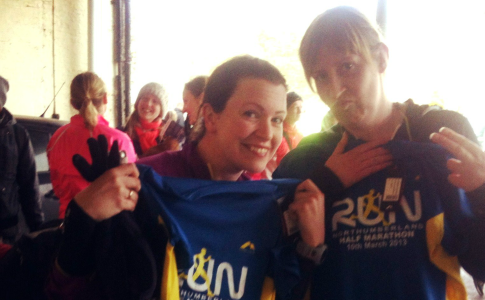 After parkrun on the Saturday I went to my first ever boot camp session with Jane. It. Was. Brutal. When I woke up on Sunday morning I could barely get out of bed. Yes dear readers, for the first time since I started running I was struck down with DOMS (delayed onset muscle soreness).
So the 15 mile run was off as a result but I figured I would still be able to walk so better half and I went for an 8 mile yomp in the Cheviot Hills on the Sunday instead, and I span through the soreness on Monday.
So I didn't manage my 15 miler and I didn't get to run club on Thursday because of a job interview (which I got, yey me!), so I wasn't expecting greatness at parkrun.
I've done really well since Christmas getting down from 33:54 to an incredible 28:57 last week, but Saturday gone was so bonkers I still can't quite believe it – 27:21!
Newcastle parkrun had pacers on so I just tried to stick as close to the 27 pacer as I could and discovered that in fact, I'm far more capable than I'm giving myself credit for. It was hard, don't get me wrong, but I'll benefit so much from pushing myself and the sense of achievement was overwhelming.
My fabulous weekend didn't stop there. Sunday saw me run my second half marathon – the Run Northumberland half marathon a few miles from my home. I ran with a friend and we kept a really good steady 10:30 min/mile pretty much the whole way round. This means that we crossed the finish in 2:17 and I knocked a whopping 23 minutes off my Great North Run time. Amazing.
It was tough, and I finished it wondering how on earth I would find the mindset to do twice that distance but then I remembered that this half marathon was on country back-roads with a lot of undulation and no one for moral support, where VLM is on the packed streets of London with thousands of people cheering you on. Surely the atmosphere alone will propel me forwards a few extra miles… Here's hoping anyway. Six weeks to go.
I spent last weekend in Milton Keynes visiting a friend before a meeting I had with the Open University on Monday. I've visited before but don't really know my way around particularly well, so I hadn't expected to be able to get a decent run in.
Since I was visiting friends I haven't seen for a long time I was fine with sacrificing a training run for friendship anyway, but my meeting was on Monday at 12:30 and my friend started work at 9am, so with over three hours to kill I laced up my trainers and headed to the MK parkrun spot – Willen Lake – to try and get a few miles in.
Despite my lack of enthusiasm for doing laps of the same loop I decided that needs must so I set off to run round the lake. One lap of the lake clocked in at 2.5 miles (clearly not the parkrun loop then…) so I ran round it again. And then once more. So, on that lovely quiet Monday morning before my meeting I racked up 7.5 miles of sunshine and was furnished with dozens of smiles and greetings from the lovely dog walkers and fellow runners of Milton Keynes. I really enjoyed the run and it was my first in a good while without musical accompaniment and the change of scenery was refreshing.
I'm still rubbing my eyes in childlike disbelief that I can now crank out 7.5 miles without thinking. Sure, I'm not the fastest and I think I look like a right sack of spuds when I run compared to the gazelle-like creatures darting in front of me most weeks at parkrun, but I'm doing it. Running for over an hour is now de rigueur and running for over 2 hours is heading that way too. At Christmas when I decided to dust off the trainers again I wouldn't have imagined that I'd slip back into it so well.
This weekend is my 15 mile run and the true test of how well I'm doing in my training. I expect it to be far tougher than the 12 miles I did last weekend but a have a tiny shred of hope that it won't be any harder – just about half an hour longer. Wish me luck.
Good luck Carrie! – Ed
On Sunday I did my longest long run to date – I bossed out 11.8 miles in a slow-n-steady 2 hours 17 minutes and I have to say I'm pretty darned pleased with myself.
Despite being 1.3 miles short of an official half marathon I'm thinking of it as one because if I'd had extra pavement on the loop I could've cranked out that teeny bit extra with no trouble. I've said it before and I'll say it again – running is easy because once you're going it's as easy to keep going as it is to stop.
So I'm back up to half marathon mileage and it feels absolutely great. Not only have I managed to stay completely injury free this time *touches wood* but I've managed to up my mileage with laughable ease.
But I feel like I've just hit the hurdle and I'm not sure how good my jumping skills are. I've ran a half marathon before and it's the biggest mileage I've done, but continuing to increase my mileage beyond half marathon stage is uncharted territory; I've never done more so what if I can't manage?
I'm being completely irrational, I know. If I can manage 11.8 miles and still be standing tall at the end of it then adding a couple of miles on each run will be no problem, surely? But my leap into the unknown is worrying me.
This week is a taper week where I pull back on the mileage for recovery, but next week will see me attempt a 15 miler – as much a logistical challenge as a physical one as I struggle to add bits on to my routes to make the loops longer (and they have to be loops – I can't cope with multiple laps of the same bit).
I have every faith in myself that I'll get all the way through this training plan with no problems. The ease with which I've slipped back into distances fills me with confidence in my ability to keep going – onwards and upwards as-they-say, however this uncharted territory also sets the butterflies in my stomach all a-fluttering.
I eagerly await next weekend. Just for that feeling I get when I check RunKeeper at the end of my run and realise how far I've gone. It's not the running I love – it's that feeling, right there, in that moment, knowing I've nailed it.
Well, what a weekend last weekend was! Two big milestones achieved and I couldn't feel more motivated!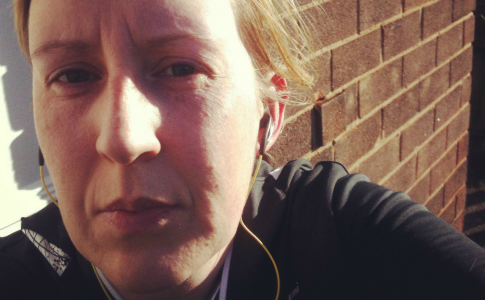 Firstly, following weekly intervals and sprint sessions at running club I well and truly smashed my personal best (PB) at parkrun on Saturday. My previous PB was 30:16 and I was really keen to get sub-30. I know, I know, it's not really that fast, but it's a milestone for me.
The monthly pacers were on course at the Newcastle parkrun so along with two friends we tried to stick to the 30 pacer like glue. When we reached 4km we pushed to break away from him and lo and behold – I crossed the finish line in 29:18. 29:18!!! I think that's very definitely sub-30 and what was even better was that I didn't feel like I was really pushing it. I reckon if I pushed it I could knock another 30 seconds to a minute off.
The trouble with smashing your PB like that is that you set the bar really high for yourself. I can never be over 30 mins again.
My second milestone wasn't quite so thrilling, more of a shock actually. I went out for a long slow run yesterday but as it turned out, it wasn't quite as slow as it should've been. I used my Audio Fuel 1st hour training session which so far has paced me at 12 minute miles (155 bpm I think). My last long run was 7.5 miles in 1:36 but this time I miraculously managed 9.3 miles in 1:45! So only 9 minutes longer but I ran 2 miles more than my last long run.
Again, I didn't feel completely done in; I felt I'd kept my pace nice and steady and only flagged at the end because there was a bit of a climb back to my starting point from the quayside I was running along.
I should be further into my long runs by now. I'm up to 9.5 miles where I should be at about 12 miles by now but I'm not worried. I'm feeling ever more confident that I can actually do this now. Completing the Virgin London Marathon doesn't seem like a pipe dream now; it's going to be a reality. I'm really going to do it.
Marathon training is in full stride now. I'm on cloud nine and getting really stuck into it.
In the past seven days I've run a total of 22 miles made up of the following mileages: 3.1, 7.5, 5.4, 3 and another 3. In amongst that I've done a 6 mile walk, a 1 hour spin class and a 1 hour yoga class and I'm pleased to report that I've had no aches or pains, no injuries, no fatigue and I actually feel great!
I'm putting a lot of it down to my change in attitude but as well as that I've just kept my running nice and slow and steady. I'm keeping a really slow pace at the minute – I'm talking 12 minute miles here folks but I figure it's safest for me so that I get used to being on my feet again because let's not forget I'm still carrying some excess baggage here which ain't helping my speed or my joints.
I'm also discovering that I quite enjoy running solo. All of my efforts so far have been in a group or at parkrun and the thought of heading out of my own door for a run filled me with dread. I feared running round the doors and being spotted by ex-school mates who would laugh at my feeble attempts to run (them knowing how much I hated PE at school).
But my attitude to that has utterly 180'd. Now I would be completely un-phased if anyone saw me – I'm training for a marathon, they're not. Anyway, I don't look THAT bad in my running tights, they provide a surprisingly flattering shape (bravo for achieving the impossible, Crewroom).
My only hope is that this enthusiasm continues. I can see it getting tougher as my distances creep up but for now I'm so psyched to keep going longer and further. For my next LSD run (long slow distance) I'm aiming for 2 hours or 10 miles – whichever comes first – and with the aid of Audio Fuel's training tracks I can see it being a relative doddle! Wish me luck everyone!
My enthusiasm for resurrecting my running activities is surging through my veins and consuming my every thought like some kind of sporty demonic possession.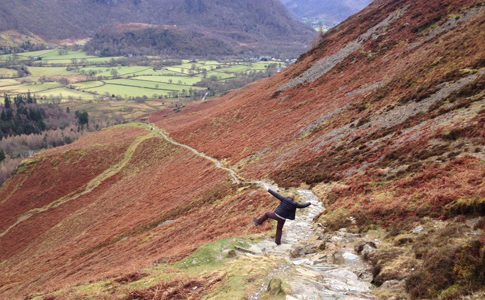 Since getting over myself and deciding to 'just do dis ting' I've been eating, sleeping and breathing training.
What plan should I go for? What kind of cross-training should I do? What kind of eating plan should I adopt to help me svelte the belt?
All these questions and more racing through my head in a desperate search for whatever bit of my brain may be able to provide an answer. Sadly, I have no answers but honestly, I don't care. I'm doing it.
Since my monumental decision to go for it I have jumped back on the parkrun wagon  I figured parkrun was a nice easy way for me to gauge how many steps backwards I had taken since the GNR and happily, since I wasn't many steps forward at the point I did it I've not dropped back at all. I can still do the 5k without problem and I'm still lingering around the same sort of time, so at least now I know I have a good starting point and can set about trying an intermediate plan which starts at a 5k level and works up.
I have also made a pretty impressive purchase to assist me in my mammoth training plan. Say hello to my little friend *said in Al Pacino Scarface type voice*. This, dear readers, is my secret weapon. It's an ex-gym Keiser spinning bike which I bought for a paltry £80 online.
This is going to be my lean-mean-belly-burning-machine and will – with any luck – help me melt away a bit more of my gut in the lead up to VLM2013. I love cycling anyway but turbo trainers are horrendously yawn-inducing so I've downloaded a couple of AudioFuel spin workouts and have notched up a half dozen sessions over the Christmas break.
Although the running training plan was supposed to start last Monday I've been battling a virus since then so start is delayed a bit until I'm back to fighting strength. Thankfully I'd already made a head start with parkruns and spinning and I managed a walk in the Lakes on Christmas day and a nip round Glentress on New Year's Day on the mountain bike so all is not lost.
Oh man, I'm gonna really enjoy this; honestly, running is great fun.
I've been in full-scale running avoidance mode since the Great North Run in August. I had originally signed up to run the London Marathon and was using the GNR as a 'training' run but in the time since the half marathon I have run twice and have been gradually creeping toward admitting defeat and dropping out of the team I had signed up with.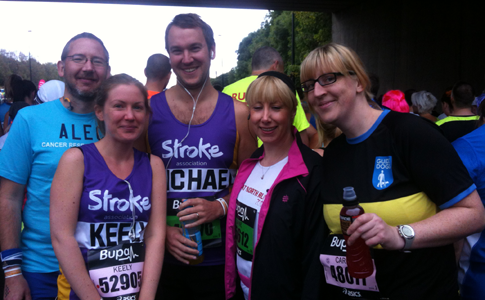 I suspect that my willingness to admit defeat was fuelled in part by an overriding fear that my surprisingly good performance in the Great North Run (that's me above, at the start line) was an unrepeatable fluke, and that my running career was never going to reach the heights I had conjured up in my head, however this week I have had an epiphany.
My epiphany was thus: stop being so miserable, just shut up and run.
Hmm. My simple wisdom surprised me. All this time I have been growing increasingly miserable; my moods have changed, my weight has increased and I haven't seen the friends I made through running for far too long so if I want all of that to change I need to shut up and run. Besides, it would be grossly selfish of me to quit my charity team for something as pathetic as laziness and fear of failure.
So I'm starting all over again. Next week I start on a 16 week marathon training programme. I am under no illusions whatsoever and realise I will be doing pretty well if I can replicate my GNR performance and run at least half way round but I have to try. My greatest advantage is that I now know the secret to running – the first mile is ALWAYS horrible no matter how experienced you are so persevere and you'll get into the rhythm, from then on it's just a matter of building up the endurance.
So I'm back in the game and will be running the Virgin London Marathon for Team Run For It. My running will help raise money for the YouthNet/Age UK partnership which is funding a project to help tackle the isolation and loneliness faced by older people every day by bringing them together with younger people who can introduce them to ways of communicating via the internet. It's an important project and needs a lot of help, but as much for them I need to run for me. Running is a way for me to feel better about myself and is a way to clear my head and clear my lungs. I really need it, so I'm just going to do it.
Medal in hand, t-shirt on my back I'm now a bona fide half marathon runner. Man, this feels good.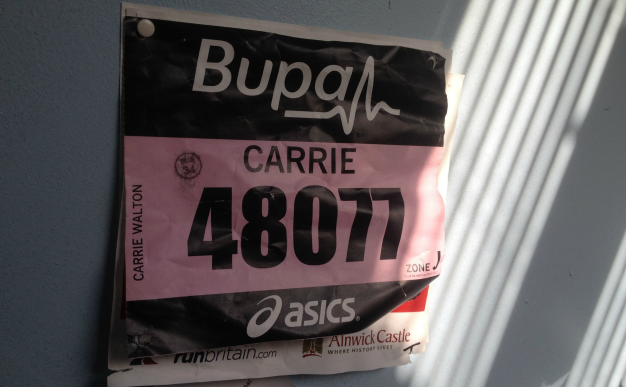 All things considered, I should've been quaking in my boots in the weeks leading up to my inaugural half marathon run, given that shin splints saw me off for about 10 weeks and then sheer laziness took over and only permitted me three relatively short runs (totalling 12 miles) in the month or so before the actual run.
But despite all of that, somehow I was as cool as a courgette about the whole thing. I knew that I wouldn't manage to run the whole 13.1 miles and I was completely cool with that – no shame in walking, I kept repeating to myself.
It took fifty minutes to actually get across the start line but the crowds thinned out instantly and before I knew it, the going was good and we'd cracked our first mile. Then another, then another and without much twitching we'd reached the five mile marker.
Five miles – the furthest I've ever ran before without stopping – can I go further?… I kept plodding along knowing that if I could only just get to the halfway point I'd be a happy bunny. The halfway point came and went. Seven miles… Eight miles… Starting to feel it now but daren't stop… Nine miles… Ten miles… Well I've come this far now so it would just be idiotic to stop. So I kept going. I kept going until I crossed that finish line and with an almighty grin on my face I wobbled over to collect my reward – a BUPA Great North Run 2012 finishers medal and t-shirt and a giant bottle of water.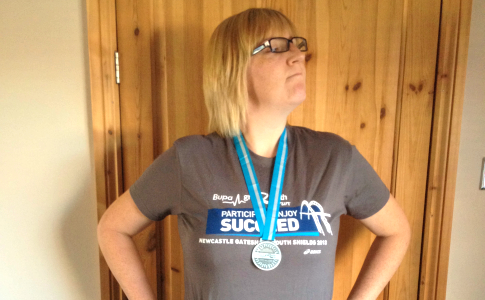 I realise that what I'm about to say sounds impossible to a non-runner and almost counter-intuitive, but I mean it without a word of a lie – running is easy. I didn't believe it when I first started and it took a while for me to understand, but once you're running it's just as easy to keep going as it is to stop. It's just getting it into your head that since your legs are going under you, you might as well just let them keep going.
My half marathon journey has been plagued with injury and laziness yet on the day I still managed to run the entire 13.1 miles without stopping or walking. It's a great feeling, more so because I know I didn't let my self-doubt get the better of me. I don't know what time I finished in and frankly I don't care. I did it. I proved I can.
Now I can admit why I was really doing the Great North Run – it wasn't because I wanted to do a half marathon, it's because I need the training. Even before I signed up for the GNR I had already accepted a place for the 2013 London Marathon. Yes, I fear I may be just a little bit crazy.
I'll continue to blog about my journey right here, so join me in my craziness, won't you?…
It's been about eight weeks since I was 'diagnosed' with shin splints and was told to stop running until my leg was better.
In that time I've been seeing a physio to get me fixed and have started going for sports massages which have both worked tremendously well (more about that in another post though). But still, when the pain went away in my leg and after a couple more weeks of resting it up on the physio's advice, I found myself bizarrely nervous as I was waiting to set off on my first run out again.
I had only been running for about 10 weeks when I got the injury and being off for about eight weeks means I was off running for about as long as I was on it so it's little wonder I was afraid that I'd have to start from the beginning all over again.
Given that the Great North Run is only four weeks away now, that was quite a frightening thought for me. Sure, I could walk the whole thing if necessary and I bet there are hundreds of people who do, but I want to run it.
So Jane, being the lovely friend she is, said we'd just take it easy and if I needed to walk or turn around she was fine with that and so we set off from the gym last night at about 5:45pm.
It was strange, there was none of the usual 'first five minutes' niggles I usually get. None of the 'feeling like a lump of lard' I usually get. None of the usual struggle for breath until I'm a mile or so in. I jogged along next to Jane feeling remarkably great, and continued to run alongside her the entire way around.
We got back to the gym an hour later having covered a respectable 5.5 miles including a tough little hill and I'm relieved to say that we jogged and chatted the entire way round.
So training is back on track, thankfully. Although I'm taking heed of what my physio suggested; I'm not going to push it too hard, and I'm going to keep up with my exercises EVERY day.
I was dreading my first pavement chase post-injury but I probably enjoyed it more than any other run I've done so far. Not bad going after two months off, is it?!
Following my injury a few weeks back I made arrangements to see a physio. The visit was actually regarding an old injury to my shoulder, but I figured while I was there I'd be wise to ask him about my leg which by that point was no better.
I explained where the pain was, when it was at its worst and what the doctor had said.
Physio says no. Physio says shin splints. Physio made me cry.
Dammit. Shin splints? Really? Oh man that's the last thing I wanted to happen. Is it 'cuz I iz too heavy? Gutted.
The physio actually says it has far less to do with my weight or activity level and more to do with the fact that I'm about as flexible as an ironing board. He says I have extraordinarily tight calf muscles which are more likely to have caused the problem and so has given me some stretches to do which will begin lengthening out the muscle.
It's not just my calf though, he noted a similar problem in my left shoulder which is causing me to unintentionally scrunch up which in turn knocks me off balance (but no, I don't look like the hunchback thankfully).
So needless to say, thanks to shin splints I'm not running for the time being. This is particularly annoying as I'm due to run the Great North 10k on the 22nd July. The physio knows this and is quite hopeful that I might still be able to run it as long as I stick to regular stretching.
I've also got an ace up my sleeve – two weeks ago, in an effort to add to my running strength and quicken up the flab-shedding, I joined the local council gym network. A student membership for a mere £20 a month on a month-by-month rolling contract gives me access to about a dozen gyms and half a dozen pools so even though I can't run I can still work on strength and fitness.
I'm nervously counting down the days to the GN10k and keeping everything crossed that I'll be able to run it. But if physio says no I'm not going to argue with his expertise – no medal is worth the risk of permanent damage to my leg.